Official 2009 NFL Draft Post & Rumor Mill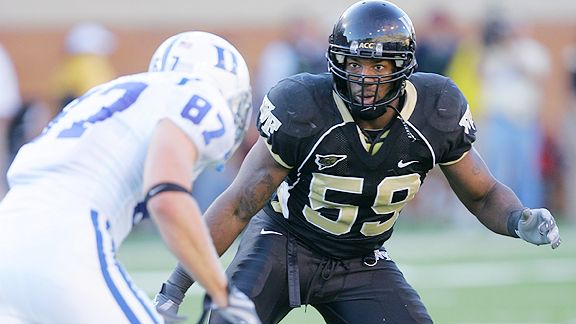 As the NFL draft rolls on over the next two days, I'll post picks, thoughts and stay on top of any rumors that I hear and post them here. Enjoy.
2:55PM ET: Mike Mayock of the NFL Network claims that his "cell phone is blowing up" with reports that the Jets are trying to trade up to No. 2 for USC quarterback Mark Sanchez.
3:19PM ET: According to the South Florida Sun Sentinel, the Dolphins will select Connecticut cornerback Darius Butler at No. 25.
3:22PM ET: The Rams could trade back into the first round for middle linebacker Rey Maualuga according to NFL Network's Steve Wyche.
3:38PM ET: I'm shocked the Chiefs passed on Aaron Curry, but all the pre-draft rumors that said Tyson Jackson would be their pick were obviously dead on. Jackson is the best 3-4 end in the draft and obvious was a commodity.
3:40PM ET: The Browns got exactly what they wanted with this trade. They weren't in love with anyone at No.5 and managed to trade out. Great move – I wonder what kind of ransom the Browns got.
3:42PM ET: Mike Mayock just made a great point about the Jets trading up to No. 5. What team did they want to get ahead of to go all the way up to No. 5?
3:45PM ET: DE Kenyon Coleman, QB Brett Ratliff, S Abram Elam No. 17 and No. 57. A sleeper in this deal is Elam, who is one of the more promising safeties in the draft.
3:52PM ET: The Bengals select OT Andre Smith – another low character guy for their low-character roster. He is a tremendous talent, but he comes with a ton of baggage.
Posted in: Fantasy Football, MLB, NFL, NFL Draft
Tags: 2009 Mock Drafts, 2009 NFL Draft, 2009 NFL Mock Draft, Aaron Curry, Al Davis, Alex Mack, Alphonso Smith, Andre Smith, Arizona Cardinals, Atlanta Falcons, B.J. Raji, Baltimore Ravens, Bill Belichick, Brandon Pettigrew, Braylon Edwards, Brian Cushing, Brian Orakpo, Buffalo Bills, Chris Beanie Wells, Cincinnati Bengals, Cleveland Browns, Clint Sintim, Darius Butler, Darren Sproles, Darrius Heyward-Bey, Denver Broncos, Detroit Lions, Duke Robinson, Everette Brown, Green Bay Packers, Hakeem Nicks, Houston Texans, Indianapolis Colts, Jacksonville Jaguars, Jason Smith, Jay Cutler, Jeremy Maclin, Kansas City Chiefs., Kenny Britt, Knowshon Moreno, L.J. Smith, LaDainian Tomlinson, Louis Delmas, Malcolm Jenkins, Marc Bulger, Mark Sanchez, Matthew Stafford, Miami Dolphins, Michael Crabtree, Michael Oher, Minnesota Vikings, Mock Drafts, New England Patriots, New Orleans Saints, New York Giants, New York Jets, NFL Mock Draft, NFL Mock Drafts, NFL Mock Drafts 2009, Oakland Raiders, Orlando Pace, Percy Harvin, Peria Jerry, Philadelphia Eagles, Pittsburgh Steelers, Plaxico Burress, Rey Maualuga, Ron Brace, San Diego Chargers, San Francisco 49ers, St. Louis Rams, Steven Jackson, Tampa Bay Buccaneers, Tennessee Titans, Vontae Davis, Washington Redskins