The top five best, worst and most improved offensive lines in the NFL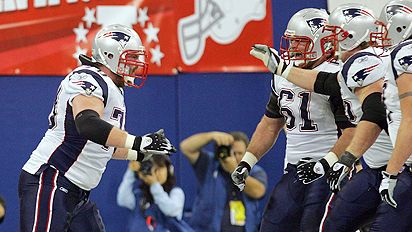 There's a secret that most good fantasy football owners don't want you to know: Knowing how good (or how bad) an offensive line is could be the difference between you making the playoffs in your league, and winning the whole damn thing.
The bottom line is that the offensive line is the key to whether or not an offense is going to be successful in any given season. They're the reason why guys like Tom Brady, Peyton Manning and Drew Brews are able to rack up terrific passing yards year in and year out, and why Brandon Jacobs, Michael Turner and Adrian Peterson continue to be solid fantasy backs. So knowing which O-lines are quality and which act like revolving doors to their team's backfield will give you an edge on draft day.
Below is a ranking of the top five best lines, the top five most improved lines and the top five worst lines in the NFL heading into the '09 season. Use these rankings as a tool to help you make better decisions on draft day and to also aid you when you're stuck between a couple of players in later rounds.
Granted, we're not advocating bumping certain players to the top of your pre-draft rankings just based on these rankings. The Lions offensive line is the worst in football, but if Kevin Smith is there for the taking in the 5th round, by all means jump on him. This article is purely meant to be a helpful aid; obviously you still have to use solid judgment on draft day.
Posted in: Fantasy Football, NFL
Tags: Ahmad Bradshaw, Alan Faneca, Andre Smith, Andrew Whitworth, Andy Levitre, Anthony Stalter, Arron Sears, Brad Butler, Brad Meester, Brandon Jacobs, Brandon Pettigrew, Carl Nicks, Carson Palmer, Casey Wiegmann, Chris Kuper, Chris Snee, Chris Spencer, D'Brickashaw Ferguson, Damien Woody, Dan Koppen, Daunte Culpepper, Davin Joseph, Donald Penn, Drew Brees, Eben Britton, Eric Wood, Eugene Monroe, Gosder Cherilus, Harvey Dahl, Jahri Evans, Jammal Brown, Jason Brownm, Jason Peters, Jason Smith, Jeff Backus, Jeff Faine, Jeremy Shockey, Jeremy Trueblood, Justin Blalock, Kyle Cook, Logan Mankins, Marques Colston, Matt Light, Matthew Stafford, Max Unger, Michael Turner, New Orleans Saints, Nick Kaczur, Nick Mangold, Pierre Thomas, Reggie Bush, Ryan Clady, Ryan Harris, Sam Baker, Shaun O'Hara, Shawn Andrews, Stacy Andrews, Stephen Neal, Todd McClure, Tra Thomas, Tyson Clabo, Walter Jones