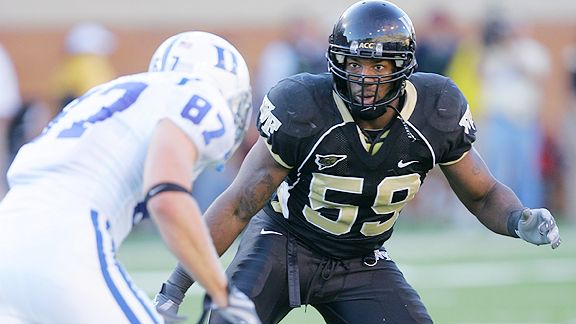 Aaron Curry, a 6'2″, 250-pound linebacker out of Wake Forest University, has parlayed his physical tools, a great senior season and an eye-opening combine workout to make himself the can't-miss pick in April's upcoming NFL draft.
What a difference two years makes.
Back in 2007, Curry returned to Fayetteville, N.C. after a season that saw him finish second in team tackles with 83, only to find out that his mom, Chris, had been evicted from their family home.
After telling his family story during last week's scouting combine, NFL teams know now that in addition to all of his football skills, Curry is a resilient and family-oriented young man. He says that his no. 1 priority after signing his pro contract is to buy a house for his mom.
Curry's physical tools are astounding. He's bulked up to a formidable 250 pounds after weighing under 200 coming out of high school (a big reason why he only received scholarship offers from Wake Forest and East Carolina University – he picked Wake for its academics). He's a playmaker as much as he is a consistent run-stopping force. During his junior year, he returned three interceptions for touchdowns, bringing back the picks for a school-record of 226 total yards.
In a "three questions" interview with ESPN.com's Kevin Seifert, Detroit Lions Head Coach Jim Schwartz (the man helping to decide who the Lions will pick with the draft's no. 1 overall pick) described Curry's unique skill set.
"He plays 'Sam,' but it was interesting at Wake. He played an on-the-ball 'Sam' linebacker, which not a lot of people play anymore. You have to be really strong. But they also put him out in space … almost like a nickel back. Those are two almost mutually exclusive skill sets."
Curry's versatility, coupled with his fortitude, athleticism and undeniable playmaking ability has NFL scouts salivating, and in a draft littered with uncertainty, the Wake linebacker is becoming more and more of a hot commodity. For teams picking at the top of the draft that might have reservations about say, Georgia QB Matthew Stafford or Texas Tech WR Michael Crabtree, the reliable Curry could emerge as the preferred option.
Regardless of where he lands in the draft, or how fat his rookie contract is, don't expect Curry to forget about his challenging days after his sophomore year, when he crashed at friends' houses after learning of his mom's eviction. He described it as a motivating factor to reporters at the combine.
"Those are the moments you think about in the fourth quarter when there's a play that needs to be made and you have the opportunity to provide for your family for the rest of their lives."
The latest on Curry
Almost every draft expert has Curry going in the top 5 picks, although where exactly he will land is up for debate.
SI.com's Don Banks has him going no. 1 to the Detroit Lions
Todd McShay of ESPN's Scouts Inc. predicts Curry will be the third pick, going to the Kansas City Chiefs in his Mock Draft for ESPN Insider.
ESPN's Mel Kiper Jr. has the Cleveland Browns taking him at no. 5
Curry on the web
DraftCountdown's scouting report
ESPN.com's "Three Questions" with Curry and Jim Schwartz
Feature story on Curry's background
Video of INT return for TD vs. N.C. State in 2007