Official 2009 NFL Draft Post & Rumor Mill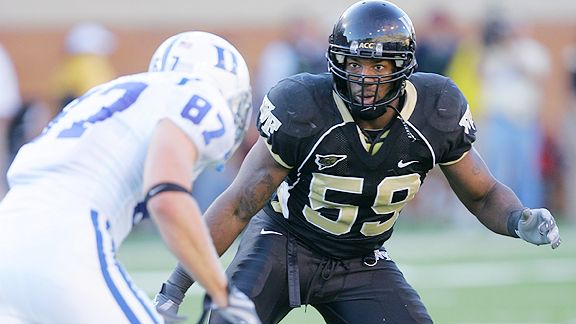 As the NFL draft rolls on over the next two days, I'll post picks, thoughts and stay on top of any rumors that I hear and post them here. Enjoy.
2:55PM ET: Mike Mayock of the NFL Network claims that his "cell phone is blowing up" with reports that the Jets are trying to trade up to No. 2 for USC quarterback Mark Sanchez.
3:19PM ET: According to the South Florida Sun Sentinel, the Dolphins will select Connecticut cornerback Darius Butler at No. 25.
3:22PM ET: The Rams could trade back into the first round for middle linebacker Rey Maualuga according to NFL Network's Steve Wyche.
3:38PM ET: I'm shocked the Chiefs passed on Aaron Curry, but all the pre-draft rumors that said Tyson Jackson would be their pick were obviously dead on. Jackson is the best 3-4 end in the draft and obvious was a commodity.
3:40PM ET: The Browns got exactly what they wanted with this trade. They weren't in love with anyone at No.5 and managed to trade out. Great move – I wonder what kind of ransom the Browns got.
3:42PM ET: Mike Mayock just made a great point about the Jets trading up to No. 5. What team did they want to get ahead of to go all the way up to No. 5?
3:45PM ET: DE Kenyon Coleman, QB Brett Ratliff, S Abram Elam No. 17 and No. 57. A sleeper in this deal is Elam, who is one of the more promising safeties in the draft.
3:52PM ET: The Bengals select OT Andre Smith – another low character guy for their low-character roster. He is a tremendous talent, but he comes with a ton of baggage.
3:53PM ET: Mayock speculates that the Raiders will take a receiver, but not Michael Crabtree. In his last mock, he had them taking Darrius Heyward-Bey out of Maryland, which would be quite a shock. I can't see Oakland passing on Crabtree at No. 7, but a sleeper could be OT Eugene Monroe.
4:21PM ET: Crabtree goes to the 49ers. Although word is that he turned teams off with his "diva" attitude, it's amazing that this kid fell so far. He's one of the best prospects in this draft and the Niners got a steal. He fits a need and he was the best player left on the board – great pick.
4:28PM ET: Bills select Aaron Maybin. This was a bit of a surprise considering the Bills' need for an offensive tackle and Michael Oher is still on the board. But before they traded Jason Peters to the Eagles, pass rush was a major need and Maybin feels that need. He was one of the best pass-rushers in college football last year and while he could stand to add a little bulk to his frame, he could turn out to be terrific off the edge.
4:32PM ET: Broncos select Knowshon Moreno. This is a bit of a surprise considering Denver is switching to a 3-4 defense and they have needs to fill in the front seven. But Josh McDaniels is an offensive guy first and foremost, and Moreno is a stud. He doesn't have elite speed, but he arguably has the best vision of any back in the draft and should do well in Denver.
4:39PM ET: Redskins select Brian Orakpo. This is another guy that fell. Orakpo was once considering a top 5 pick and he slid all the way to Washington at No. 13, who had a major need at defensive end after releasing Jason Taylor. Some say Orakpo played down to his competition at times, but anyone that saw his effort against Oklahoma and Texas Tech came away impressed.
4:47PM ET: Saints select Malcolm Jenkins. Jenkins had a brutal showing at the scouting combine, but his body of work at Ohio State was impressive. I'm a little surprised that the Saints didn't address their linebacker position here, but after cutting Mike McKenzie, they had an obvious need at cornerback and Jenkins is less of a risk than Vontae Davis, who some believe is a risk given his attitude.
4:50PM ET: Texans select Brian Cushing. The Texans continue to upgrade their defense with the selection of Cushing, who was the best outside linebacker prospect in the draft after Aaron Curry. The knock on Cushing is that he might be more of a bodybuilder than a football player, but I'd say that more fits his former USC teammate Clay Matthews.
4:55PM ET: Chargers select Larry English. This is a bit of a surprise and it's no knock on English. With Rey Maualuga on the board, I'm surprised they went English, but at least he's a fit for the 3-4. English was one of the best players in the MAC and he was a force as a pass-rusher. The Bolts didn't have a ton of holes to fill, so maybe English was the top player left on their board and they took him.
4:59PM ET: Browns trade the 17th pick to the Bucs for the 19th and the 191st. What a great day for the Browns in terms of value. They're probably still going to address a need and they keep acquiring more picks.
5:01PM ET: Bucs select Josh Freeman. I could look like an absolute idiot (nothing new) in a few years, but I think this is an awful pick. If this weren't a weak QB class, there's no way Freeman would have been taken in the first round. He has a ton of talent and he's a good kid, but he's incredibly raw and I think he's going to have time reading NFL defenses. Again, hammer me if you think I'm wrong. But the Bucs are jam packed at quarterback and one could argue they don't have a quality starter among them.
5:11PM ET: Eagles select Jeremy Maclin. The Browns once again traded back, this time with the Eagles, who added a dynamic playmaker in Maclin. I'm a bit surprised that they would trade up. Who were they worried about getting ahead of? The Lions? Doesn't make much sense.
5:26PM ET: Lions select Brandon Pettigrew. I don't get it – I really don't. The Lions have needs at offensive tackle and middle linebacker, both Michael Oher and Rey Maulauga are on the board, and they take a tight end. The only way I can spin this pick is that dome teams tend to struggle defensively (they rarely rank in the top 10 defensively at years end). So Martin Mayhew addresses the offense first and foremost and gives Stafford a nice target in the passing game to go along with Calvin Johnson.
5:41PM ET: Browns select Alex Mack. This was a bit of a surprise because of what the Browns need, but Mack is a great prospect. He's the best center in the draft and obviously Cleveland felt that they could nab one of the best players available at No. 21 and fill their linebacker need later with one of their many second round picks. This was a surprise (and maybe a reach?) with Everrette Brown still on the board, but the Browns still got a quality prospect.
5:50PM ET: Vikings select Percy Harvin. Speculation had it that the Vikings would take a receiver at this spot, although I'm a little surprised that they took Harvin despite rumors that said they had removed all prospects who had poor character. Regardless, Harvin has loads of potential and could be explosive opposite Bernard Berrian in the Vikings' offense.
6:06PM ET: Ravens select Michael Oher. No surprise – the Patriots traded down in a draft. Oher is a fantastic value at this spot and fills a need for the Ravens. I'm shocked he lasted this long and I think Baltimore got a steal.
6:10PM ET: Falcons select Peria Jerry. The Falcons definitely addressed a need and Jerry is a tremendous value at this pick, but he's projected as an under tackle and Atlanta desperately needs a nose. Jerry is essentially the same player as Jonathan Babineaux, who just received a new contract extension for his productive play. Still, maybe Mike Smith wants to use a smaller defensive line and go with more stunts next year. If Trey Lewis returns to full health next season, then Jerry fits in well and could give the Falcons another pass rusher along with John Abraham.
6:27PM ET: Dolphins select Vontae Davis. I love it. Davis's attitude has been questioned in the past, but obviously Bill Parcells isn't concerned is too upset about it. Davis has tremendous athleticism and could turn out to be a steal this late in the draft. Then again, he could be nothing more than an athletic marvel that gets abused by NFL receivers because he's too aggressive. I trust Parcells' judgment.
6:37PM ET: Packers trade their 2nd round pick and two 3rd rounders to New England in order to select Clay Matthews. This was, bar none, the worst trade of the day so far. The Packers did fill a need at outside linebacker, but the Patriots fleeced them for what could turn out to be a very overrated prospect in Matthews. This trade was mind-boggling and Ted Thompson should feel abused.
6:41PM ET: Quick question – did teams forget that USC linebacker Rey Maualuga is still on the board?
6:42PM ET: Colts select Donald Brown. Sucka what? This pick makes no sense. With Evander Hood and Ron Brace still on the board, I'm shocked the Colts went offense – more specifically, a running back. They have Joseph Addai and also took Michael Hart in the sixth round a year ago. Brown is a solid prospect, but I'm shocked the Colts went running back with their first pick with needs on defense.
6:49PM ET: Bills select Eric Wood. I'm a little surprised that with a need for offensive tackle, the Bills didn't go with Eben Britton. But some felt as though Wood would get selected ahead of Alex Mack, so obviously the kid has a ton of talent. I'll be shocked if Buffalo doesn't take an OT in the second round.
7:06PM ET: Giants select Hakeem Nicks. No real surprise here. Since the G-Men couldn't acquire Braylon Edwards from the Browns, they had an obvious need for a receiver and Nicks is one of the better route runners in the draft.
7:09PM ET: Titans select Kenny Britt. Just as I wrote for the Giants – no real surprise here. Tennessee was rumored to be interested in trading for Anquan Boldin, so obviously they wanted to address the wideout position, even though they signed Nate Washington this offseason. Britt is a nice big target and although he doesn't have a ton of speed, he's a great blocker and isn't afraid to go over the middle.
7:23PM ET: Cardinals select Chris "Beanie" Wells. It's surprising that a talented back like this fell this far, but the Cardinals got a steal. He's similar to Tim Hightower in that he's a bigger back, but Wells has more speed and Arizona now has a replacement for Edgerrin James, who will get his wish and be released soon.
7:26PM ET: Steelers select Evander Hood. If Hood can be a 3-4 nose, then this was a solid pick. The Steelers didn't have a ton of needs obviously, so they take one of the best players on the board and add to their already stout defense.
Posted in: Fantasy Football, MLB, NFL, NFL Draft
Tags: 2009 Mock Drafts, 2009 NFL Draft, 2009 NFL Mock Draft, Aaron Curry, Al Davis, Alex Mack, Alphonso Smith, Andre Smith, Arizona Cardinals, Atlanta Falcons, B.J. Raji, Baltimore Ravens, Bill Belichick, Brandon Pettigrew, Braylon Edwards, Brian Cushing, Brian Orakpo, Buffalo Bills, Chris Beanie Wells, Cincinnati Bengals, Cleveland Browns, Clint Sintim, Darius Butler, Darren Sproles, Darrius Heyward-Bey, Denver Broncos, Detroit Lions, Duke Robinson, Everette Brown, Green Bay Packers, Hakeem Nicks, Houston Texans, Indianapolis Colts, Jacksonville Jaguars, Jason Smith, Jay Cutler, Jeremy Maclin, Kansas City Chiefs., Kenny Britt, Knowshon Moreno, L.J. Smith, LaDainian Tomlinson, Louis Delmas, Malcolm Jenkins, Marc Bulger, Mark Sanchez, Matthew Stafford, Miami Dolphins, Michael Crabtree, Michael Oher, Minnesota Vikings, Mock Drafts, New England Patriots, New Orleans Saints, New York Giants, New York Jets, NFL Mock Draft, NFL Mock Drafts, NFL Mock Drafts 2009, Oakland Raiders, Orlando Pace, Percy Harvin, Peria Jerry, Philadelphia Eagles, Pittsburgh Steelers, Plaxico Burress, Rey Maualuga, Ron Brace, San Diego Chargers, San Francisco 49ers, St. Louis Rams, Steven Jackson, Tampa Bay Buccaneers, Tennessee Titans, Vontae Davis, Washington Redskins