2009 NFL Mock Draft Version 3.0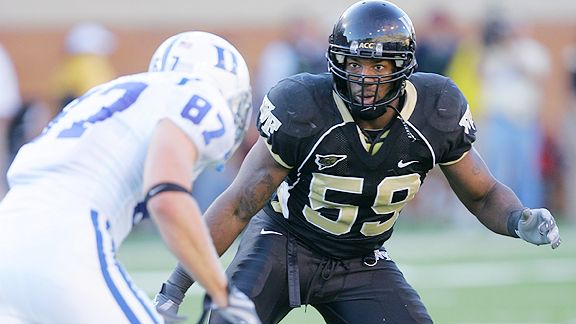 This is it – the week NFL draft nuts have been waiting for. Soon enough, prospects will know what cities they're headed to and draft mock experts everywhere will look like idiots when less than half of their predictions are correct despite spending hours of time researching the picks.
I say it every year – the NFL draft is a crapshoot in terms of trying to make predictions. Nobody knows how high prospects are rated on draft boards around the league except the teams themselves. So while it's fun to project who will go where, nobody has a clue – not Mike Mayock, not Mel Kiper and certainly not Anthony Stalter. (Did I just refer to myself in the third person? What a joke.)
The following is my third and final mock of the first round. In my previous two mocks, I had some fun by predicting potential trades that could play out, but I won't do it here. I'm playing this mock "straight up" because predicting trades in the first round is harder to do than predicting what kind of mood Billy Bob Thornton will be in when he sits down to give an interview. Zing!
Some of you will inevitably feel as though that I have teams reaching with their picks. That's fine, but realize that reaches are going to happen come Saturday because they're just a part of the draft. If you disagree with any of my picks, go ahead and let me hear about it in the comments section. After all, the NFL draft is a spectacle and it's supposed to be fun for fans. Enjoy all the action on Saturday and good luck to your favorite team on draft weekend.
(Click here to see Mock Draft Version 1.0 and Mock Draft Version 2.0)
1. Detroit Lions: Matthew Stafford, QB, Georgia
Word is that the Lions aren't completely sold on Stafford, which is why they have started contract negotiations with not only his agent, but also the representatives of Jason Smith and Aaron Curry. Considering how many holes the Lions have, it's ludicrous for them to take a QB that they're not 100% convinced can be their leader under center for years to come. But when has Detroit ever done anything that made sense? Matt Millen is nowhere near Allen Park these days, yet the general feeling is that the Lions are still going to screw up this pick. For the record, I think Curry should be their pick. He's the best player in the draft, he fills a major need, would be cheaper to sign than either Stafford or Smith and linebacker is usually a safer pick in the first round. But what I think Detroit should do, and what I think they will do are two different things, which is why Stafford's name is penciled in above.
2. St. Louis Rams: Jason Smith, OT, Baylor
If the Lions select Smith at No. 1, then the Rams could go one of four ways. They could take the next best offensive tackle in Eugene Monroe, they could get their quarterback of the future in Matthew Stafford, they could fill their need for a No. 1 receiver and take Michael Crabtree, or they could go with the best defensive player in the draft and select Aaron Curry. Curry seems like the most likely choice, but again, any one of the prospects mentioned are viable options. If the Lions do pass on Smith, then he seems like a slam-dunk for the Rams, who are rumored to prefer him to Monroe. With Orlando Pace now in Chicago, St. Louis needs to address the gaping hole at left tackle and the athletic Smith would seemingly be a great fit.
3. Kansas City Chiefs: Aaron Curry, LB, Wake Forest
There's a chance Curry might not fall to this spot and there's an even bigger chance that the Chiefs will go with an offensive tackle to help protect new quarterback Matt Cassel. But chances are Curry will be available here and considering KC is making a switch to a new 3-4 defensive alignment, he would be a great fit. New GM Scott Pioli traded for Mike Vrabel and signed veteran free agent Zach Thomas this offseason, so obviously he's making the linebacker position a priority. Pair Curry opposite Derrick Johnson and the Chiefs will have a nice set of young, athletic linebackers.
4. Seattle Seahawks: Eugene Monroe, OT, Virginia
There is a ton of speculation that the Seahawks will select USC quarterback Mark Sanchez here, which certainly would make sense. Matt Hasselbeck is 33 years old, is coming off an injury-plagued season and Seattle isn't currently developing a young backup behind him (which is where Sanchez would come in). But with general manager Tim Ruskell recently saying that Hasselbeck is "as good as ever," it's hard to believe that Sanchez would be their pick here. Granted, Sanchez could still be viewed as a potential successor even if Hasselbeck is "as good as ever," but it still seems far-fetched for Seattle to go that route with this pick. The bottom line is that even though the Hawks are coming off a disastrous year, they can easily rebound in a weak NFC West and they seem to still be in "win now" mode. Seattle wants right tackle Sean Locklear to eventually be Walter Jones' successor on the left side, so Monroe could play guard until one of the tackle spots open up.
5. Cleveland Browns: Mark Sanchez, QB, USC
Earlier this week I went into detail about why I believe Sanchez will be the Browns' pick at No. 5, which you can read here. But the long and short of it is that I fully believe that Cleveland will trade either quarterback Brady Quinn or wide receiver Braylon Edwards by the end of draft weekend, and therefore decided between either Sanchez or wideout Michael Crabtree at No. 5. And actually, I think the Browns will trade both Quinn and Edwards by the end of draft weekend, select Sanchez at No. 5 and then fill their wide receiver need later in the draft. If I'm wrong about all of these trade scenarios, then top defenders Aaron Curry, Brian Orakpo, B.J. Raji and Everrette Brown are all possibilities at this spot as well.
6. Cincinnati Bengals: Michael Oher, OT, Ole Miss
The Bengals would love to replace former first round bust Levi Jones at left tackle, but what prospect will they go with? Some believe Oher would be a reach here and that Alabama's Andre Smith would be a better fit for Cincy's desire to fill its roster with questionable characters. But something tells me Mike Brown will go with the safer choice in Oher, whose draft stock has risen of late. He has great size, athleticism and comes with less baggage than Smith, who has tremendous talent, but has also had his weight, work ethic and motivation questioned in the past. Either way, unless they surprise and address another need such as running back, the Bengals will probably go with an offensive tackle at this spot.
7. Oakland Raiders: Michael Crabtree, WR, Texas Tech
Even though the Raiders have needs on the offensive and defensive lines, Crabtree might be too good to pass up here. There are concerns about his health after he had foot surgery following the college season, but there's no doubt Crabtree is a gamer and he fills Oakland's need to give quarterback JaMarcus Russell a true go-to receiver. Don't be surprised if the Raiders select one of the top offensive tackles here or a defensive end like Brian Orakpo. But again if Crabtree falls, I highly doubt Al Davis will pass.
8. Jacksonville Jaguars: B.J. Raji, DT, Boston College
Considering Dennis Northcutt and Troy Williamson are the projected starters at receiver next season, there's no doubt that the Jags need to address their gaping hole at wideout. But will it be with this pick? Maybe, especially if Michael Crabtree and Jeremy Maclin are available, but don't forget that head coach Jack Del Rio is a defensive-minded guy and that Jacksonville has always been known for its defense. The Jags traded Marcus Stroud to Buffalo last offseason because they felt Rob Meier could be as productive as a starter as he was in a three-man rotation in previous years. But he wasn't, and Jacksonville's defense struggled generating pressure from the interior. If Raji falls, he would be an excellent addition to the defensive line and he would surely benefit from playing alongside big John Henderson. Again, receiver is the top need for this team and nobody would be surprised if Jacksonville filled that hole with this pick. But Raji might be too good to pass up at this spot.
9. Green Bay Packers: Tyson Jackson, DE, LSU
The Packers have been quiet so far in free agency, which is surprising considering they're switching to a 3-4 defensive scheme next year and don't have 3-4 personnel currently on the roster. If B.J. Raji falls, I could definitely see Green Bay selecting him to use in a rotation at all three defensive line spots next season and eventually replacing Ryan Pickett (who is a free agent after the 2009 season) at nose tackle. But with the Jaguars stealing Raji a pick earlier, Jackson isn't a bad fallback. Jackson isn't much of a pass rusher, but he's solid against the run and he's big enough to play end in a 3-4, which is a major need for the Packers. Another option for GB here would be to go with either Brian Orakpo or Everette Brown and plug them into the outside linebacker position opposite Aaron Kampman. But the Pack are awfully thin along the defensive line and Jackson would be a solid, albeit unspectacular, addition.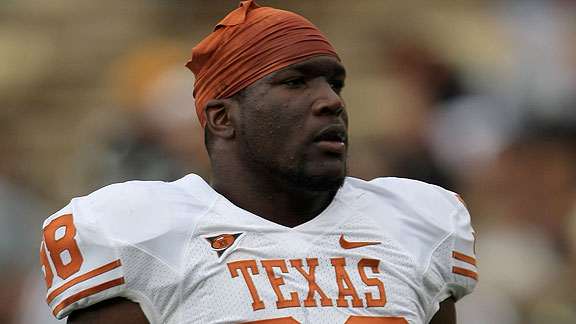 10. San Francisco 49ers: Brian Orakpo, DE/OLB, Texas
The 49ers have a nice group of young linebackers, which includes Patrick Willis and Manny Lawson. But the team is hurting for pass rushers and could use an outside linebacker that can provide a solid rush off the edge and get pressure on the quarterback. The knock on Orakpo is that he can play down to his competition, but there's no doubt he wreaked havoc in the opponents' backfields last season, most notably against Big 12 rivals Texas Tech and Oklahoma. He's athletic enough to play outside linebacker in a 3-4 and under the guidance of Mike Singletary, he could turn out to be a productive player at the next level.
11. Buffalo Bills: Andre Smith, OT, Alabama
The Bills need a pass rusher, which is why prospects like Everrette Brown and Aaron Maybin are major possibilities at this pick, but the Jason Peters trade changed everything. Now the top need is offensive tackle and although Smith comes with major baggage, there's no denying that he has tremendous talent. The team took a chance by signing a dynamic personality in Terrell Owens this offseason, so they might be to a point now where talent supersedes all else. If Michael Oher falls, the Bills could look at him (regardless of whether or not Smith is still on the board) as well, but the overall feeling is that Buffalo will go with either an offensive tackle or a pass rusher at this spot.
12. Denver Broncos: Everrette Brown, OLB/DE, Florida State
Denver would love it if defensive tackle B.J. Raji fell to this spot so that they could plug him in at nose tackle in their new 3-4 defensive alignment, but it's doubtful that he slips out of the top 10. The Broncos need a defender that can provide a decent rush off the edge and generate pressure on the quarterback. Brown was a force at Florida State and while there are some concerns about his lack of size, he should be able to transform into an outside linebacker in Denver's 3-4 scheme, or play with his hand in the dirt as an end when the team goes with a 4-3 front. Brown's stock has fallen has the draft nears, so the Broncos might look at Aaron Maybin from Penn State here, too.
13. Washington Redskins: Robert Ayers, DE, Tennessee
If either Andre Smith or Michael Oher falls to this spot, I could see the Skins selecting one of them. But with both off the board in this mock, it's hard to see them reaching for Eben Britton, who would be the next highest offensive tackle in this draft. This is one of the more difficult teams to figure out because if Daniel Snyder is in love with a prospect like Mark Sanchez or Aaron Curry, I could see him trading up. I could also see the Skins trading down and then selecting Britton or one of the top defensive ends later on. But if we're playing this mock straight up, then I say Washington bypasses smaller defensive end prospects like Aaron Maybin and Larry English, and goes with the big-bodied Ayers, who has good size, is a reliable tackler and plays with a chip on his shoulder. The only thing is, he would be a reach here and if LSU's Tyson Jackson falls, I could see the Skins preferring him to Ayers. Keep an eye on USC linebacker Rey Maualuga at this pick, too.
14. New Orleans Saints: Brian Cushing, OLB, USC
Some pundits think that the Saints will take a running back like Beanie Wells at this spot following the release of veteran Deuce McAllister this offseason. But with only one pick in the first three rounds, if the Saints stay here (as in, they don't trade down in order to acquire more picks) then they'll go defense. (Plus, they also have a highly productive Pierre Thomas waiting for a more extended role in the offense.) New Orleans' most pressing defensive need is at outside linebacker, where Scott Fujita and Scott Shanle are quality starters, but neither of them makes a huge impact and both will turn 30 this year. Some feel as though Cushing is nothing more than a bodybuilder who posses as a football player, but that description better fits his former USC teammate Clay Matthews. Outside of having some durability concerns, Cushing is a solid tackler, flashes good athleticism and has decent range. He would be a solid pick for the Saints at this spot.
15. Houston Texans: Chris "Beanie" Wells, RB, Ohio State
Houston has bigger needs than running back, most notably at cornerback, defensive tackle and outside linebacker. But Wells might be too good to pass up at this spot and pair with speed back Steve Slaton. Wells has the best combination of size and speed of any back in the draft and could be one of the better picks of this year's draft. Of course, many pundits thought that the Texans would draft a running back last year and they traded down and took offensive tackle Duane Brown.
16. San Diego Chargers: Rey Maualuga, LB, USC
The Chargers are one of the toughest teams to predict in the first round. Their biggest needs are arguably at defensive end now that Igor Olshansky signed with Dallas, a right tackle to uproot Jeromey Clary, and a future running back to supplant LaDainian Tomlinson and Darren Sproles. But if they're taking the best player available at this spot, then it's Maualuga, who could turn out to be a tremendous two-down linebacker at the next level. If LSU's Tyson Jackson or Tennessee's Robert Ayers fall (which are decent possibilities), then the Bolts could go with one of them, or a surprise like Missouri DT Evander Hood. Trading down is also a major possibility, too.
17. New York Jets: Darrius Heyward-Bey, WR, Maryland
New head coach Rex Ryan has done a nice job upgrading the defense this offseason with the additions of linebacker Bart Scott and cornerback Lito Sheppard. While the Jets could still stand to upgrade the defensive end position, wide receiver remains their most pressing need and Heyward-Bey would give them a player who has great size, speed and that can stretch the field in the vertical passing game.
18. Denver Broncos (from Chicago): Ron Brace, DT, Boston College
Reach! Reach! REAAAAAAAAAAAAAAACH! I know – this is a massive reach. I don't really believe the Broncos would stay at this spot if they value Brace, which they might given their need for a 3-4 nose tackle. But since I'm not predicting any trades, I'll pencil Brace into this spot but assume Denver is going to get him later in the draft after trading back. REEAAAAACCH!
19. Tampa Bay Buccaneers: Aaron Maybin, DE, Penn State
The Bucs are moving away from the "Tampa 2" scheme under new head coach Raheem Morris and they need another pass-rushing threat opposite Gaines Adams on the defensive line. If Maybin falls to this spot, he would give Tampa a nice edge rusher and could provide pressure on the quarterback. He would also inject some youth at the position, with Kevin Carter set to turn 36 this year. Adding an interior lineman such as Peria Jerry, Evander Hood or Ron Brace is an option as well.
20. Detroit Lions (from Dallas): Vontae Davis, CB, Illinois
Davis might not fall this far and the Lions could certainly look to address their need at offensive tackle with a player like Eben Britton. But Davis is the top cornerback prospect in the draft and he would fill an immediate need for Detroit. Some have questioned Davis's character because he reportedly got into spats with the coaching staff at Illinois, but he's an athletic marvel and could turn out to be a great pick if he stays motivated and keeps his head on straight.
21. Philadelphia Eagles: Knowshon Moreno, RB, Georgia
After trading for left tackle Jason Peters, the Eagles could go a variety of ways with this pick. Tight end remains a need and that means Oklahoma State's Brandon Pettigrew is an option. Outside linebacker is also an area of concern with Omar Gaither losing his starting job to second-year undrafted player Akeem Jordan at the end of last year. But ultimately, Brian Westbrook turns 30 this year, is always an injury risk and Correll Buckhalter signed with Denver. The Eagles could trade out of his spot and still land a productive running back later on, but Moreno is one of the more underrated prospects in this entire draft. He doesn't posses elite speed, but his vision is outstanding and some at Georgia have compared him to Hershel Walker.
22. Minnesota Vikings: Peria Jerry, DT, Ole Miss
Some might look at this pick and scoff considering the Vikings have two of the best defensive tackles in the league in Pat Williams and Kevin Williams. But they're not necessarily deep at the position and Pat Williams is 36 and coming off injury. Jerry would also give them a nice interior pass-rusher and would certainly be a solid addition if Pat and Kevin are suspended for the start of the season for violating the league substance abuse policy last year. I could also see the Vikes selecting a possession receiver like Hakeem Nicks and a center like Alex Mack to fill the void left by Matt Birk.
23. New England Patriots: Malcolm Jenkins, CB, Ohio State
Several media outlets (including Don Banks of SI.com) say that Connecticut cornerback Darius Butler is a lock to go to New England at this pick. Which is exactly why I'm going with Jenkins. Every time a player is a "lock" to go to a team past the top 10, it's usually wrong and I don't trust anything coming out of New England around this time because Bill Belichick is the last person to let any draft information leak. Jenkins is a perfect fit for Belichick's scheme because he's smart, intuitive and has a great head on his shoulders. He would be a solid pick here.
24. Atlanta Falcons: Louis Delmas, S, Western Michigan
I've gone round and round with this pick for weeks. The Falcons have several needs including tight end, outside linebacker, defensive tackle, defensive end and safety. Everyone and their mother assumes that the Falcons are going to take Brandon Pettigrew if he's available, but considering the tight end position is an afterthought in Mike Murlarkey's offense, I bet they wait until later in the draft to fill that need. The top need is at defensive tackle, which makes Peria Jerry (if he's available) and Evander Hood possibilities, although Hood is a better fit than Jerry because Jerry doesn't play nose and that's the position Atlanta needs to address. But at the end of the day, the safety class is weak this year and if Atlanta waits, it might not be able to address that need later in the draft. So they take Delmas here and wait to grab a DT, OLB and TE later in the draft. But I could see the Falcons going with any one of these prospects at No. 24: Pettigrew, Delmas, Hood, Clint Sintim and Clay Matthews.
25. Miami Dolphins: Alphonso Smith, CB, Wake Forest
Miami doesn't have much in terms of starting-quality cornerbacks outside of Will Allen. Smith is a very good athlete who doesn't mind coming up to play the run and is fundamentally sound. He's not the biggest prospect, but he seems like a Bill Parcells-type of athlete and has loads of experience.
26. Baltimore Ravens: Jeremy Maclin, WR, Missouri
The Ravens have needs at safety, cornerback and defensive end, but their interest in Anquan Boldin suggests that they might go wide receiver with this pick. Derek Mason is consistent, but he's getting up there in age and Mark Clayton has not proved that he can make much of an impact. There might not be any way Maclin falls this far (he's slated to go in the top 15), but if he does, he would be the ultimate steal at this spot.
27. Indianapolis Colts: Evander Hood, DT, Missouri
In my first two mocks, I said that Peria Jerry would be a slam-dunk at this pick, but I have him going No. 22 to the Vikings now, so Hood falls to Indy. The Colts have a major need at defensive tackle with Darrell Reid now in Denver and Hood (6'2", 300 pounds) would give their defensive line much-needed bulk considering Keyunta Dawson and Eric Foster each weigh well under 275 pounds.
28. Buffalo Bills (from Carolina through Philadelphia): Brandon Pettigrew, TE, Oklahoma State
There is a huge possibility that Pettigrew won't fall this far, but if he does, he would seem like a lock to land in Buffalo. Some mock projections even have him going to the Bills at No. 11, although that seems like a bigger stretch than him falling to No. 28. Either way, Pettigrew would form a nice 1-2 combination with T.O. in the Bills' offense.
29. New York Giants: Kenny Britt, WR, Rutgers
What the hell do I do with this pick? If the G-Men don't trade for Braylon Edwards, then a receiver is obviously needed, which is why I have Nicks penciled in at this spot. But if they do acquire Edwards, then tight end and safety become the two biggest needs and if Brandon Pettigrew and Louis Delmas are both off the board, then it looks like the Giants will be reaching no matter what they do. Britt might not be available and if he isn't, Hakeen Nicks is also a possibility.
30. Tennessee Titans: Darius Butler, CB, Connecticut
The Titans could use a corner to play opposite Cortland Finnegan once Nick Harper decides to call it quits. Butler has excellent quickness and athleticism, although he comes with some durability issues. Still, the former Husky is a smart, confident player and someone that Tennessee could bring along slowly to eventually replace Harper.
31. Arizona Cardinals: Larry English, DE/OLB, Northern Illinois
Is English a great fit for the Cardinals? Maybe not, but they do have needs at both defensive end and outside linebacker and English is the best hybrid prospect left on the board. Arizona needs another pass rusher, which is what English excelled at in college. Some have compared him to a poor man's Terrell Suggs, which certainly bodes well for English's potential.
32. Pittsburgh Steelers: Duke Robinson, G, Oklahoma
Considering he's the best guard prospect in the draft, Robinson might not last to the 32nd pick in the first round. But if he does, the Steelers would instantly upgrade their guard position with the 6'5", 329-pound former Sooner. Robinson has outstanding strength and is very powerful.
I'm saying the over/under on correct picks for this mock is 7 and I'm taking the under. Anyone taking the over so I can feel good about myself?
Tags: 2009 Mock Drafts, 2009 NFL Draft, 2009 NFL Mock Draft, Aaron Curry, Al Davis, Alex Mack, Alphonso Smith, Andre Smith, Arizona Cardinals, Atlanta Falcons, B.J. Raji, Baltimore Ravens, Bill Belichick, Brandon Pettigrew, Braylon Edwards, Brian Cushing, Brian Orakpo, Buffalo Bills, Chris Beanie Wells, Cincinnati Bengals, Cleveland Browns, Clint Sintim, Darius Butler, Darren Sproles, Darrius Heyward-Bey, Denver Broncos, Detroit Lions, Duke Robinson, Everette Brown, Green Bay Packers, Hakeem Nicks, Houston Texans, Indianapolis Colts, Jacksonville Jaguars, Jason Smith, Jay Cutler, Jeremy Maclin, Kansas City Chiefs., Kenny Britt, Knowshon Moreno, L.J. Smith, LaDainian Tomlinson, Louis Delmas, Malcolm Jenkins, Marc Bulger, Mark Sanchez, Matthew Stafford, Miami Dolphins, Michael Crabtree, Michael Oher, Minnesota Vikings, Mock Drafts, New England Patriots, New Orleans Saints, New York Giants, New York Jets, NFL Mock Draft, NFL Mock Drafts, NFL Mock Drafts 2009, Oakland Raiders, Orlando Pace, Percy Harvin, Peria Jerry, Philadelphia Eagles, Pittsburgh Steelers, Plaxico Burress, Rey Maualuga, Ron Brace, San Diego Chargers, San Francisco 49ers, St. Louis Rams, Steven Jackson, Tampa Bay Buccaneers, Tennessee Titans, Vontae Davis, Washington Redskins