2009 NFL Mock Draft Version 1.0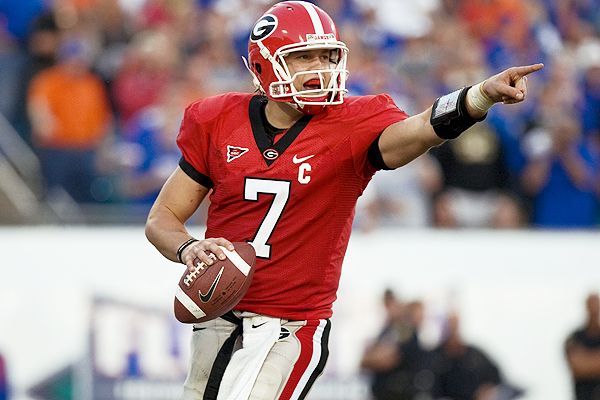 It would probably be good for me to do an intro to this piece, but I'm going to skip all the foreplay and just get right to the action. And let's be honest – you probably wouldn't have read the intro anyway.
Below is my first mock draft of the year. You can disagree all you want, but just make sure you go into detail in the comments section so I know you care. I hate those bastards that trash my work and don't have the common courtesy to tell me how much of a moron I am in print…
Let's mock!
1. Detroit Lions: Matthew Stafford, QB, Georgia
Jason Smith (Baylor), Eugene Monroe (Virginia) and Aaron Curry (Wake Forest) are all possibilities for new GM Martin Mayhew with this pick. But the offensive tackle and linebacker positions are deep in this year's draft – the quarterback position is not. Mayhew can get his franchise quarterback in Stafford, select an offensive tackle at No. 20 and then fill the middle linebacker need in the second or third round. There, I just fixed the 0-16 Detroit Lions in less than 100 words.
2. St. Louis Rams: Jason Smith, OT, Baylor
If Smith goes No. 1 to the Lions, then I fully expect the Rams to take Virginia offensive tackle Eugene Monroe. With the jettison of long-time veteran Orlando Pace this offseason, St. Louis needs to address their need at left tackle and they'll do so with either Smith or Monroe depending on who's available. If it's Smith, then they land one of the most athletic offensive lineman in the draft.
3. Kansas City Chiefs: Aaron Curry, LB, Wake Forest
The Chiefs could really use a right tackle to pair with last year's first round pick, Branden Albert, but Curry would be too good to pass up here. GM Scott Pioli put a premium on versatile defenders while he was in New England, and that's exactly what Curry is. The Wake Forest product could play either outside or inside in a 4-3 or 3-4 scheme and is easily the best defensive prospect in this year's draft.
4. Seattle Seahawks: Eugene Monroe, OT, Virginia
The Seahawks would love to see Curry fall to No. 4, but it's doubtful that he would slip past the Chiefs at No. 3 unless KC values Monroe more. Walter Jones is still extremely effective for his age, but the Hawks need to start grooming someone to take his place. Monroe doesn't have a high ceiling, but he's solid nonetheless and a very safe pick.
5. San Francisco 49ers (via trade with Cleveland): Mark Sanchez, QB, USC
My first curve ball of the day; fearing rumors that the Jaguars could take Sanchez at No. 8, the Niners swap picks with the Browns and give up their second round pick (which Cleveland could desperately use) in the process. Do I think Sanchez is worthy of a top 5 pick? No, but he's a hometown product and clearly San Fran isn't sold on Alex Smith ever developing.
6. Cincinnati Bengals: Michael Oher, OT, Ole Miss
Offensive tackle is one of the Bengals' biggest needs and while there's a great chance they could go with Alabama's Andre Smith instead, Oher remains a safer choice. Smith has been a complete disaster since being suspended for the Sugar Bowl, which is exactly why some project him to go to the dysfunctional Bengals. But for the moment, let's give Paul Mike Brown the benefit of the doubt (I think just threw up a little) and believe he'll choose Oher, who has less natural talent than Smith, but who is definitely blessed with more motivation and determination.
7. Oakland Raiders: Michael Crabtree, WR, Texas Tech
As always, the Raiders need to address their offensive line and they could stand to add a defensive end, too. But Al Davis likes flash in the first round and nothing says flash like drafting a receiver. There are some concerns about Crabtree's foot, but he remains one of the best prospects in this year's draft and would make a nice toy for JaMarcus Russell. (Assuming Russell can get the ball to Crabtree without throwing it over his head.)
8. Jacksonville Jaguars: Jeremy Maclin, WR, Missouri
The Jags could stand to upgrade their defensive tackle and cornerback positions, but unfortunately there aren't any worth taking at No. 8. So they try to address the black hole that is their wideout position with Maclin, and pray he doesn't become the next in a long line of receiver busts.
9. Green Bay Packers: Brian Orakpo, OLB, Texas
If the Browns stay pat and don't/can't trade out from No. 5, there's a chance Orakpo could wind up in Cleveland. But with Orakpo still on the board here, the Packers select the Texas product in hopes that he can provide a decent pass rush as an outside linebacker in their new 3-4 scheme opposite Aaron Kampman. What the Pack could really use is a 3-4 defensive end, but they won't find one worthy of the No. 9 overall pick. Florida State outside linebacker/defensive end Everette Brown is also a possibility here.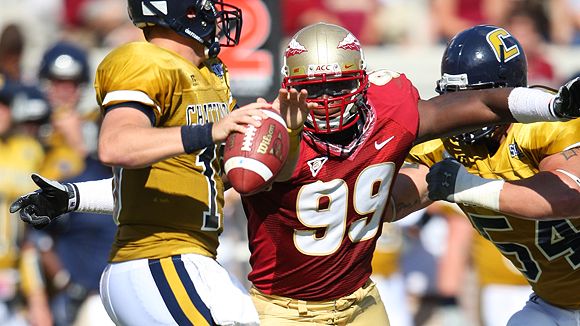 10. Cleveland Browns: Everette Brown, OLB, Florida State
After signing Eric Barton to play inside next to D'Qwell Jackson in Eric Mangini's 3-4 defense, the Browns could use an outside linebacker opposite Kamerion Wimbley to help rush the passer. Brown and Texas' DE/OLB Brian Orakpo would be reaches at No. 5 (where the Browns are currently slated to pick), but at No. 10, Cleveland gets a better value for their selection and would also scoop up another draft pick. (This of course is assuming the aforementioned trade with the 49ers.) Cornerbacks Vonte Davis (Illinois) and Malcolm Jenkins (Ohio State) would also be considerations for the Browns, although they would also be reaches at No. 5.
11. Buffalo Bills: Aaron Maybin, DE, Penn State
The Bills desperately need a guard, but there aren't any available worthy of the No. 11 pick. Instead, Buffalo addresses their pass rush need with Maybin, who has better athleticism and quickness to get after the quarterback than LSU's Tyson Jackson, who would also be available at this spot.
12. Denver Broncos: B.J. Raji, DT, Boston College
This seems like a slam dunk pick, although if the Packers don't feel that Ryan Pickett makes an adequate nose tackle in their new 3-4, Raji could be off the board when Denver selects. Raji is the best defensive tackle prospect in the draft and could be the new centerpiece of the Broncos new 3-4 front.
13. Washington Redskins: Tyson Jackson, DE, LSU
The Skins might address their need at offensive tackle if Alabama's Andre Smith and Ole Miss's Michael Oher are still on the board. But taking a defensive end makes more sense at this point, especially after the team released Jason Taylor. Jackson doesn't have the quickness to rush the passer like fellow defensive end prospect Aaron Maybin (who I have going to the Bills at No. 11), but he usually gets a good push up front and rarely gets knocked backwards.
14. New Orleans Saints: Brian Cushing, OLB, USC
Once again the Saints will be looking to address their defensive needs on draft day. After signing safety Darren Sharper in free agency, outside linebacker becomes New Orleans' biggest need and Cushing certainly helps fill that void. One of four Trojan linebackers that could be taken on day one, Cushing is a flat out workhorse and a football player in every sense of the word.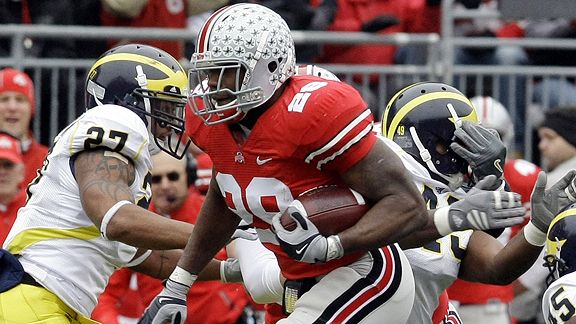 15. Houston Texans: Chris "Beanie" Wells, RB, Ohio State
The Texans could use a hard-hitting strong safety, but prospects like Western Michigan's Louis Delmas and Missouri's William Moore would be reaches at No. 15. Houston could also upgrade the outside linebacker spot, but with Brian Cushing coming off the board a pick earlier, Beanie Wells looks awfully intriguing. Steve Slaton proved that he can get it done at the next level, but he needs a complement and Wells, who can run between the tackles and outside, could help in that department.
16. San Diego Chargers: Rey Maualuga, ILB, USC
The Chargers don't have a ton of holes to fill and while an offensive tackle would be nice, only Alabama's Andre Smith is worthy of a selection at this spot and he doesn't really seem like an AJ Smith kind of player. So the Chargers take the best player available in Maualuga to address their need for depth at linebacker.
17. New York Jets: Vonte Davis, CB, Illinois
With the hiring of new head coach Rex Ryan, the Jets have mainly focused on defense this offseason. While the need at quarterback is urgent, the Jets could also use a cornerback to play outside Darrelle Revis and Davis proved at the combine that he has more physical skills than Ohio State's Malcolm Jenkins. Davis has been accused of freelancing too much, but perhaps Ryan can turn that into a positive with his schemes.
18. Chicago Bears: Percy Harvin, WR, Florida
I'm not thrilled about this selection for the Bears, but they seem intent on starting Frank Omiyale, who they picked up in free agency, at right tackle. So with that need filled (and I use that term loosely), wide receiver becomes Chicago's biggest need and either Harvin or Maryland's Darrius Heyward-Bey should be available. If the Bears sign veteran Torry Holt, then GM Jerry Angelo (who always screws the pooch in the first round) might lean towards drafting a defensive end such as Tyson Jackson, Aaron Maybin or Larry English.
19. Tampa Bay Buccaneers: Josh Freeman, QB, Kansas State
The Bucs could look at a defensive end at this spot, but if Freeman falls, he might be too good to pass up. The K-State product has the best physical tools of any quarterback in the draft, but he may be the biggest long-term project, too. He has raw skills that'll need time to develop, which is why Tampa could go with Luke McCown until Freeman is ready.
20. Detroit Lions: Andre Smith, OT, Alabama
Smith arguably has the most talent of any offensive tackle in the draft, but there's no telling where his head is at after disappearing at the scouting combine and turning in a lackluster pro day. Still, if he falls to the Lions here (which might not be a possibility given how many teams ahead of them also need an offensive tackle), he might be too good to pass up. For the record, I wouldn't touch this kid with a 10-foot pole if I were a GM. But I'm not a GM and Smith will probably turn out to be a Pro Bowler in spite of my comments.
21. Philadelphia Eagles: Knowshon Moreno, RB, Georgia
The Eagles need to address their left tackle position at some point, but in this mock, all of the top offensive tackles are off the board. With Brian Westbrook's health always a concern and Correll Buckhalter jetting to Denver, Moreno is the do-everything back the Eagles' covet. He doesn't have tremendous speed or power, but Moreno's instincts and vision are outstanding and he could one day take over as Westbrook's replacement.
22. Minnesota Vikings: Alex Mack, C, California
Center isn't the sexiest pick in the first round (in fact, it's about the least sexiest outside of kicker and punter), but the departure of Matt Birk left a gaping hole in the middle of the Vikings' offensive line. Mack is extremely smart (not unlike Birk) and is physical and aggressive at the point of attack.
23. New England Patriots: Clint Sintim, OLB, Virginia
The Patriots have been mentioned in trade rumors surrounding Julius Peppers, but those appear to be dead now. The Pats obviously want to upgrade their outside linebacker position and Sintim is the best available. Sintim flashed the ability to get to the passer in college and Bill Belichick could have a field day designing ways for him to do that.
24. Atlanta Falcons: Clay Matthews, OLB, USC
After contract negotiations broke down with free agent L.J. Smith, many expect the Falcons to take a tight end at this spot – especially if Oklahoma State's Brandon Pettigrew is available. But despite making the playoffs last year, Atlanta has a ton of holes to fill defensively and after re-signing Chauncey Davis, defensive end doesn't seem to be a bigger need than outside linebacker, defensive tackle or safety. Matthews isn't the most physically gifted prospect, but he has a non-stop motor and could compete with Coy Wire and Mike Peterson on the outside.
25. Miami Dolphins: Malcolm Jenkins, CB, Ohio State
There's a good possibility that Jenkins will be long gone by this point, but he certainly didn't help himself at the combine. He timed slow in the 40-yard dash and dropped multiple passes in drills. But that doesn't mean he can't play. Jenkins is a big corner with solid instincts and if he does fall this far, he would be a steal for Miami.
26. Baltimore Ravens: Alphonso Smith, CB, Wake Forest
After releasing Samari Rolle, the Ravens have a major need at cornerback and if Smith is still available, he would be an instant upgrade. He's on the smaller side, but he's a good athlete and has excellent athleticism and quickness.
27. Indianapolis Colts: Peria Jerry, DT, Ole Miss
Much like B.J. Raji going to Denver with the No. 12 pick, this just seems like a slam dunk. The Colts need a run-stuffing defensive tackle and while Jerry doesn't have a ton of size or bulk, he fits Indy's style of defense because he's quick and explosive.
28. Philadelphia Eagles: Brandon Pettigrew, TE, Oklahoma State
After allowing L.J. Smith to bolt via free agency, the Eagles could use an upgrade at tight end if they don't feel that Brent Celek is ready to be a full-time starter. Pettigrew might not drop this far, but he's the best tight end prospect in the draft and not only is he a solid pass-catcher, but he's a decent blocker as well.
29. New York Giants: Darrius Heyward-Bey, WR, Maryland
If Bey lasts, he would be a steal for the Giants at this spot. New York is in obvious need of a wideout with Plaxico Burress's situation still up in the air and while Bey was inconsistent catching the ball at times in college, there's no denying his deep threat capabilities. Think Eli Manning would love to have a receiver that runs a 4.30 and that can go up and get the ball?
30. Tennessee Titans: Darius Butler, Connecticut
The Titans could use a corner to play opposite Cortland Finnegan once Nick Harper decides to call it quits. Butler has excellent quickness and athleticism, although he comes with some durability issues. Still, the former Huskie is a smart, confident player and someone that Tennessee could bring along slowly to eventually replace Harper.
31. Arizona Cardinals: Ron Brace, DT, Boston College
Starting nose tackle Bryan Robinson is 34 and although the team re-signed Gabe Watson, he's not a long-term solution at the position. Brace definitely benefited from playing alongside B.J. Raji at Boston College, but he projects into a 3-4 nose tackle because he has the ability to shoot the gaps and give a good push up front. He has excellent size at 6'3", 334 pounds.
32. Pittsburgh Steelers: Duke Robinson, G, Oklahoma
Considering he's the best guard prospect in the draft, Robinson might not last to the 32nd pick in the first round. But if he does, the Steelers would instantly upgrade their guard position with the 6'5", 329-pound former Sooner. Robinson has outstanding strength and is very power.
Tags: 2009 Mock Draft, 2009 NFL Draft, 2009 NFL Mock Draft, Aaron Curry, Aaron Maybin, Al Davis, Alex Mack, Alex Smith, Alphonso Smith, Andre Smith, Anthony Stalter, Arizona Cardinals, Atlanta Falcons, B.J. Raji, Baltimore Ravens, Brandon Pettigrew, Brian Cushing, Brian Orakpo, Buffalo Bills, Chicago Bears, Chris Beanie Wells, Cincinnati Bengals, Clay Matthews, Cleveland Browns, Clint Sintim, Darius Butler, Darrius Heyward-Bey, Denver Broncos, Detroit Lions, Duke Robinson, Eli Manning, Eugene Monroe, Everette Brown, Green Bay Packers, Indianapolis Colts, Jacksonville Jaguars, JaMarcus Russell, Jason Smith, Jeremy Maclin, Josh Freeman, Kansas City Chiefs., Knowshon Moreno, L.J. Smith, Malcolm Jenkins, Mark Sanchez, Matthew Stafford, Miami Dolphins, Michael Crabtree, Michael Oher, Minnesota Vikings, Mock Drafts, New England Patriots, New Orleans Saints, New York Giants, New York Jets, NFL Mock Drafts, Oakland Raiders, Percy Harvin, Peria Jerry, Philadelphia Eagles, Pittsburgh Steelers, Plaxico Burress, Rey Maualuga, Ron Brace, San Diego Chargers, San Francisco 49ers, Seattle Seahawks, St. Louis Rams, Tampa Bay Bucs, Tennessee Titans, Tyson Jackson, Vonte Davis, Washington Redskins