2009 NFL Mock Draft Version 2.0
In my first attempt to project the first round of the 2009 NFL Draft, I predicted the Lions to take Georgia's Matthew Stafford with the first overall pick, Alabama's offensive tackle Andre Smith to fall out of the top 15 and I also drummed up a potential swap between the Browns and 49ers so that San Fran could land USC signal caller Mark Sanchez.
But to paraphrase that overactor Nicholas Cage in "The Rock": Gee, kind of a lot has happened since then. Most notably the Bears sending two first round picks to the Broncos for quarterback Jay Cutler and the Giants' release of receiver Plaxico Burress.
Here's my second attempt at projecting the first round of this month's draft. As always, feel free to criticize in the comments section, but remember that I'm a human – I have feelings, too, damn it. So be gentle.
(Click here to see Mock Draft Version 1.0)
1. Detroit Lions: Matthew Stafford, QB, Georgia
Mock 1.0 Projection: Stafford
Nothing in the past couple of weeks has changed my mind about Stafford eventually winding up in Detroit. GM Martin Mayhew reportedly wants to trade this selection because of the financial burden that is bestowed upon having the top overall pick, but other teams don't want it for the same reason. In the end, Jason Smith (Baylor) and Eugene Monroe (Virginia) are both very good options here, but the Lions were reportedly very impressed with Stafford's private workout and you know what? They simply need a quarterback.
2. St. Louis Rams: Jason Smith, OT, Baylor
Mock 1.0 Projection: Smith
Smith could go to the Lions at No. 1 and if he does, I firmly believe St. Louis would then select Virginia offensive tackle Eugene Monroe, who apparently turned in a solid private workout for the Rams in mid March. After Orlando Pace was released (and subsequently signed with the Bears), the need for a left tackle became paramount for the Rams. Considering the entire offense revolves around opening holes for running back Steven Jackson and trying to keep quarterback Marc Bulger on his feet, St. Louis taking an offensive tackle seems like a lock.
3. Kansas City Chiefs: Aaron Curry, LB, Wake Forest
Mock 1.0 Projection: Curry
The Chiefs could really use a right tackle to pair with last year's first round pick, Branden Albert, but Curry would be too good to pass up here. GM Scott Pioli put a premium on versatile defenders while he was in New England, and that's exactly what Curry is. The Wake Forest product could play either outside or inside in any defensive scheme and is easily the best defensive prospect in this year's draft.
4. Seattle Seahawks: Eugene Monroe, OT, Virginia
Mock 1.0 Projection: Monroe
The Seahawks would love to see Curry fall to No. 4, but it's doubtful that he would slip past the Chiefs at No. 3 unless KC values Monroe more. Walter Jones is still extremely effective for his age, but the Hawks need to start grooming someone to take his place. Seattle also has interest in USC quarterback Mark Sanchez, or is at least feigning interest. If teams like the 49ers or Broncos also have interest in Sanchez, them maybe the Seahawks can trade down and acquire another pick or two.
5. Cleveland Browns: Michael Crabtree, WR, Texas Tech
Mock 1.0 Projection: Traded to San Francisco, 49ers select QB Mark Sanchez
In my first mock, I had the Browns trading this pick to the 49ers, but I'm not feeling as ballsy as I was that day. Personally I think Cleveland is screwed. They really need linebackers, but none of the top 'backers after Wake's Aaron Curry – Brian Orakpo, Everette Brown, Brian Cushing, Rey Maualuga – are worthy of the fifth overall pick. Plus, with their signing of free agent inside linebacker Eric Barton (who played for Eric Mangini in New York), Cleveland would probably pass on Maualuga (who some Browns fans are clamoring for) anyway. So unless they can trade down and get more value, they'll either have to reach at this pick or take a surprise like Crabtree. The Giants released receiver Plaxico Burress last week and there has been speculation for months that New York is interested in Braylon Edwards. If the Browns send Edwards to New York and acquire an OLB like Mathias Kiwanuka in return, then Crabtree makes a ton of sense here.
6. Cincinnati Bengals: Michael Oher, OT, Ole Miss
Mock 1.0 Projection: Oher
Oher is a reach here, there's no doubt about it. But I think the Bengals are finally starting to learn their lesson in regards to drafting potentially bad apples, so they'll stay away from Alabama's Andre Smith. Oher is projected to go 15-20, but so what? He's the third best offensive tackle on the board after Jason Smith (Baylor) and Eugene Monroe (Virginia) and his stock has steadily climbed since the scouting combine. If he becomes a Pro Bowler in three years, will anyone criticize the Bengals for taking him at No. 6 instead of No. 15? No. Obviously if they can trade down and still nab him 15-20, then all the better. But trading out of the top 10 is harder than fans realize.
7. Oakland Raiders: Jeremy Maclin, WR, Missouri
Mock 1.0 Projection: Michael Crabtree, WR, Texas Tech
If Crabtree were still available, I think there's little doubt that Al Davis will go with the Texas Tech product. But with Crabtree coming off the board to Cleveland at No. 5, Davis could try to fill another need by taking DT B.J. Raji (Boston College) or one of the offensive tackles like Michael Oher (Ole Miss) or Andre Smith (Alabama). But in the end, this is Al Davis we're talking about and I think he'll go with speed. The Raiders have an obvious need at receiver and Maclin is one of the most explosive playmakers in the entire draft. Is he a good fit for Oakland's offense? Who cares – he has speed!
8. Denver Broncos (via trade with Jacksonville): Mark Sanchez, QB, USC
Mock 1.0 Projection: Jacksonville selected Jeremy Maclin
After the Broncos traded Jay Cutler to Chicago, I'm going to bite on the rumors and predict Denver trades up to this spot to take Sanchez. The Jaguars have an obvious need at receiver, but with Michael Crabtree and Jeremy Maclin off the board, they could trade down and try and get more value. Rumor has it that the Jags are interested in Sanchez, but maybe that is just a smokescreen and now that Denver has an obvious need at quarterback, Jacksonville can sell this pick to the highest bidder.
9. Green Bay Packers: B.J. Raji, DT, Boston College
Mock 1.0 Projection: Brian Orakpo, DE, Texas
After making the decision to switch to the 3-4 and then subsequently sitting on their hands in free agency, the Packers have a ton of holes to fill on the defensive side of the ball. They need an outside linebacker to play opposite Aaron Kampman and a defensive end to play opposite Cullen Jenkins. But prospects like Brian Orakpo (Texas) and Everette Brown (Florida State) would have to make the switch from 4-3 ends in college to 3-4 outside linebackers in the NFL. So why doesn't Green Bay just take one of the best players available in Raji, who can play tackle in either a 4-3 or 3-4 scheme and not have to worry about Orakpo or Brown having to make an adjustment? The Packers are counting on Ryan Pickett to play nose in their 3-4 scheme, but he becomes a free agent after the 2009 season and is already 30. GB can take Raji here (assuming GM Ted Thompson wasn't turned off by a report that claims Raji failed a drug test at the scouting combine), and then try to address their need at linebacker and end later in the draft.
10. San Francisco 49ers: Andre Smith, OT, Alabama
Mock 1.0 Projection: Traded to Cleveland, Browns select OLB/DE Everette Brown
I originally had the 49ers swapping picks with Cleveland in order to select Mark Sanchez, but that seemed like a reach then and it seems like a reach now. Andre Smith's issues have been well documented and I think there's a chance he could fall past the top 15. But with Michael Oher and Mark Sanchez off the board and given the Niners' desperate need at offensive tackle, I could see San Fran taking a shot on Smith. And quite frankly, I hope the kid does wind up getting tutelage from a head coach like Mike Singletary because he has too much talent to waste.
11. Buffalo Bills: Brian Orakpo, DE Texas
Mock 1.0 Projection: Aaron Maybin, DE, Penn State
The Bills desperately need a guard, but there aren't any available worthy of the No. 11 pick. Instead, Buffalo addresses their pass rush need with Orakpo, who might not last this long. Other end possibilities are Aaron Maybin of Penn State and Everette Brown of Florida State. Orakpo has some durability concerns and he can be inconsistent at times, but he was one of the best pass rushers in the nation in college and has incredible athleticism.
12. Jacksonville Jaguars (via trade with Denver): Percy Harvin, WR, Florida
Mock 1.0 Projection: Denver selected B.J. Raji, DT, Boston College
The Jags could stand to upgrade their defensive tackle and cornerback positions, but unfortunately there aren't any worth taking here. So they try to address the black hole that is their wideout position with Harvin, and pray he doesn't become the next in a long line of busts at receiver. Harvin has incredible speed and could offer the Jags plenty of options in their offense.
13. Washington Redskins: Everette Brown, DE, Florida State
Mock 1.0 Projection: Tyson Jackson, DE, LSU
The Skins might address their need at offensive tackle if Alabama's Andre Smith and Ole Miss's Michael Oher are still on the board. But taking a defensive end makes more sense at this point, especially after the team released Jason Taylor. Brown lacks the ideal size and strength to play end at the next level (which is why some envision him as a 3-4 outside linebacker), but he's incredibly quick and is one of the top pass rushers in this year's draft.
14. New Orleans Saints: Brian Cushing, OLB, USC
Mock 1.0 Projection: Cushing
Some believe the Saints will look at a running back, most notably Ohio State's Chris "Beanie" Wells. But this team only has one pick in the first three rounds so they surely won't use it on offense. After signing safety Darren Sharper in free agency, outside linebacker becomes New Orleans' biggest need and Cushing certainly helps fill that void. One of four Trojan linebackers that could be taken on day one, Cushing is a big-time workhorse and a football player in every sense of the word.
15. Houston Texans: Chris "Beanie" Wells, RB, Ohio State
Mock 1.0 Projection: Wells
The Texans could use a hard-hitting strong safety, but prospects like Western Michigan's Louis Delmas and Missouri's William Moore would be reaches at No. 15. Houston could also upgrade the outside linebacker spot, but with Brian Cushing coming off the board a pick earlier, Beanie Wells looks awfully intriguing. Steve Slaton proved that he can get it done at the next level, but he needs a complement and Wells, who can run between the tackles and outside, could help in that department.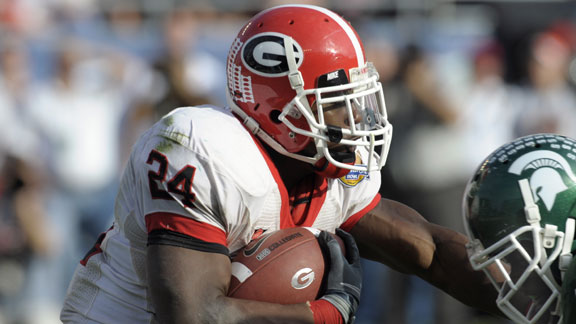 16. San Diego Chargers: Knowshon Moreno, RB, Georgia
Mock 1.0 Projection: Rey Maualuga, LB, USC
The Chargers simply don't have a ton of holes to fill, but seem destined to take a running back at some point during the draft given the long-term uncertainty surrounding LaDainian Tomlinson and Darren Sproles. If Beanie Wells is still available, he's an option here, or the Chargers could wait and try and nab Connecticut's Donald Brown in the second round. But people seem to be forgetting how good Moreno is and how good he can be. He's not the fastest back in the draft, but he has outstanding vision and could turn out to be one of the true first round sleepers of this draft.
17. New York Jets: Darrius Heyward-Bey, WR, Maryland
Mock 1.0 Projection: Vontae Davis, CB, Illinois
In my first mock, I had the Jets taking Davis but as a reader reminded me, I forgot that they had already acquired Lito Sheppard from the Eagles early this offseason and therefore corner isn't a pressing need. Receiver certainly is, however, after the team released Laveranues Coles (who signed with the Bengals). Heyward-Bey is one of the fastest prospects in the entire draft and could pair nicely with Jerricho Cotchery and Chansi Stuckey.
18. Denver Broncos (via trade with Chicago): Rey Maualuga, LB, USC
Mock 1.0 Projection: Chicago selected Percy Harvin, WR, Florida
The Broncos have a need at cornerback, so Illinois' Vontae Davis and Ohio State's Malcolm Jenkins make sense here. But with their switch to 3-4, the Broncos desperately need linebackers and if Maualuga is still around at No. 18, he would be a tremendous pickup. The Broncos have been getting by with smaller, fast linebackers for years but Maualuga would be a perfect fit for a team that wants to get nastier against the run.
19. Tampa Bay Buccaneers: Aaron Maybin, DE, Penn State
Mock 1.0 Projection: Josh Freeman, QB, Kansas State
I had Tampa taking Freeman at this spot in my first mock, but the more I play with the idea in my mind, the less I see it happening. The Bucs could really use an upgrade at the defensive end spot opposite Gaines Adams with Kevin Carter set to turn 36 and Greg "Stylez G." White's production dipping last year. Maybin might not last this long (in my original mock I had Buffalo taking him at No. 11), but if he does, he would provide Tampa with a nice upgrade and give the team a pair of bookends that really can get after the passer.
20. Detroit Lions: Vontae Davis, CB, Illinois
Mock 1.0 Projection: Andre Smith, OT, Alabama
The Lions have always had a huge need at cornerback and after they allowed Leigh Bodden to walk in free agency, the position is once again a major concern. Davis has the athletic talent to be a top 10 pick, but his work ethic and motivation have often been questioned, which could allow him to drop. The Lions have a major need at offensive tackle, but they could grab Davis here and then address their line needs with the first pick in the second round.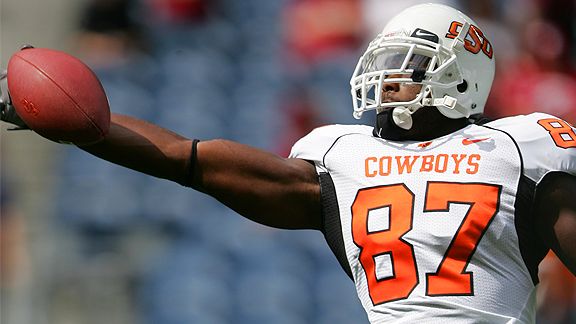 21. Philadelphia Eagles: Brandon Pettigrew, TE, Oklahoma State
Mock 1.0 Projection: Knowshon Moreno, RB, Georgia
After allowing L.J. Smith to bolt via free agency, the Eagles could use an upgrade at tight end if they don't feel that Brent Celek is ready to be a full-time starter. Pettigrew is the best tight end prospect in the draft and not only is he a solid pass-catcher, but he's a decent blocker as well.
22. Minnesota Vikings: Alex Mack, C, California
Mock 1.0 Projection: Mack
Center isn't the sexiest pick in the first round (in fact, it's about the least sexiest outside of kicker and punter), but the departure of Matt Birk left a gaping hole in the middle of the Vikings' offensive line. Mack is extremely smart (not unlike Birk) and is physical and aggressive at the point of attack.
23. New England Patriots: Malcolm Jenkins, CB, Ohio State
Mock 1.0 Projection: Clint Sintim, OLB, Virginia
The Pats value their linebackers, but they can't ignore their defensive back concerns. Youngsters Terrence Wheatley and Jonathan Wilhite struggled last year as rookies and Jenkins seems like the perfect fit for Bill Belichick's defensive scheme. Jenkins isn't as athletic as fellow corner prospect Vontae Davis, but he's instinctive, smart and could really excel under Belichick's guidance.
24. Atlanta Falcons: Clint Sintim, OLB, Virginia
Mock 1.0 Projection: Clay Matthews, OLB, USC
Some believe the Falcons will select Ole Miss' Peria Jerry here because of their need at defensive tackle. Atlanta does have a need at DT, but the problem is that Jerry doesn't fit their scheme. The team already has a quality under tackle in Jonathan Babineaux and Jerry is too close in size and build to him. Jerry can't play nose, which is the position the Falcons need. Atlanta believes youngster Stephen Nicholas can beat out Coy Wire or Mike Peterson at one of the outside linebacker positions. And if the team could add a quality prospect like Sintim, he could groom at the other outside 'backer position under Wire or Peterson.
25. Miami Dolphins: Alphonso Smith, CB, Wake Forest
Mock 1.0 Projection: Malcolm Jenkins, CB, Ohio State
Miami doesn't have much in terms of starting-quality cornerbacks outside of Will Allen. Smith is a very good athlete who doesn't mind coming up to play the run and is fundamentally sound. He's not the biggest prospect, but he seems like a Bill Parcells-type of athlete and has loads of experience.
26. Baltimore Ravens: Kenny Britt, WR, Rutgers
Mock 1.0 Projection: Alphonso Smith, CB, Wake Forest
Britt might be a reach here, but the Ravens need some playmakers on the offensive side of the ball and the Rutgers' product is one of the more polished receivers in the draft. Britt was incredibly productive at Rutgers and always seemed to produce in the clutch. Baltimore needs to do something at the position with Derrick Mason already turning 35.
27. Indianapolis Colts: Peria Jerry, DT, Ole Miss
Mock 1.0 Projection: Jerry
This just seems like a slam dunk pick. The Colts need a run-stuffing defensive tackle and while Jerry doesn't have a ton of size or bulk, he fits Indy's style of defense because he's quick and explosive.
28. Philadelphia Eagles: Louis Delmas, S, Western Michigan
Mock 1.0 Projection: Brandon Pettigrew, TE, Oklahoma State
Since I have the Eagles taking Pettigrew with their first pick this round, they could fill their need at safety with Delmas. Western Michigan's secondary was abused plenty this year, but Delmas was the one true standout (in a positive way, that is). He doesn't have a ton of speed, but he's incredibly tough and physical, was a four-year started in college and is a true team leader. He probably won't make Philly fans forget about Brian Dawkins anytime soon, but Delmas could turn out to be a very productive player.
29. New York Giants: Hakeem Nicks, WR, North Carolina
Mock 1.0 Projection: Darrius Heyward-Bey, WR, Maryland
What the hell do I do with this pick? If the G-Men don't trade for Braylon Edwards, then a receiver is obviously needed, which is why I have Nicks penciled in at this spot. But if they do acquire Edwards, then tight end and safety become the two biggest needs and if Brandon Pettigrew and Louis Delmas are both off the board, then it looks like the Giants will be reaching no matter what they do. Nicks is a reach, but he addresses a need.
30. Tennessee Titans: Darius Butler, CB, Connecticut
Mock 1.0 Projection: Butler
The Titans could use a corner to play opposite Cortland Finnegan once Nick Harper decides to call it quits. Butler has excellent quickness and athleticism, although he comes with some durability issues. Still, the former Huskie is a smart, confident player and someone that Tennessee could bring along slowly to eventually replace Harper.
31. Arizona Cardinals: Ron Brace, DT, Boston College
Mock 1.0 Projection: Brace
Starting nose tackle Bryan Robinson is 34 and although the team re-signed Gabe Watson, he's not a long-term solution at the position. Brace definitely benefited from playing alongside B.J. Raji at Boston College, but he projects into a 3-4 nose tackle because he has the ability to shoot the gaps and give a good push up front. He has excellent size at 6'3", 334 pounds.
32. Pittsburgh Steelers: Duke Robinson, G, Oklahoma
Mock 1.0 Projection: Robinson
Considering he's the best guard prospect in the draft, Robinson might not last to the 32nd pick in the first round. But if he does, the Steelers would instantly upgrade their guard position with the 6'5", 329-pound former Sooner. Robinson has outstanding strength and is very powerful.
Tags: 2009 Mock Drafts, 2009 NFL Draft, 2009 NFL Mock Draft, Aaron Curry, Al Davis, Alex Mack, Alphonso Smith, Andre Smith, Arizona Cardinals, Atlanta Falcons, B.J. Raji, Baltimore Ravens, Bill Belichick, Brandon Pettigrew, Braylon Edwards, Brian Cushing, Brian Orakpo, Buffalo Bills, Chris Beanie Wells, Cincinnati Bengals, Cleveland Browns, Clint Sintim, Darius Butler, Darren Sproles, Darrius Heyward-Bey, Denver Broncos, Detroit Lions, Duke Robinson, Everette Brown, Green Bay Packers, Hakeem Nicks, Houston Texans, Indianapolis Colts, Jacksonville Jaguars, Jason Smith, Jay Cutler, Jeremy Maclin, Kansas City Chiefs., Kenny Britt, Knowshon Moreno, L.J. Smith, LaDainian Tomlinson, Louis Delmas, Malcolm Jenkins, Marc Bulger, Mark Sanchez, Matthew Stafford, Miami Dolphins, Michael Crabtree, Michael Oher, Minnesota Vikings, Mock Drafts, New England Patriots, New Orleans Saints, New York Giants, New York Jets, NFL Mock Draft, NFL Mock Drafts, NFL Mock Drafts 2009, Oakland Raiders, Orlando Pace, Percy Harvin, Peria Jerry, Philadelphia Eagles, Pittsburgh Steelers, Plaxico Burress, Rey Maualuga, Ron Brace, San Diego Chargers, San Francisco 49ers, St. Louis Rams, Steven Jackson, Tampa Bay Buccaneers, Tennessee Titans, Vontae Davis, Washington Redskins