2009 NFL Mock Draft Version 1.0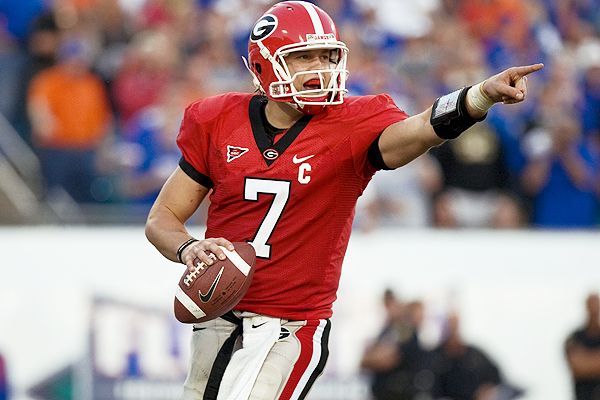 It would probably be good for me to do an intro to this piece, but I'm going to skip all the foreplay and just get right to the action. And let's be honest – you probably wouldn't have read the intro anyway.
Below is my first mock draft of the year. You can disagree all you want, but just make sure you go into detail in the comments section so I know you care. I hate those bastards that trash my work and don't have the common courtesy to tell me how much of a moron I am in print…
Let's mock!
1. Detroit Lions: Matthew Stafford, QB, Georgia
Jason Smith (Baylor), Eugene Monroe (Virginia) and Aaron Curry (Wake Forest) are all possibilities for new GM Martin Mayhew with this pick. But the offensive tackle and linebacker positions are deep in this year's draft – the quarterback position is not. Mayhew can get his franchise quarterback in Stafford, select an offensive tackle at No. 20 and then fill the middle linebacker need in the second or third round. There, I just fixed the 0-16 Detroit Lions in less than 100 words.
2. St. Louis Rams: Jason Smith, OT, Baylor
If Smith goes No. 1 to the Lions, then I fully expect the Rams to take Virginia offensive tackle Eugene Monroe. With the jettison of long-time veteran Orlando Pace this offseason, St. Louis needs to address their need at left tackle and they'll do so with either Smith or Monroe depending on who's available. If it's Smith, then they land one of the most athletic offensive lineman in the draft.
3. Kansas City Chiefs: Aaron Curry, LB, Wake Forest
The Chiefs could really use a right tackle to pair with last year's first round pick, Branden Albert, but Curry would be too good to pass up here. GM Scott Pioli put a premium on versatile defenders while he was in New England, and that's exactly what Curry is. The Wake Forest product could play either outside or inside in a 4-3 or 3-4 scheme and is easily the best defensive prospect in this year's draft.
Tags: 2009 Mock Draft, 2009 NFL Draft, 2009 NFL Mock Draft, Aaron Curry, Aaron Maybin, Al Davis, Alex Mack, Alex Smith, Alphonso Smith, Andre Smith, Anthony Stalter, Arizona Cardinals, Atlanta Falcons, B.J. Raji, Baltimore Ravens, Brandon Pettigrew, Brian Cushing, Brian Orakpo, Buffalo Bills, Chicago Bears, Chris Beanie Wells, Cincinnati Bengals, Clay Matthews, Cleveland Browns, Clint Sintim, Darius Butler, Darrius Heyward-Bey, Denver Broncos, Detroit Lions, Duke Robinson, Eli Manning, Eugene Monroe, Everette Brown, Green Bay Packers, Indianapolis Colts, Jacksonville Jaguars, JaMarcus Russell, Jason Smith, Jeremy Maclin, Josh Freeman, Kansas City Chiefs., Knowshon Moreno, L.J. Smith, Malcolm Jenkins, Mark Sanchez, Matthew Stafford, Miami Dolphins, Michael Crabtree, Michael Oher, Minnesota Vikings, Mock Drafts, New England Patriots, New Orleans Saints, New York Giants, New York Jets, NFL Mock Drafts, Oakland Raiders, Percy Harvin, Peria Jerry, Philadelphia Eagles, Pittsburgh Steelers, Plaxico Burress, Rey Maualuga, Ron Brace, San Diego Chargers, San Francisco 49ers, Seattle Seahawks, St. Louis Rams, Tampa Bay Bucs, Tennessee Titans, Tyson Jackson, Vonte Davis, Washington Redskins