Correcting ESPN The Mag, Part 1
Regular readers might be familiar with my occasional posts — "Correcting Bill Simmons" and "Correcting Rick Reilly" — where I try to help out my better-paid, less-informed counterparts by pointing out when/where they're wrong. This time, I'm going to tackle ESPN The Mag as a whole. I know I'm going to hear some guy at the sports bar regurgitate this "analysis" as his own opinion and I won't have the wherewithal to call him on it.
Let's start with everyone's favorite blowhard — and I doubt he'd take that as an insult given his commentary stylings — Stephen A. Smith. In his "Up Front" column, he criticizes Oscar De La Hoya for not knowing when to give it up.
Help, someone! Pretty Please!

It would be really nice if someone could muster some plausible explanation as to why a fighter like Oscar De La Hoya, beyond his prime for quite a while before the Manny Pacquiao bout, still chose to step into the ring and get his brains beat out. The mismatch was so obvious that Oscar's wife, Millie, was screaming for him to quit before he had the common sense to do it himself.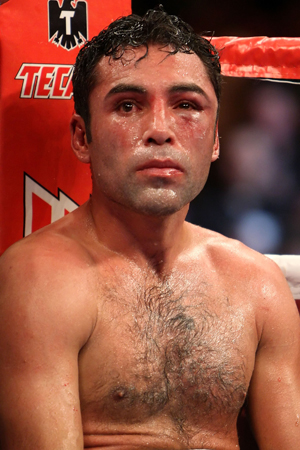 It's really easy to knock De La Hoya after the match is over when it's clear that he shouldn't have fought the fight. But one quick look at the pre-fight odds (-165 Hoya / +135 Pacquiao) reveals that this fight fooled a LOT of people, not just the Golden Boy. According to the betting public, De La Hoya was the clear favorite in the fight, so why would Oscar think that he was about to step into a beatdown? The betting public clearly doesn't know everything, but it's a pretty good gauge of public opinion and if the public is fooled, why would De La Hoya — who has an ego of a big-time fighter — know any better?
If Smith writes this column before the fight, I'd give him props. But this is classic kick-'em-while-they're-down writing.
Let's move on to Mike & Mike (Golic & Greenberg) who answer "The Big Question" — if the best players in college sports don't make any noise in the pros, what's their legacy?
Read the rest after the jump...
Posted in: Boxing, College Football, Humor, NBA, NBA Draft, NFL, NFL Draft
Tags: Andrew Bogut, Andrew Bogut contract, Chris Broussard, correcting ESPN the Mag, correcting Rick Reilly, Elton Brand contract, Emeka Okafor contract, Greeny & Golic, Luol Deng contract, Manny Pacquiao, Mike & Mike, Mike Golic, Mike Greenberg, Milwaukee Bucks, Oscar de La Hoya, Oscar De La Hoya - Manny Pacquiao, Stephen A. Smith