2008 Year-End Sports Review: What We Learned
At the end of the year, it's always interesting to look back at all that has happened in the world of sports over the last 12 months. 2008 brought us a host of compelling sports stories, including the culmination of the Patriots' (unsuccessful) quest for perfection, a Bejing Olympics that featured incredible accomplishments by the likes of Michael Phelps, Usain Bolt and the Redeem Team, and, of course, Brett Favre's unretirement, which managed to hold the sports news cycle hostage for a solid month or more.
As is our tradition, we've once again broken our Year End Sports Review into three sections. The first is "What We Learned," a list that's packed with a number of impressive feats. And when there are feats, inevitably there are also failures.
Don't miss the other two parts: "What We Already Knew" and "What We Think Might Happen."
| | |
| --- | --- |
| | The New England Patriots weren't so perfect after all. |
After rolling through the 2007 regular season unscathed, the Patriots entered the 2008 Super Bowl as overwhelming favorites to roll over the pesky, but seemingly inferior New York Giants. The Pats were just one win away from staking their claim as the best football team in NFL history. But thanks to a dominating Giants' defensive line, an improbable catch by David Tyree, and a virtually mistake-free performance by Eli Manning, the unbeatable New England Patriots were beat. It'll go down as one of the biggest upsets in Super Bowl history, and considering Tom Brady's season-ending injury in 2008 cost the Pats a chance for redemption, it seems that many have forgotten how New England stood just one win away from perfection. – Anthony Stalter
| | |
| --- | --- |
| | Michael Phelps is part fish. |
Eight gold medals in one Olympiad? No problem. Michael Phelps made the seemingly impossible look (relatively) easy en route to one of the most – if not the most – impressive Olympic performances ever. Phelps had to swim all four strokes, compete in both sprint and endurance races, and deal with the constant media attention and pressure that came along with his quest. Sure, NBC turned up the hype, but what Phelps accomplished is simply incredible. – John Paulsen
| | |
| --- | --- |
| | Usain Bolt is part cheetah. |
First, Usain Bolt made Jamaica proud by setting a new world record (9.69) in the 100-meter sprint. Then, he broke the 12 year-old 200-meter world record with a time of 19.30 seconds. He showboated during the first race but cleaned up his act to win the second race in a professional manner. Some even say that Usain Bolt – not Michael Phelps – was the biggest story to come out of the Bejing Olympics. – JP
| | |
| --- | --- |
| | The Big 12 has the best quarterbacks in the nation. |
The Big 12 housed some of the best quarterbacks in all of college football in 2008. Texas's Colt McCoy, Oklahoma's Sam Bradford, Missouri's Chase Daniel and Texas Tech's Graham Harrell were all considered Heisman candidates at least at one point during the season, while McCoy and Bradford are still in the running. Amazingly, Bradford and McCoy aren't done; both will return in 2008. And although they don't receive as much attention as the top signal callers in the conference, Kansas's Todd Reesing and Baylor's Robert Griffin certainly turned heads this year as well. In fact, the highly versatile Griffin is only a freshman and could make the Bears a very dangerous team for years to come. – AS
| | |
| --- | --- |
| | The Detroit Tigers would have been better off playing the season on paper. |
A thousand runs. Everyone from ESPN's baseball experts to the bitter Indians/White Sox/Twins/Royals fan at the end of the bar predicted that the 2008 Detroit Tigers would shatter the record for runs scored in a season. We jumped on the bandwagon as well, declaring in last year's "What we think might happen" section that "…this team might win 120 games." We then added the following, now-hilarious caveat: "On paper, anyway." So what happened? Miguel Cabrera received a fat contract extension and proceeded to get, well, fat. Curtis Granderson began the season on the DL. Jacque Jones was gone by mid-May. Gary Sheffield couldn't hit water if he fell out of a boat. Pudge Rodriguez was traded to the Yankees at the deadline. Their pitching was even worse, with a team ERA just under 5.00. The next time you're tempted to make a grand prediction about a team's performance before the season has begun, write it down on paper…and throw it away. – David Medsker
| | |
| --- | --- |
| | Aaron Rodgers is a good NFL QB. |
No player entered the 2008 NFL season under more scrutiny than Aaron Rodgers. With all the drama surrounding Brett Favre's unretirement and the Packers' insistence on moving on with the fourth-year QB, the pressure was on Rodgers to succeed. In his first game as starter, Rodgers threw for a TD and rushed for another to lead his team to a win over the Vikings. In his second start, he threw for 328 yards and three TD in an impressive 48-25 victory over the Lions. While the Packers have gone a disappointing 3-9 since then, problems with running game (early) and the defense (throughout) deserve most of the blame, not Aaron Rodgers. He is #8 in the league in QB rating (91.8), #7 in yards (3470) and #6 in touchdowns (23), beating his predecessor in each of those categories. – JP
| | |
| --- | --- |
| | Albert Pujols isn't a man of his word. |
In 2006, Philadelphia Phillies' slugger Ryan Howard won the NL MVP Award despite not leading his club to the playoffs. That prompted St. Louis Cardinals' star first basemen Albert Pujols to say the following: "I see it this way: Someone who doesn't take his team to the playoffs doesn't deserve to win the MVP." Pujols, upset he didn't win the award after leading the Cards to the World Series that year. Fast forward to November of this year, when Pujols edged out Howard for NL MVP despite the Phillies winning the World Series and the Cardinals failing to qualify for the postseason. Think Albert is eating his words now? Doubtful. He probably sees it as justification for the 2006 snub. Either way, the situation is certainly dripping with irony. – AS
| | |
| --- | --- |
| | The LPGA can be sexy. |
Wait, women's golf is sexy? In 2008, it was. Americans Paula Creamer, Christie Kerr, Anna Rawson, and Angela Stafford have helped increase the popularity of women's golf with their skill and good looks. And yes, Natalie Gulbis (pictured below) is criminally hot, but she's proving to be the Anna Kournikova of golf. (Not that that's a bad thing.) – Christopher Glotfelty
| | |
| --- | --- |
| | Don't boo Sarah Palin. She'll curse your hockey team. |
John McCain's running mate decided to pay a visit Philadelphia to drop the ceremonial first puck at the Flyers' home opener against the New York Rangers. Most of the Philly fans weren't too happy to see her, and she was roundly booed. The Flyers, who were regarded as one of the better teams in the NHL's Eastern Conference entering the season, promptly went winless in their first six games before rattling off four straight wins to get back to a respectable 5-6-4 mark. But Palin wasn't done leaving her mark on the hockey world and decided to put her stunningly effective curse on the St. Louis Blues, too. After dropping a puck in a late October game, the Blues went 1-7 over their next eight games. And unlike the Flyers, St. Louis has been unable to recover, sinking to last place in the Central Division. – AS
| | |
| --- | --- |
| | Oscar De La Hoya should retire from boxing. |
For any aging boxer, the grim reality after losing a major fight is determining whether or not his skills have faded away. After a disappointing performance in his loss to Manny Pacquiano, Oscar De La Hoya can take solace in the fact that his bank account has grown even if his reputation in the sport has been tarnished. Life will continue and bigger paydays will come to De La Hoya (the boxing promoter), but he should push aside any thoughts of returning to the ring as a boxer. You saw De La Hoya's skills beginning to erode in his bout with Floyd Mayweather Jr. almost 18 months ago, and most fighters are the last to know when to retire from the sport. They all feel that they have one great fight left in their career, but most end up fighting one bout too many. – Thomas Conroy
| | |
| --- | --- |
| | Matt Ryan is the real deal. |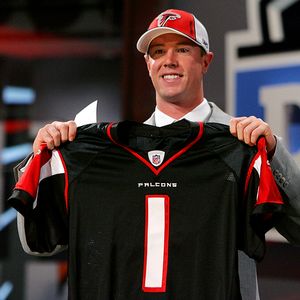 Entering the 2008 NFL Draft, Matt Ryan was the clear-cut top rated quarterback on most draft boards. But that didn't mean he wasn't susceptible to criticism. Draft pundits made note that he didn't have elite arm strength and that he had just one productive year at Boston College. So when the Atlanta Falcons pulled the trigger and selected Ryan with the third overall pick in April's draft, many figured he would hold the clipboard for team that no one expected to be competitive in 2008. But thanks to a new coaching staff that immediately saw a leader in the 23-year old signal caller, Ryan was named the starter in Week 1. On his first NFL pass attempt, Ryan threw a 62-yard touchdown pass to Michael Jenkins. He also racked up an amazing come-from-behind victory in the final seconds against the Bears, and even beat the Packers in his first trip to Lambeau Field. Shockingly, he not only has the Falcons knocking on the door of a playoff berth, but also is considered a possible MVP candidate. His numbers aren't earth shattering by any means, but considering some media outlets predicted the Falcons to win just one game this year, Ryan's win-loss record is all the proof anyone should need in knowing "Matty Ice" is for real. – AS
| | |
| --- | --- |
| | The Roger Federer and Rafael Nadal rivalry has reinvigorated tennis. |
Quite frankly, Federer-Nadal is more exciting than tennis' last great men's rivalry, Sampras-Agassi. Neither player is American, but Federer and Nadal have energized the sport internationally. Their 4 hour and 48 minute epic final at Wimbledon led John McEnroe to call it the greatest match he had ever seen. That's something, coming from a legend who has played in a few of his own four-hour showdowns. Roger Federer is now just one Grand Slam away from tying Pete Sampras' record of 14. Sampras retired at the relatively young age of 30, when, like Bjorn Borg, he could have played a few more years. Still, Federer is only 27 and is poised to get to 14 Grand Slams at a quicker pace than Sampras. With respect to Novak Djokovic and Andy Murray, only Federer and Nadal are serious contenders for winning the four Grand Slam tournaments next year. We need to savor this rivalry while we have it. – CG
| | |
| --- | --- |
| | If you steal Tatum Bell's job, he'll steal your luggage. |
When the Detroit Lions decided they needed a boost in their running game, they sought out free agent Rudi Johnson, who had recently been cut by the Cincinnati Bengals. To make room for Johnson, the Lions had to part ways with one of their other backs and the decision was rather easy – the unproductive Tatum Bell would get the boot. When Johnson arrived in Detroit, he went to then-GM Matt Millen's office to put the final touches on a one-year contract. When he was done signing the deal, Johnson realized that his bags, which had been left outside of Millen's door, were gone. After searching to no avail, Millen decided to check the security cameras to see if someone swiped the bags. As it turned out, someone did steal the luggage – Tatum f'ng Bell. The unemployed Bell decided that since Johnson stole his job that it was only fair that Bell stole Johnson's luggage. When confronted about the situation, Bell said that he had thought the bags belonged to someone he knew. The story was a stretch though, because Bell dumped the bags on a female friend who claimed she had not seen Tatum in some time and that he showed up out of the blue asking for a favor. No charges were pressed, but it certainly made for one ridiculous situation. – AS
| | |
| --- | --- |
| | Dale Earnhardt Jr. signed with the Hendrick Racing Group and raced his way into oblivion. |
In the early part of December, NASCAR held their Champions Week celebration in New York. The top drivers of the 2008 season were honored at a gala held at New York's Waldorf-Astoria Hotel. But the most popular driver in NASCAR, Dale Earnhardt Jr., was left out of the festivities for the third time in four years. And this year was supposed to be different, as he left the racing team founded by his late legendary father to ride in the #88 Chevrolet for the sport's most successful owner, Rick Hendrick. Members from Earnhardt Jr.'s crew felt some of the internal dissension that plagued the team could have been avoided if management was a little more hands-on during the early part of the season. Crew chief Tony Eury Jr. was criticized for gambling too much to win races outright instead of earning points in order to move up in the standings. The morale of the team might have been better if Junior had not ripped them every time he was dissatisfied with the condition of his car. The #88 team didn't deal with adversity well all season and need to regroup for coming season. – TC
| | |
| --- | --- |
| | To douche bags, even super-hotties like Elisha Cuthbert qualify as "sloppy seconds." |
Sean Avery is a dick. He was a dick when he was with the Los Angeles Kings, he was a dick with the Detroit Red Wings and he was a dick when he pulled that bush league move by blatantly screening goalie Martin Brodeur on a powerplay in the 2008 NHL Playoffs as a member of the New York Rangers. But the current Stars' winger set a personal record for dickishness when he said this prior to a Dallas-Calgary game in early December: "I'm just going to say one thing. I'm really happy to be back in Calgary, I love Canada. I just wanted to comment on how it's become like a common thing in the NHL for guys to fall in love with my sloppy seconds. I don't know what that's about, but enjoy the game tonight." The comments were targeting Flames' defenseman Dion Phaneuf, who is currently dating Avery's ex-girlfriend, Elisha Cuthbert (pictured below). It's not enough that this crap bag tainted sweet Elisha when he dated her, but he had to go ahead and refer to her as "sloppy seconds", too. Here's hoping that, sometime soon, Phaneuf's skate accidentally flies off and slices Avery's lips right off that landfill he calls a mouth. – AS
| | |
| --- | --- |
| | CC Sabathia and Brandon Webb are great – Tim Lincecum is better. |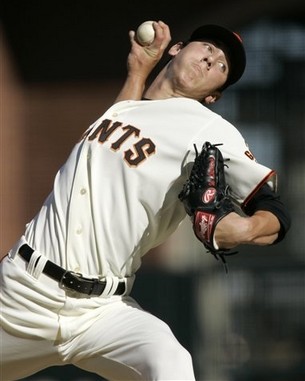 Nobody can argue what CC Sabathia did for the Milwaukee Brewers this year. After he was acquired from the Cleveland Indians at the trade deadline, Sabathia immediately transformed the Brewers' rotation and almost single-handedly led the club to the postseason. Meanwhile, Brandon Webb compiled an NL-best 22 wins, 183 strikeouts and a 3.30 ERA for the second place Arizona Diamondbacks. But despite what Sabathia and Webb accomplished this year, they didn't hold a candle to the San Francisco Giants' young superstar Tim Lincecum. Nicknamed "The Franchise" by his teammates, Lincecum won the NL Cy Young at the age of 24 after compiling an 18-5 record and a staggering 2.62 ERA. Only the Mets' Johan Santana (2.53) and Tribe's Cliff Lee (2.54) had a lower ERA. Lincecum, who looks like he should be some team's batboy instead of an ace, easily could have cracked the 20-win mark had the Giants' fielded a competitive team. He pitched for one of the worst offenses in the league, yet still found a way to rack up 18 wins. His funky, unorthodox delivery was invented to stave off injury and throw off the hitter's timing. And given the movement of his fastball and changeup, Lincecum's days of frustrating hitters have only begun. – AS
| | |
| --- | --- |
| | Grizzlies' Chris Wallace is not a good GM. (Or is he?) |
Last season, the Grizzlies traded Pau Gasol for Javaris Crittenton, the corpse of Aaron McKie, Kwame Brown's contract, the draft rights to Pau's little brother and two first round picks. That may not sound too bad for a salary dump, but Memphis also traded away a second round pick, so one of those first rounders is essentially the Grizzlies moving up a few spots in the draft. For a time, Wallace was the laughing stock of the NBA, and more than a few teams were upset that he would make a move that so obviously helped Kobe Bryant and the Lakers, who promptly went on to represent the West in the NBA Finals. But Wallace claimed that was the best offer he had on the table. Fast forward a year and Wallace turned the #5 pick in the draft (Kevin Love) into a Rookie of the Year candidate (O.J. Mayo) and more cap space (by trading away Mike Miller). Pau's brother looks like a player and the team will have oodles of cap space in the summer of 2010 when a number of big name free agents hit the market. Think a big man like Chris Bosh or Amare Stoudemire might want to play with Mayo and Rudy Gay? If he can land a player like that (and turn the Grizzlies into a legitimate contender in the West), Wallace will fully redeem himself. – JP
| | |
| --- | --- |
| | Apparently, it's difficult to come up with a good name for an NBA team. |
The Seattle Supersonics are now the Oklahoma City…what? The franchise had to pick a new nickname and apparently the powers-that-be had these six to choose from: the Barons (meh), the Bison (ugh), the Energy (ugh!), the Marshalls (hmm), the Thunder (UGH!) and the Wind (UGH!!). The Marshalls would have been cool – everyone knows what a marshall is. The Barons…not so much. The Bison? Geographically appropriate, but…come on. They would never choose the Energy, Thunder or the Wind, would they? Yes, they would. Ladies and gentlemen, your Oklahoma City Thunder! (Our favorite nickname – the Bandits – was curiously left off the list. David Stern was probably fearful of its negative connotation.) – JP
| | |
| --- | --- |
| | Nick Saban is a miracle worker. |
While fans of LSU and the Miami Dolphins still (rightfully) curse his name, there's no denying that Nick Saban is a miracle worker after turning Alabama into a national title contender in just two seasons as its head coach. In preseason rankings, the Crimson Tide was ranked 24th in the nation by the AP, behind the likes of Wake Forest, West Virginia, Kansas, Arizona State, Wisconsin and Illinois. But Saban's squad slowly started work their way up the rankings and while the upsets started to pile up, 'Bama kept moving forward. Their most impressive victory came September 27 at Georgia, who had previously been ranked No. 3 in the nation before the Tide handed them a 41-30 beat down. 'Bama than rolled off seven more victories including a 27-21 win over LSU in Baton Rouge, which lifted them into a SEC title bout with Florida and a BCS bowl berth. – AS
| | |
| --- | --- |
| | Kurt Warner still has plenty left in the tank. |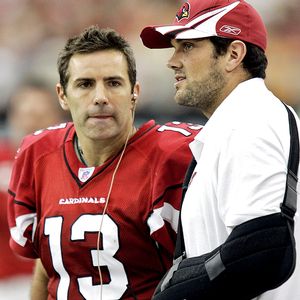 When news broke in preseason that Kurt Warner (and not former first round draft pick Matt Leinart) would be the starting quarterback for the Cardinals this season, many NFL purists wrote Arizona off as playoff pretenders. After all, the 37-year old Warner's best days were behind him and there was no way in hell that he could engineer a winning season, right? That's exactly what he's doing as the Cardinals ran away with the (albeit pathetic) NFC West this season, and Warner is actually drawing mention as an MVP candidate. He currently has a 97.5 quarterback ranking, which is good for third in the league. He has also anchored one of the more explosive offenses in the NFL this season and hasn't shown his age one bit. His performance this year just goes to show you that some players get better with age. – AS
| | |
| --- | --- |
| | Alicia Sacramone can throw a punch (and look good doing it). |
During NBC's gymnastics coverage, Al Trautwig was surprised by the fact that Alicia Sacramone was the second-most searched for athlete after Michael Phelps. Al must need his eyesight checked because it's pretty obvious why people were interested in Ms. Sacramone. Let's just say that there are other things that are more compelling about Alicia than her "Olympic story." We'd like to think that Trautwig isn't that clueless, but you never know. As an added bonus, as the video shows, Sacramone can throw a mean punch, too. – JP
| | |
| --- | --- |
| | Tom Coughlin is a fantastic coach. |
It's amazing how one year can change the minds of many. Before the start of the 2007 NFL season, many Giants fans were calling for the firing of head coach Tom Coughlin. Despite leading the G-Men to the playoffs in 2006, Coughlin received tons of criticism for being too stuck in his ways and not knowing how to adapt to the current NFL player. But one year after leading the Giants to an improbable Super Bowl victory over the then-undefeated New England Patriots, it's clear that Coughlin is one of the best coaches in the league. Not only has he learned to adapt to the current NFL player, but the current NFL player has also bought into Coughlin's no-nonsense philosophy and the team found perfect harmony, at least for a while. Furthermore, Coughlin and the Giants are proving that 2007 wasn't a fluke, and despite Plaxico Burress's best efforts to be a distraction, New York is clearly one of the best teams in the league. They still have a long road ahead, but the Giants are certainly in great shape with Coughlin leading the way. – AS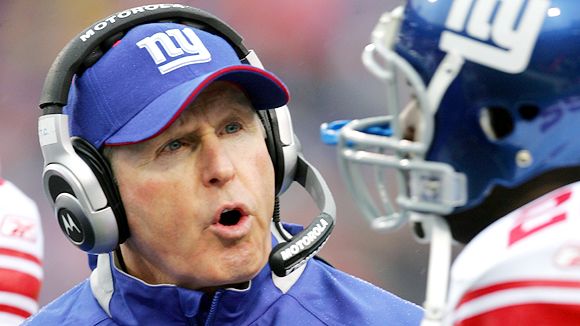 | | |
| --- | --- |
| | The Shark can still play. |
At 53, Greg Norman almost won the British Open in Southport, England. These kind of success stories warm the heart and bring much-needed attention to second-tier sports and give the geriatric crowd a reason to keep on truckin'. – CG
| | |
| --- | --- |
| | The Big 12 was the best conference in college football in 2008. |
While they still have a lot to prove in the bowl games, there's no doubt that the Big 12 was the best conference in college football this year. Virtually every week after conference play started, the Big 12 provided game-of-the-week-type matchups for college football fans. Texas-Texas Tech, Texas-Oklahoma, Oklahoma-Texas Tech, Texas-Oklahoma State, Texas-Missouri and Oklahoma-Oklahoma State were some of the best matchups of the season. Considering both the SEC and Big Ten were down this year, the Big 12 picked up the slack. – AS
| | |
| --- | --- |
| | The Rockets can win without Yao Ming, but they still can't get out of the first round. |
Even without their star center, the Houston Rockets did not lose a game from Jan. 29 to March 16. That's 22-straight wins. For a time, it looked like Tracy McGrady would finally lead his team out of the first round, but the game that ended the streak – a 94-74 loss to Boston – and the game that followed – a 90-69 loss to the Hornets – showed just how vulnerable the team was. After losing the first two games of their first round series against the Jazz (on their home court), they mustered two wins to make it interesting. But in the end, it was just too much Deron Williams and Carlos Boozer, and McGrady and Co. started their summer early once again. – JP
| | |
| --- | --- |
| | The Detroit Red Wings are the class of the NHL. |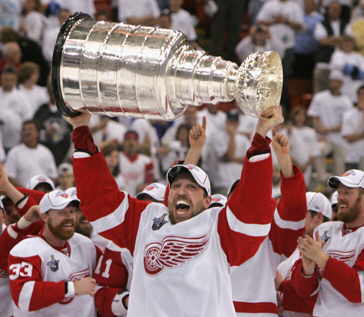 It will happen sooner or later, and it might not occur until next season but a mismanaged, struggling team will try to hire a key member away from the best management team in the NHL, the Detroit Red Wings. They have won four Stanley Cups in the past decade and have skated in 17 straight playoff appearances because their front office is able to acquire quality talent year-after-year. Senior Vice President Jimmy Devellano has been running the front office in Detroit for 25 years, along with General Manager Ken Holland and his assistant, Jim Nill; they have continually taken third-round draft choices and turned them into front-line superstars. Their incorporation of talent from Europe to help re-build the Red Wings while remaining competitive is a testament to their scouting system. They refuse to have the inevitable Stanley Cup hangover by declaring their "future is now" every single year. – TC
| | |
| --- | --- |
| | Extending Derek Anderson's contract wasn't such a great idea. |
A year ago, Derek Anderson came out of nowhere to lead the Cleveland Browns to a 10-6 record – one win shy of a postseason berth. Despite trading multiple draft picks in 2007 to select Brady Quinn in the first round, the Browns decided to honor Anderson's 2007 performance with a contract extension. It didn't take long before it became clear that the team's decision to re-sign Anderson was a mistake. Anderson was injured during the preseason and struggled in the Browns' first four games before throwing for 310 yards in a shocking Monday night win over the Giants in Week 6. The turnaround was short-lived, however, as Cleveland sunk to 3-5 after a Week 9 loss to the Ravens in which Anderson threw an interception to Terrell Suggs that essentially sealed the Browns fate. Quinn replaced Anderson the following week before an injured finger cost the second-year player the rest of his season and was subsequently placed on IR. Anderson returned to the starting lineup, but he too was placed on IR following a knee-injury in a Week 13 loss to the Colts. Hindsight is always 20/20, but some Brown fans knew from the start that re-signing Anderson was a bad idea because it would block Quinn's development. And it did. – AS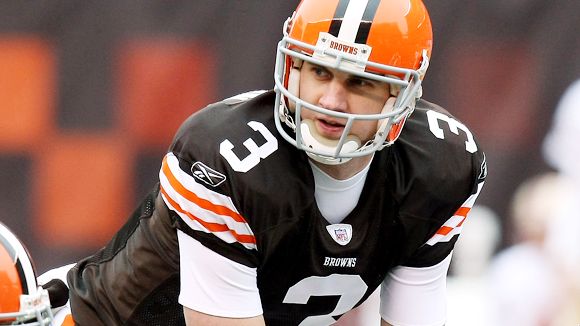 | | |
| --- | --- |
| | Rick Suhr is kind of a dick. |
We jumped all over U.S. pole vaulting coach Rick Suhr for his dressing-down of Jenn Stuczynski on national television after she won a silver medal in the pole vault. She did come to his defense, but that's no excuse for his rude behavior. Even if she did ask Suhr what she did wrong, he should have just told her to enjoy the moment. There will be plenty of time to go over what went wrong. And put down that damn phone, Rick! – JP
| | |
| --- | --- |
| | Eli Manning might not be his brother, but he has just as many Super Bowl rings. |
Much like his head coach Tom Coughlin, before the 2007 NFL season Eli Manning couldn't shake the criticism that he didn't have what it took to lead a team to the Super Bowl. Even after he led the Giants to the playoffs last year, many waited patiently for Eli to crash and burn in crunch time. But it didn't happen. Manning turned in one of the best postseasons of any quarterback in the last decade, and lifted his team to a Super Bowl bout with the undefeated Patriots. In the biggest game of his life, Eli completed a cool 19 of 34 passes for 255 yards and two touchdowns. He also ducked and weaved out of a sure-fire sack and somehow heaved a 33-yard pass to David Tryee on the Giants' game-winning touchdown drive. The play is one of the greatest moments in Super Bowl history and it essentially turned Manning into a championship-winning quarterback. And now that he has the Giants thinking repeat, Eli has successfully taken the next step at quarterback and has shaken the criticism that he's not a Super Bowl-caliber signal caller. – AS
| | |
| --- | --- |
| | The summer of 2010 will be very interesting. |
The Nets, Knicks and Pistons have all made major trades in the last few months in order to clear cap space for the now-famous summer of 2010, when a number of superstars – namely, LeBron, D-Wade, Amare, Chris Bosh and Joe Johnson – will potentially hit the free agent market. These moves have fueled much speculation about LeBron's future, and he hasn't done much to squash the talk. What are the odds that two of those marquee players end up on the same team? – JP
| | |
| --- | --- |
| | Rich Rodriguez will need time to turn Michigan into a national title contender. |
When Rich Rodriguez left West Virginia high and dry before the 2008 Fiesta Bowl to become the next head coach at the University of Michigan, many college football purists figured he would instantly make the Wolverines competitive. Not only did he not change the face of the program, Rich Rod was also at the helm of the worst Michigan season in the history of the school. The Wolverines were destroyed by Notre Dame on the road, inexplicably lost to Toledo at home and were crushed by hated rival Ohio State. But while most Michigan fans are ready to jettison Rodriguez after only one season, he's a proven winner that just needs time to rebuild. But first and foremost, he must have a strong recruiting class and get a quarterback to run his spread option offense. It might not be next year, but perhaps 2010 should mark the comeback of Michigan football. And if it doesn't, the hiring of Rodriguez would turn out to be one of the biggest flops in college football history. – AS
| | |
| --- | --- |
| | David Beckham can't carry the MLS by himself. |
Although both attendance and viewership were up after his arrival in 2007, they declined in 2008. It was an exciting experiment, but in his two years in the league Beckham's Los Angeles Galaxy did not come close to winning an MLS Cup. This proved that one gifted European footballer cannot change the standings for his team on his own. With reports that Beckham will soon return to the English Premier League, the experiment looks like it might be over. – CG
| | |
| --- | --- |
| | Mercury Morris is a bitter, bitter man. |
After the 2007-2008 New England Patriots lost to the New York Giants in Super Bowl XLII, nobody was more thrilled than Mercury Morris, who was a member of the undefeated 1972 Miami Dolphins team. For weeks prior to the Giants' victory over the Patriots, Morris made public comments about how the media was overstating New England's chances to go undefeated. He even spit out the now infamous, "…don't call me when you're in my town, call me when you're on my block and I see you next door moving your furniture in." The comment was in reference to the media creating a frenzy about the Patriots going undefeated despite more than one quarter of the season remaining. Morris has since popped up in more public interviews discrediting the Patriots and what they did last year after news broke of Bill Belichick using spy cameras to steal defensive signals from opponents. Belichick and the Patriots may be cheaters, but Morris continues to prove that he's a bitter man who is still living in 1972. – AS
| | |
| --- | --- |
| | Brian Burke was hockey's hottest free agent. |
Hockey's hottest free agent has been taken off the market. And no, Mats Sundin or Brendan Shanahan haven't been snatched up. Instead, it was Brian Burke who signed a six-year contract to help re-build the struggling Toronto Maple Leafs. Burke has became a hot property after his recent success in Anaheim that included a Western Conference final appearance in 2006, a Stanley Cup victory in 2007, and strengthening a season-ticket base in a market that was once considered as the NHL's biggest expansion mistake. The problem in Toronto has been that past regimes never seem to stick to their original rebuilding plan. Management in Toronto has recently had trouble getting a general consensus from the ownership group on what direction should be taken to improve the team. One year it was building through the re-entry draft and then the following year it was signing high-priced free agents to plug holes on the roster. Burke might be heading into a minefield in trying to improve the once proud Maple Leaf franchise, but Toronto got itself a good general manager. – TC
| | |
| --- | --- |
| | Dustin Pedroia is one hell of a baseball player. |
Two years ago Dustin Pedroia was a nobody. Now he's an MVP winner. Pedroia is everything baseball players should be – a guy that might not be the biggest or strongest player in the league, but one that gives it his all on a nightly basis. Pedroia proved to be the backbone of the Red Sox postseason run this year, acting as a veritable Jack-of-all-trades. He hit for average (.326), power (17 home runs) and even swiped 20 bases. He also played a solid second base and scored a team-best 118 runs. The 25-year old is the most unlikely of MVP winners, but given his down to earth manner and never-say-die playing style, it's a nice fit. – AS
| | |
| --- | --- |
| | IndyCar Series driver Helio Castroneves needs a better accountant. |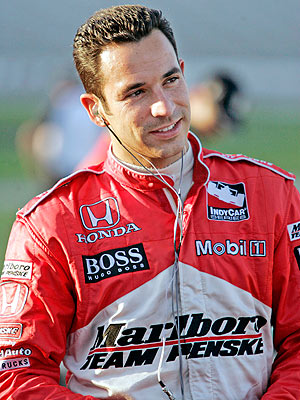 IndyCar Series driver (and "Dancing With the Stars" alum) Helio Castroneves has had a rough 2008. He was indicted on tax evasion charges in a Miami federal court and recently was denied a request to delay his trial until November of 2009. His attorneys sought a delay to ensure Castroneves could participate in the 2009 IndyCar Series season that runs from April to October. He pleaded not guilty to the charges of conspiracy and tax evasion of approximately $5.5 million in income that allegedly was hidden in offshore accounts set up by Castroneves and his business manager. But as we've learned, pleading not guilty and being not guilty are two entirely different things. – TC
Posted in: College Basketball, College Football, Fantasy Football, General Sports, Golf, Humor, March Madness, MLB, NBA, NBA Finals, NFL, NFL Draft, NHL, Soccer, Super Bowl, Swimming, Television, Tennis, The Olympics, Video, Women
Tags: Aaron Rodgers, AL MVP Award, Al Trautwig, Alabama Crimson Tide, Albert Pujols, Alicia Sacramone, Anna Kournikova, Anna Rawson, Arizona Cardinals, Arizona Diamondbacks, Arizona State Sun Devils, Atlanta Falcons, Baylor Bears, Big 12, Big Ten, Bill Belichick, Bjorn Borg, Brady Quinn, Brandon Webb, Brendan Shanahan, Brian Burke, Calgary Flames, CC Sabathia, Charlotte Hornets, Chase Daniel, Chris Bosh, Christie Kerr, Cleveland Browns, Cleveland Indians, Colt McCoy, Curtis Granderson, Dale Earnhardt Jr., Dallas Stars, David Beckham, Derek Anderson, Detroit Lions, Detroit Pistons, Detroit Tigers, Dustin Pedrioa, Eli Manning, Elisha Cuthbert, Floyd Mayweather Jr., Gary Sheffield, Graham Harrell, Green Bay Packers, Jacque Jones, Jamacia Usain Bolt, Javaris Crittenton, Kansas Jayhawks, Kevin Love, Kurt Warner, Kwame Brown, LeBron James, Los Angeles Galaxy, Los Angeles Lakers, Matt Millen, Matt Ryan, Memphis Grizzlies, Mercury Morris, Miami Dolphins, Michael Phelps, Miguel Cabrera, Mike Miller, Milwaukee Brewers, Minnesota Vikings, Missouri Tigers, Natalie Gulbis, New England Patriots, New Jersey Nets, New York Giants, New York Knicks, New York Rangers, New York Yankees, Nick Saban, NL Cy Young Award, NL MVP, Notre Dame Fighting Irish, O.J. Mayo, Oklahoma City Thunder, Oklahoma Sooners, Oscar de La Hoya, Pau Gasol, Paula Creamer, Pete Sampras, Philadelphia Flyers, Philadelphia Phillies, Pudge Rodriguez, Rich Rodriguez, Rich Suhr, Rick Suhr U.S. Pole Vaulting, Robert Griffin, Roger Federer, Rudi Johnson, Rudy Gay, Ryan Howard, Sam Bradford, San Francisco Giants, Sarah Palin, Sarah Palin curse, Sarah Palin curses the Blues, Sarah Palin curses the Flyers, Sean Avery, Sean Avery sloppy seconds comment, SEC, Spygate, St. Louis Blues, St. Louis Cardinals, Super Bowl XLII, Tatum Bell, Tatum Bell steals Rudi Johnson's luggage, Texas Longhorns, Texas Tech Red Raiders, Tim Lincecum, Todd Reesing, Tom Brady, Tom Coughlin, Toronto Maple Leafs, Tracy McGrady, Usain Bolt, West Virginia Mountaineers, What We Learned: 2008, Wisconsin Badgers