Correcting ESPN The Mag, Part 1
Regular readers might be familiar with my occasional posts — "Correcting Bill Simmons" and "Correcting Rick Reilly" — where I try to help out my better-paid, less-informed counterparts by pointing out when/where they're wrong. This time, I'm going to tackle the December 29th, 2008 issue of ESPN The Mag as a whole. I know I'm going to hear some guy at the sports bar regurgitate this "analysis" as his own opinion and I won't have the wherewithal or the energy to call him on it, so I might as well do it here.
Let's start with everyone's favorite blowhard — and I doubt he'd take that as an insult given his commentary stylings — Stephen A. Smith. In his "Up Front" column, he criticizes Oscar De La Hoya for not knowing when to give it up.
Help, someone! Pretty Please!

It would be really nice if someone could muster some plausible explanation as to why a fighter like Oscar De La Hoya, beyond his prime for quite a while before the Manny Pacquiao bout, still chose to step into the ring and get his brains beat out. The mismatch was so obvious that Oscar's wife, Millie, was screaming for him to quit before he had the common sense to do it himself.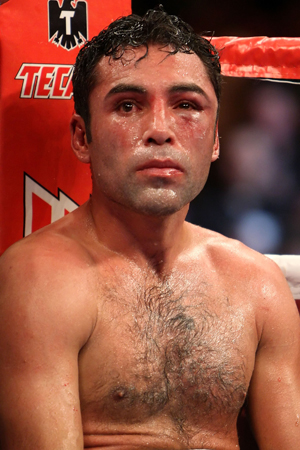 It's really easy to knock De La Hoya after the match is over when it's clear that he shouldn't have fought the fight. But one quick look at the pre-fight odds (-165 Hoya / +135 Pacquiao) reveals that this fight fooled a LOT of people, not just the Golden Boy. According to the betting public, De La Hoya was the clear favorite in the fight, so why would Oscar think that he was about to step into a beatdown? The betting public clearly doesn't know everything, but it's a pretty good gauge of public opinion and if the public is fooled, why would De La Hoya — who has an ego of a big-time fighter — know any better?
If Smith writes this column before the fight, I'd give him props. But this is classic kick-'em-while-they're-down writing.
Let's move on to Mike & Mike (Golic & Greenberg) who answer "The Big Question" — if the best players in college sports don't make any noise in the pros, what's their legacy?
GOLIC: If you think about it, we have two players this year who could end their college days as two of the all-time greats in their sports: Tyler Hansbrough and Tim Tebow. But neither one of them appears to have the type of skills that would make them excel as pros.
GREENY: It's probably the best illustration we'll ever see of the difference in athleticism from one level to the next. In college, guys can still dominate even if they're not athletically superior to the competition. I don't care how hard you work; if you're not freakishly gifted physically, you are not going to be a star in the NFL or NBA.
I don't have any idea if Tim Tebow can make it as a QB in the NFL, so I'll let Anthony Stalter field that question. As for Tyler Hansbrough, I think he's going to be a productive power forward at the NBA level. Whether or not he's going to be a "star" depends on your definition of the word.
Is he going to turn into another Chris Bosh or Amare Stoudemire? Probably not. But if a team can land a starter in the late lottery, that's considered a success. I see Hansbrough as a player who will focus on defense and rebounding. In fact, he could be a Dennis Rodman-type who can hit a 15-foot jumper. The Worm had the innate ability to rebound, and while Hansbrough doesn't quite have his nose for the ball, he does have the work ethic, and then some. If he plays 30 minutes a game, I see him averaging 10 rebounds at a minimum. He has really improved his face up game, so if defenders help off of him, he'll be able to make them pay. He should be especially productive in the regular season — while his opponents are loafing through three-quarters of the game, he and his non-stop motor will be running around like a kid on a sugar high. Work ethic is something that is often overlooked when it comes to the NBA draft and I think Hansbrough is a guy that has the drive to make himself the best player he can be. Other guys might have higher ceilings, but it doesn't matter if they don't have the heart to reach them.
Mike & Mike also discussed the upside/downside of a college football playoff…
Golic: As the bowl season ramps up, I cannot stress enough the need for a college football playoff. March Madness is the best tourney of the year, and a deep run by a Cinderella is one of the best parts of it. In the BCS, teams like Boise State and Utah will never play in the championship game.

Greeny: Cinderellas are all well and good, but they should know their place. The regular season is the one thing college football still gets right. A Cinderella team winning it all in a playoff would put that at risk.
Was the editor drunk on egg nog when he reviewed this? Golic's point is clear, but what is Greeny talking about? Forget about the fact that he seems to be defending the current system — his response is nonsensical. First, he says that Cinderellas "should know their place." Huh? An undefeated team like Utah or Boise St. should just shrug their shoulders and admit that they don't belong because they only beat one ranked team all year? Who's to say that they don't have the talent and execution to play with the big boys? What's worse, Greeny just contradicted his point from the previous topic — that, at the college level, a player can still dominate without being athletically superior to the competition.
He goes on to claim that a Cinderella winning it all in a playoff would put college football's regular season at risk. I don't have any idea what this means, so I'm not even going to try to speculate. I will say this — whoever wins a playoff deserves to be the champ, and I don't see how a team like Utah winning three playoff games against the best competition in the country can hurt college football's regular season.
Lastly — and this is a relatively minor point but it hits close to home because I am (admittedly) a fan of the Milwaukee Bucks — in the "NBA Insider" section, under the article heading "Contract Killers," Chris Broussard lists a number of guys that are not living up to the contracts they signed this offseason, beginning with Andre Iguodala and Elton Brand. He goes on to say this…
Chicago locked up Luol Deng for $71 million; he's scoring 13.9 ppg, Baron Davis got $65M from the Clips; he's shooting 39%. Andrew Bogut ($60M) and Emeka Okafor ($72M) are checking in below their career scoring averages.
Granted, Luol Deng's FG% is down (48% last year to 44% this year), Baron Davis is not shooting well (actually 37% now, but he's a career 41% shooter so no big surprise there) and Okafor's scoring numbers are down (though his FG% is up 5.5% and his PER is the second highest of his career). But why does Broussard have to bag on Bogut?
Sure, he's averaging 11.5 ppg, down from 14.3 last season. But, in case Broussard hadn't noticed, the Bucks added Richard Jefferson (and his 14.4 shots per game), so it's no surprise to see that Bogut's attempts are down almost three shots a game. His rebounds (10.7) and FG% (55.3%) are at career-high levels even though he missed three games with a knee injury in late November. And it's no coincidence that the Bucks lost those three games.
Considering that his deal ($12 million per year) was the most affordable on that list of bad contracts, the guy doesn't deserve to be listed amongst the other "contract killers."
Posted in: Boxing, College Football, Humor, NBA, NBA Draft, NFL, NFL Draft
Tags: Andrew Bogut, Andrew Bogut contract, Chris Broussard, correcting ESPN the Mag, correcting Rick Reilly, Elton Brand contract, Emeka Okafor contract, Greeny & Golic, Luol Deng contract, Manny Pacquiao, Mike & Mike, Mike Golic, Mike Greenberg, Milwaukee Bucks, Oscar de La Hoya, Oscar De La Hoya - Manny Pacquiao, Stephen A. Smith