Athlete Profile: Michael Crabtree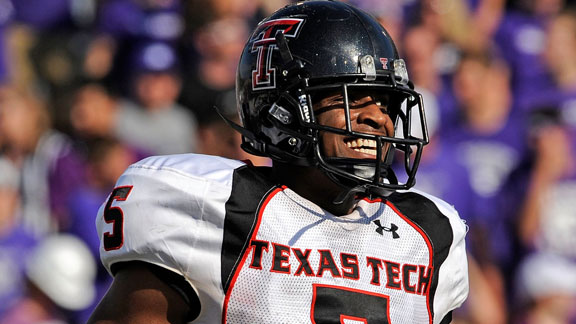 What do you dream about? NBA Finals Game 7 with five seconds left, you catch the pass at the top of the key and…swish. Lottery numbers dropping into place on your winning ticket while you sip a martini next to Minka Kelly? Not Michael Crabtree. He doesn't dream about being the next big NFL star or driving a Ferrari around Milan.
Michael Crabtree dreams of routes, pass coverages, and catching, catching, catching.
Growing up in Dallas, Texas, Crabtree has always had an intensity bordering on the surreal. Because of his size and physicality, Crabtree's father chose to have him play football in leagues above his age.
"I actually cried the few times he made me play against people my age," Crabtree said. "I was like, 'Dad, I don't want to hurt those little kids."
After dominating the youth leagues, Crabtree continued showing his phenomenal ability at Carter High School by playing both basketball and football. In fact, his first scholarship offer from Texas Tech, his future university, came in the form of a basketball scholarship. In his senior year, Crabtree averaged more than 20 points a game. This is not to say he was slacking on football during his high school career. He was one of the best football players in the state as a quarterback. As a matter of fact, he only had one reception his senior year, but rushed for 646 yards and nine touchdowns on 100 total carries. He also added an interception, as well.
After high school, Illinois, Michigan State, and Kansas all offered him scholarships as a quarterback. It was Crabtree's decision to accept the scholarship to Texas Tech after coming to the conclusion that wide receiver was a better fit. With hands nine inches across and a 34-inch vertical, he seemed to have made the right choice.
Crabtree's style of play was perfect for head coach Mike Leach's spread offense at Texas Tech. With four or five receivers on any given play, it's natural that there would be a lot of passes, and that a hefty number of those would be flying towards Crabtree. Over the course of just two seasons in a Tech uniform, Crabtree had 231 receptions for 3,127 yards and 41 touchdowns. He averaged 120.3 yards and 1.6 touchdowns per game. Although he decided to enter the draft after his sophomore year, there would have been a pretty good chance that he'd have broken almost every major reception record in the NCAA. His numbers for the first two seasons alone were enough to net him a pile of awards and accolades, among them were the Biletnikoff award (for the best collegiate receiver) for two straight years, All Big 12 first team, All-American, and the Scout.com Freshman of the Year award.
Despite these incredible accomplishments, Crabtree's best asset is his playmaking ability – something that shines through in any offense. It was this same ability that led him to make one of college football's biggest plays last season. The play in reference was the game-winning touchdown reception he had against rival Texas at home late in the year. A game between the No.1 (Texas) and No. 2 ranked teams in the country. Crabtree caught an outside pass on the edge of the field, tip-toed along the sideline, broke two tackles, and ran into the end zone with a single second remaining in regulation. Needless to say, Tech fans went wild.
It's that kind of clutch play that really makes Crabtree a valuable commodity. Entering the upcoming draft, most invision Crabtree as a top 10, if not top 5, selection. Only his top end speed and blocking ability have been questioned. And while speed is hard to dramatically increase, the latter can be remedied by a good pro coaching staff.
So look out NFL – here comes Michael Crabtree. People don't often have dreams simple enough to accomplish on a daily basis like Crabtree – nor do they have the arena to change the humdrum to amazing. Crabtree has been doing it for years at the most crucial times in the biggest games. But don't ask him about those pressure moments, heated rivalries, and upcoming games. As he said recently after a game, "I just see balls in the air."
Latest on Michael Crabtree
Crabtree's Stock is Dropping
It seems that despite prior announcements, Crabtree was unable to run at the NFL combine. His ranking in the top 10 picks for the draft appears to be falling.
Career
WikiCollegeFootball Michael Crabtree
For a complete list of career statistics, awards, and personal information.
News and Commentary
70 Receptions, 17 Touchdowns and 2 Sports
A great article about Michael Crabtree
Crabtree Zone
A frequently updated website devoted entirely to Michael Crabtree.

Michael Grabtree Grabs His Second Biletnikoff
The first player to ever receive the award twice.
Crabtree Says
On not competing in the Texas State Championship while in high school
"From my years in high school, I feel like I didn't give it all I could give," Crabtree said. "I feel like I could have gone to state if I would have given it my all. I didn't want to feel like that again – should've, could've, would've. I'm at that time right now that I'm remembering that, so every time I go on the field, it's like I'm giving it my all because I'm not going to feel that same way I felt in high school. I don't want any regrets."
Sources and Links