Athlete Profile: Everette Brown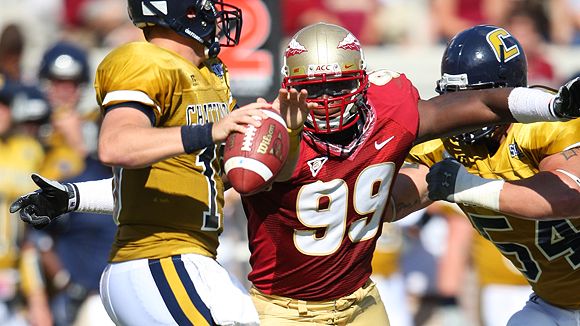 As a society, we're always trying out the next new thing; well, not so much "new" as a combination of the old stuff we already like. They don't always work out (Mustardayonnaise? Sparks Malt Beverage?), but we can get a great hybrid off the line every once in the while.
Most people get a look at Everette Brown's size and speed and see what could be the first true defensive end/ linebacker to make it in the NFL. Take something more than a glance at the man, and you'll see a hybrid of a different kind: a top-tier athlete who graduated early and still found time to do endless volunteer work. That kind of work ethic is going to be what makes him something special in the pros, and it's that same thing that has gotten him this far already.
So where did he start out? Well, Brown was born in the small town of Stantonsburg, NC, and went to Beddingfield High School. While there, Brown started compiling some serious numbers and by his senior year he was the top defensive lineman in North Carolina, the third weakside defensive end in the country, and was ranked 78th in the nation overall. His senior year alone, Brown has 16 sacks and 120 tackles. But rather than rest on the bench, Brown iron-manned it as a tight end, catching 40 passes for 770 yards with 10 touchdowns.
Naturally, Brown was high on any recruiters' list that year, being courted by Georgia, Florida State, North Carolina State, Penn State, Tennessee, Virginia Tech, and UNC. Seems Brown felt a lot more comfortable in the small, college town atmosphere of Tallahassee and settled on Florida State.
Redshirted during his freshman year, Brown spent the time volunteering, studying, and bulking up. His first year of active play proved that sitting out a season had been a great idea. Brown played in all 13 games, starting in three of them and recording a tackle in all but one of them, as well as blocking a field goal attempt in a game against Troy. Not entirely outstanding stats, but considering the caliber of those working around him and their respective ages, Brown was certainly no slouch.
The promise he showed in his first season continued into 2007 where Brown became a regular starter as a defensive end. That year Brown really started to shine. He had a career high 37 tackles (with seven tackles coming in one game against Virginia Tech), two sacks in one game against Alabama, a sack in four straight games at one point, and led the team in overall QB takedowns with 6.5.
Everette Brown started the 2008 season with a lot of expectations riding on his shoulders. The kind of pressure a player feels at this point could break somebody, yet Brown didn't stop tearing through offensive lines. It seems almost unbelievable that he could find time to volunteer while still keeping his grades up, but go down the list of places he's helped out (Riley Elementary and Speight Middle School, The Able Trust, The Tallahassee Seminole Club, The Dick Howser Center for Childhood Services, Read Across America, and so on and on) and we quickly find that not only was he able to do exactly what he wanted, he also exceeded expectations. His season on the field was no different.
Brown became one of the premier defensive players in NCAA football last year.
Starting all 13 games at right defensive end, he was named runner-up for both the ACC defensive player of the year and the ACC overall player of the year, was a finalist for the Ted Hendricks Award as the best defensive player in the country, was third in the nation with 13.5 total sacks and was the only player in college football to rank in the top 4 for both sacks and tackles for loss.
How is Brown able to bust through offensive lines so often? Because of his speed off the snap, even from a three-point stance, Brown was and is able to blow by the offensive line before they can even react. Once the play starts, Brown also has some great moves to get around guys and his ability to stay low while running makes him tough to keep out.
All this speed though, comes at a price. Scouts' major concern about Brown is his size. When running up against NFL-sized double teams, Brown, listed at the NFL combine at 256 lbs., would be more or less manhandled.
Fortunately for Brown, his size is something that can still be improved. While a bit short for the NFL, he has space on his frame to pack on more muscle – something he's already proven by increasing his weight significantly before the combine.
Another problem arises not so much from Brown's ability, but his overall experience. The Florida State defense is widely known for its simple, straightforward style of play and while it can often be effective, a player like Brown may not have had the chance to practice more complicated defensive schemes and thus exchanging a quarterback rush for trying to guard against the pass might be a difficult leap for him initially.
But if anything, Brown's dedication to improvement is his defining characteristic. He may struggle in his new roles on defense at first, but more than likely it won't be for very long.
Everett Brown's got a lot going for him, while not at the top of the list for most scouts, he is nevertheless vying for the position. In terms of the draft, Brown's got skills that make him a wise decision for any team and his adaptability and work ethic are sure signs of a successful career to come. Oh, and while a lot of people may think that quitting college to play in the pros is not wise down the road, Brown graduated early.
Latest on Brown
While initially thought to be selected behind Andre Smith, recent behavior on Smith's part has dropped him down the rankings, while good combine times by Brown have helped him. A lot of teams could use a player like Brown and so hammering out a lock for who will pick him is difficult. Some mock drafts have him as high as number one with the Lions trying to solidify their defense, or as low as 10 to the 49ers.
Career
Player Bio: Everette Brown Florida State Official Athletic Site
Brown's Bio at the FSU official site has career stats and complete listing of awards.
News and Commentary
Florida's DE Brown to go pro
Word on his official announcement to enter the draft.
Mock Draft: Everette Brown climbs to the top
Recent Mock Draft from Yahoo Sports.
Exit Interview: Everette Brown
Article on Brown by the Seminoles official fan blog.
Everette Brown: The Sack Machine
Profile on Brown by TheBleacherReport.
Brown says
On why he would be a good pick for any team
"I can bring the whole package as far as a guy who can get up the field quickly and will also study the playbook every day and work hard."
Posted in TomahawkNation.com
Sources and Links
Scout.com
Tomahawknation.com
Bucem.com
FFToolbox.com
ESPN.com
Florida State Offcial Athletic Site
Comments Off on Athlete Profile: Everette Brown

Posted in: College Football, NFL, NFL Draft
Tags: 2009 NFL Draft, Athlete Profiles, Everette Brown, Everette Brown bio, Everette Brown information, Everette Brown profile, Everette Brown rumors, Everrette Brown athlete profile, NFL Draft