Faber ready for biggest fight of a storied career on Saturday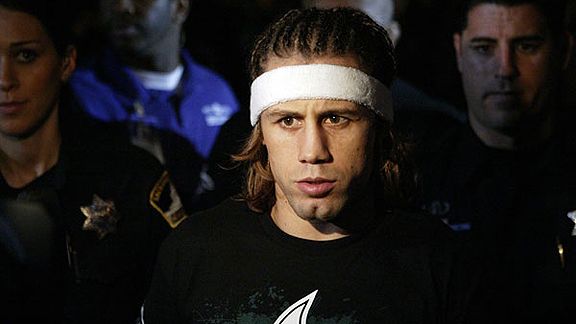 Dehydrated and hungry, Urijah Faber stepped on to the scale Friday night in Sacramento.
"One hundred forty-four and one-half pounds," screamed UFC and WEC commentator Joe Rogan.
Faber grabbed a bottle of AMP Energy and started re-hydrating his body after waking up in the morning at 150.5 pounds.
"I cut a lot of weight in college as a wrestler, so it isn't so bad for me," said Faber, who hopes to weight up to 157 pounds by the time of the fight. "I wrestled at 133 pounds and cut weight for five years so that has never been a huge issue for me."
As Faber consumes his drink, a chorus of boos hits the Arco Arena. Faber's opponent, WEC Featherweight Champion, Jose Aldo, steps on stage and hits the scale.
"One hundred forty-five pounds," screams Rogan.
The champion then met eye-to-eye with Faber as the crowd got behind their hometown hero, who at 30, finds himself as a 3-to-1 underdog against the younger Aldo, who is 24. The two will collide in the main event of WEC 48, presented by AMP Energy.
"I don't get on internet sites and look at stuff, so until I started this press tour, I didn't know I was that big of an underdog in this fight," Faber said. "As far as the experts go, I consider myself an expert, and I think I am going to win."