MMA Preview: Strikeforce & WEC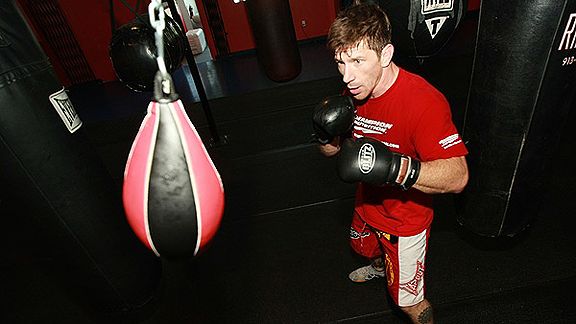 This weekend Mixed Martial Arts has two solid shows taking place outside of the UFC label. It begins Saturday on Showtime at 10 p.m. with Strikeforce presenting a strong card of recognizable fighters, a few of which are still considered among the best in the world. On Sunday, the WEC (World Extreme Cagefighting) takes center state with WEC 41: Brown vs. Faber 2, which is highlighted by the Featherweight championship (145 lbs) rematch of champion Mike Thomas Brown against former champion Urijah Faber. That show will air on Versus at 9 p.m.
Here is a quick breakdown of the feature fights and my predictions for both shows:
Strikeforce at the Scottrade Center in St. Louis, Mo.
– Kevin Randleman (17-12) vs. Mike Whitehead (23-6) Light-Heavyweight (205lbs): Kevin Randleman was a giant in the MMA world in the late 90's and in the beginning of the 2000's, but now Randleman is finding himself in the same position as many of the giants in those days like Ken Shamrock and Royce Gracie, where the sport has passed him bye. Loser of five of his last seven fights, Randleman needs a win over UFC veteran Mike Whitehead, who has won 13 of his last 14 and has looked good since his move down to light-heavyweight (205 lbs). I like Whitehead by decision or TKO from ground-and-pound on a tired Randleman.
– Joe Riggs (29-10) vs. Phil Baroni (13-10) Middleweight (185lbs): Phil Baroni and Joe Riggs are classic examples of two fighters that had worlds of potential and never tapped into it. Both men have tremendous power, but both are notorious for their lack of endurance as fights move on. Baroni tries to throw all his power in each punch which limits him later on and Riggs has a suspect chin that has caused quick knockout losses. If Baroni has truly improved his training, I see him winning this one as Riggs is the mentally weaker fighter. I take Baroni by TKO late in round one.
Posted in: Mixed Martial Arts
Tags: Add new tag, Andrei Arlovski, Brett Rogers, Brown vs. Faber II, Brown vs. Faber II Preview, Cub Swanson, Donald Cerrone, Jake Shields, James Krause, Jens Pulver, Joe Riggs, Jose Aldo, Josh Grispi, Kevin Randleman, Leonard Garcia, Mike Thomas Brown, Mike Thomas Brown vs. Urijah Faber II, Mike Whitehead, MMA Fight Previews, MMA News, MMA rumors, MMA Strikeforce Preview, Nick Diaz, Phil Baroni, Robbie Lawler, Scott Smith, Strikeforce Preview, Urijah Faber, WEC, WEC Featherweight Champion Mike Thomas Brown, WEC Fight Previews, WEC Preview