Faber ready for biggest fight of a storied career on Saturday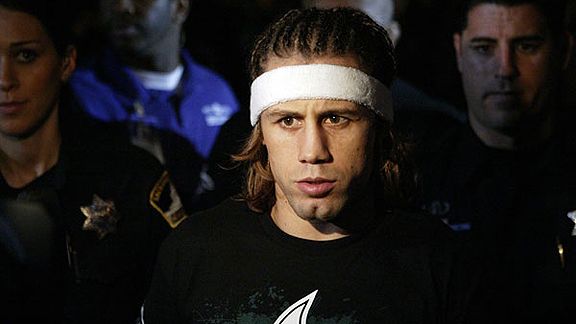 Dehydrated and hungry, Urijah Faber stepped on to the scale Friday night in Sacramento.
"One hundred forty-four and one-half pounds," screamed UFC and WEC commentator Joe Rogan.
Faber grabbed a bottle of AMP Energy and started re-hydrating his body after waking up in the morning at 150.5 pounds.
"I cut a lot of weight in college as a wrestler, so it isn't so bad for me," said Faber, who hopes to weight up to 157 pounds by the time of the fight. "I wrestled at 133 pounds and cut weight for five years so that has never been a huge issue for me."
As Faber consumes his drink, a chorus of boos hits the Arco Arena. Faber's opponent, WEC Featherweight Champion, Jose Aldo, steps on stage and hits the scale.
"One hundred forty-five pounds," screams Rogan.
The champion then met eye-to-eye with Faber as the crowd got behind their hometown hero, who at 30, finds himself as a 3-to-1 underdog against the younger Aldo, who is 24. The two will collide in the main event of WEC 48, presented by AMP Energy.
"I don't get on internet sites and look at stuff, so until I started this press tour, I didn't know I was that big of an underdog in this fight," Faber said. "As far as the experts go, I consider myself an expert, and I think I am going to win."
Always confident, Faber was once in Aldo's shoes, as he had won 13-straight fights and defended the WEC belt five times before losing the belt on Nov. 5 of 2008 to Mike Brown.
Faber, known for being unpredictable, attempted a spinning back elbow, but ate a right hand from Brown that sent him crashing to the ground. Brown pounced on Faber and dethroned the champion.
"The way top guys like this lose is that they fight another top guy and one of them makes a mistake and the other one capitalizes," Faber said. "People have asked if I would change the way I fought because of that but I have lost three fights fighting the way I fight, and won 23, so I think I will stick with it."
After a win over former UFC veteran, Jens Pulver, Faber earned a rematch with Brown, but a broken hand early in the fight kept him from being able to execute his game plan, which resulted in a decision loss. Many wondered where Faber's career was heading, but a submission victory over Raphael Assuncao at WEC 46 pushed Faber back into the title picture.
Now, with the world watching, in his home town, Faber perhaps gets his last shot at the belt when he collides with Aldo.
"He's fast and he's explosive and his stand up is really good," Faber said of Aldo. "For me, I am extremely fast and I am extremely well rounded. I fight outside the box and I fight all over the place, so I am really hard to get timed and predicted with what I am going to do. I am one of the best in the world and I am here to prove it."
A win for Faber would rejuvenate his career as the WEC is expanding into pay-per view, something he has been pushing for since establishing his name in the upstart organization for fighters 155 pounds and below.
"I felt this whole process for me has been about pushing the lighter weights to the forefront," Faber said. "It has been a long process, it hasn't just been about this fight. I have always been going above and beyond to meet fans and get my name out there and get my message out there. It is a constant battle for me. I am always the guy doing promotional work and talking to the press. I am the hardest working guy in MMA and I am going to continue to be that."
Coming out of the University of California-Davis, Faber used his wrestling background as the foundation to becoming a mixed-martial artist. His wrestling has always been his strength, but like the sport itself, Faber evolved quickly in a technical striker and submission specialist that made him a fighter that was ahead of his time. Now, with more fighters coming into MMA that are like Faber, the sport just keeps growing in terms of product quality and in fan interest.
"The progression of the sport has been huge not just in the technical aspects but also in the notoriety and the level of coverage we get," Faber said. "The fights have gotten better and the age that guys are starting to dedicate their lives to the sport is getting younger. It has been phenomenal to see. I take a lot of pride in being a guy that people look at as a pioneer, but I feel I am still getting better and still learning. You always need to be looking for ways to improve and I don't think there will ever be a perfect fighter, so you just always work to getting as close to that as possible."
Before Faber's future can take on life, he must first face Aldo, but he knows the months of training have prepared him for Saturday's fight and nothing can be worse than what his training has been like.
"I am always prepared for the worst and hoping for the best," Faber said. "My training, I always go above and beyond. I will do six minute rounds instead of five minute rounds and I will have fresh guys rotate in on me. I am ready for everything."
A fight can end in many ways, but Faber sees his fight with Aldo ending just one way.
"I think I am going to win by submission," Faber said. "I don't know what round, but I am going to win."