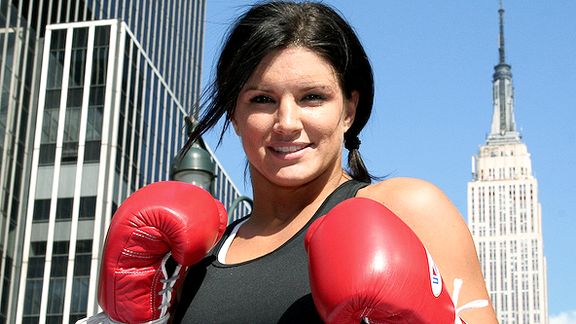 Here's a weekly rundown of MMA content from Ben Goldstein of CagePotato.com:
– Gina Carano appeared semi-nude (and fully hot) on the cover of ESPN: The Magazine's "Body Issue."
– Shinya Aoki won his best-of-three series against Joachim Hansen, Bibiano Fernandes kicked two separate asses, and the little Hulks beat the big Hulks at the DREAM.11 show in Yokohama on Tuesday. You can watch all the fight videos here and here.
– On Wednesday's episode of "The Ultimate Fighter," Team Rashad went up 4-0 thanks to Brendan Schaub's grappling and Quinton Jackson's awful coaching. If Rashad plays his cards right, he could be the first TUF coach to sweep the round-of-16.
– "TUF 8" head-case Junie Browning was arrested for assaulting three nurses after a pill-related misunderstanding at a Las Vegas hospital.
– Mark Coleman blew out his knee and dropped out of his UFC 106 fight against Tito Ortiz. Ortiz called him a sissy. Coleman's manager called Ortiz's girlfriend a whore. Ortiz will now be facing Forrest Griffin in a rematch.
– UFC legend Chuck Liddell won another split-decision on "Dancing With the Stars."
– We took a look at 10 of the wildest MMA fighter entrances of all time, and 10 career-ruining, soul-destroying fights.