MMA Preview: Strikeforce & WEC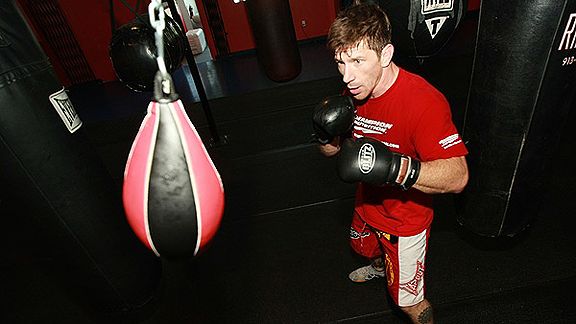 This weekend Mixed Martial Arts has two solid shows taking place outside of the UFC label. It begins Saturday on Showtime at 10 p.m. with Strikeforce presenting a strong card of recognizable fighters, a few of which are still considered among the best in the world. On Sunday, the WEC (World Extreme Cagefighting) takes center state with WEC 41: Brown vs. Faber 2, which is highlighted by the Featherweight championship (145 lbs) rematch of champion Mike Thomas Brown against former champion Urijah Faber. That show will air on Versus at 9 p.m.
Here is a quick breakdown of the feature fights and my predictions for both shows:
Strikeforce at the Scottrade Center in St. Louis, Mo.
– Kevin Randleman (17-12) vs. Mike Whitehead (23-6) Light-Heavyweight (205lbs): Kevin Randleman was a giant in the MMA world in the late 90's and in the beginning of the 2000's, but now Randleman is finding himself in the same position as many of the giants in those days like Ken Shamrock and Royce Gracie, where the sport has passed him bye. Loser of five of his last seven fights, Randleman needs a win over UFC veteran Mike Whitehead, who has won 13 of his last 14 and has looked good since his move down to light-heavyweight (205 lbs). I like Whitehead by decision or TKO from ground-and-pound on a tired Randleman.
– Joe Riggs (29-10) vs. Phil Baroni (13-10) Middleweight (185lbs): Phil Baroni and Joe Riggs are classic examples of two fighters that had worlds of potential and never tapped into it. Both men have tremendous power, but both are notorious for their lack of endurance as fights move on. Baroni tries to throw all his power in each punch which limits him later on and Riggs has a suspect chin that has caused quick knockout losses. If Baroni has truly improved his training, I see him winning this one as Riggs is the mentally weaker fighter. I take Baroni by TKO late in round one.
– Andrei Arlovski (15-6) vs. Brett Rogers (9-0) Heavyweight (265lbs): Arlovski in my opinion is the second best heavyweight in the world who took a tough loss to unbeaten Fedor in the last Affliction PPV. Prior to the knockout, Arlovski was winning the fight with the pound-for-pound king, but a poor choice to go for a flying knee setup the loss. Now, Arlovski looks to rebound against Brett Rogers, who has won all nine of his pro fights in dominant fashion, but has never faced a test like this. I see Arlovski winning by TKO in round two.
– Nick Diaz (19-7) vs. Scott Smith (15-5) Middleweight (185lbs): Nick Diaz has been one of the most confusing fighters in MMA. Diaz holds wins over some of the world's best like Robbie Lawler and Takanori Gomi, but has also lost to sub-par competition like Joe Riggs and Jeremy Jackson. Recently, Diaz had an emphatic win over Frank Shamrock and a win over Smith would put him in the sights of a rematch with Lawler, who he knocked out at UFC 47 in one of the biggest upsets in the sports history at the time. Smith is certainly a game fighter that can KO anyone with one shot, but Diaz should outclass him and dominate the fight. I see Diaz by submission in round three.
– Robbie Lawler (16-4) vs. Jake Shields (22-4-1) Catch-weight (182lbs): The fight will take place at a catch-weight of 182 lbs with Shields making the move up from welterweight (170 lbs). Lawler is considered by some as the No. 2 middleweight in the world and has not lost in his last six fights. His most recent win is over Scott Smith in Elite XC before the company went belly up. Shields, who was the Elite XC welterweight champion has won his last 11 fights but is making his first climb into a bigger weight. I feel Shields is the better all-around fighter, but in the end, the weight change will play into Lawler's favor. I see Lawler by TKO early in round three.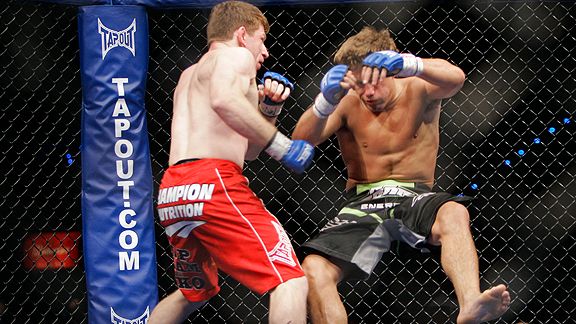 WEC 41: Brown vs. Faber 2 at the Arco Arena in Sacramento, Calif.
– Josh Grispi (12-1) vs. Jens Pulver (22-11-1) Featherweight (145lbs): Jens Pulver was the first ever UFC lightweight champion at 155 lbs, but now Pulver finds himself at a crossroads. Pulver has lost five of his last six fights, including two to Faber in the WEC. Another loss may force one of the faces of MMA into retirement. Grispi has won his eight fights, seven by stoppage, including his last two which were in the WEC. A win for Grispi puts him in title consideration at 145 lbs. I like Grispi to take an older, slower Pulver by TKO in round one.
– James Krause (10-0) vs. Donald Cerrone (9-1) Lightweight (155lbs): Cerrone is coming off a razor-thin split decision loss to WEC champion Jamie Varner and many still consider him the best 155-pounder in the WEC. A win for Cerrone would certainly set-up a rematch with Varner for the title. Krause is making his WEC debut with a perfect record, but this will be his toughest opponent to date. I like Cerrone with his big-fight experience by submission in round one.
– Jose Aldo (14-1) vs. Cub Swanson (13-2) Featherweight (145lbs): Aldo is the hot name in the WEC right now as he has won all four televised bouts by KO or TKO. Aldo is in line to face the Brown-Faber winner with a win over Cub Swanson, who has rebounded with back-to-back wins after losing to Pulver in 35 seconds in December of 2007. Swanson is a good fighter, but I think Aldo has the momentum right now and the better stand-up, which will be the deciding factor. Give me Aldo by TKO from strikes in round two.
– WEC Featherweight Champion Mike Thomas Brown (22-2) vs. Urijah Faber (22-2): Rarely do you get to see a fight where there is a fairly unanimous feel that the two fighting are respectively ranked as the No. 1 and No. 2 fighter in the world in their weight class. Brown may have shocked the world in the first fight, winning by TKO in the first round over Faber, who was thought to be unbeatable, but Brown has since solidified his spot with his dominant win over Leonard Garcia in Garcia's backyard of Texas. Faber bounced back from his loss to Brown with a quick submission of Pulver back in January and is hungry for payback. This fight should be as good as advertised with Faber's full attention on Brown, and Brown eager to cement his legacy in the sport. Brown is a tremendous all-around fighter that is technically sound, while Faber relies on his athleticism, speed, and flexibility to utilize unorthodox strikes. Brown capitalized on a Faber mistake in the first fight and I see Faber fighting a smarter fight this time around, but if Brown can control the pace and win the opening rounds, Faber will get desperate and make a drastic move that will either win him his title back, or cost him another loss. I like Brown making the most of the mistake again and winning by TKO in round three. I can also see this being a 5-round war, but I will stick with my first choice.
Hope everyone gets a chance to sit down this weekend and enjoy some great MMA action.
Also, be sure to check out our interview with Mike Thomas Brown as he prepares to take on Urijah Faber.
-Written by TSR MMA contributor Drew Ellis
Posted in: Mixed Martial Arts
Tags: Add new tag, Andrei Arlovski, Brett Rogers, Brown vs. Faber II, Brown vs. Faber II Preview, Cub Swanson, Donald Cerrone, Jake Shields, James Krause, Jens Pulver, Joe Riggs, Jose Aldo, Josh Grispi, Kevin Randleman, Leonard Garcia, Mike Thomas Brown, Mike Thomas Brown vs. Urijah Faber II, Mike Whitehead, MMA Fight Previews, MMA News, MMA rumors, MMA Strikeforce Preview, Nick Diaz, Phil Baroni, Robbie Lawler, Scott Smith, Strikeforce Preview, Urijah Faber, WEC, WEC Featherweight Champion Mike Thomas Brown, WEC Fight Previews, WEC Preview