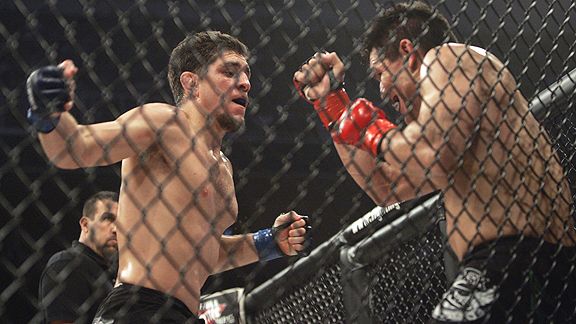 Here's a weekly rundown of MMA content from Ben Goldstein of CagePotato.com:
– Jake Shields choked out Robbie Lawler, Nick Diaz dominated Scott Smith, and Brett Rogers scored a 22-second KO over Andrei Arlovski at the Strikeforce show last Saturday. Afterwards, Rogers shared his feelings about Kimbo Slice and Nick Diaz humiliated a reporter.
– A day later, the WEC one-upped Strikeforce by putting on one of the greatest cards of the year, highlighted by Mike Brown's five-round war with Urijah Faber, Jose Aldo's latest highlight-reel finish, and possibly the last appearance of Jens Pulver. If only the fighters got paid what they're worth…
– Team U.K. swept the lightweight bracket on Wednesday's episode of the Ultimate Fighter; Andre Winner and Ross Pearson will throw down at next Saturday's finale show on Spike.
– The upcoming title fight between Gina Carano and Cristiane "Cyborg" Santos will be contested at 145 pounds. Cross your fingers.
– EA is prepping its own MMA video game to compete with "UFC Undisputed." Can they succeed without the involvement of MMA's most powerful brand?
– We looked back at MMA's first superstars.
– Wanderlei Silva explained to us how life was like a bicycle.
– UFC 99 goes down today [Saturday] in Cologne, Germany, starting at 3 p.m. ET. Swing by CagePotato.com for our liveblog, and get familiar with some of the storylines here.