Which position is the safest bet in the first round?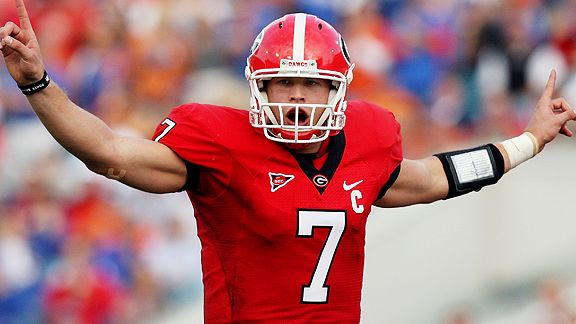 I was watching one of the many Mel Kiper and Todd McShay arguments on ESPN the other day [video], and Kiper was arguing that if McShay has Matthew Stafford ranked so high (McShay currently has Stafford ranked #8), then he should almost be a no-brainer for the Detroit Lions, who have the #1 overall pick and need a quarterback. McShay isn't convinced that he's a so-called "franchise" quarterback, so he says he would go another direction. (For the record, at the time Kiper called McShay "crazy" for having Stafford that high, but now he has the QB ranked #3 on his big board. It's clear that Kiper's pure hatred for McShay is causing him to slowly lose his mind.)
Anyway, the debate piqued my interest and got me wondering – when it comes to the first round of the NFL Draft, is one position safer than another? For example, if the Lions have three holes to fill (they have more, but bear with me) – quarterback, linebacker and tackle – and they can't decide amongst the three players, is one position a safer pick than the other two?
So I compiled a list of the 313 players that were picked from 1997-2006 (assuming that it takes three seasons to get a decent idea of what kind of player a draft pick is going to turn out to be) and asked our NFL guru, Anthony Stalter, to rate each player on a scale of 1 to 5…
(1) Out of League
(2) Reserve
(3) Starter
(4) Star
(5) Superstar
The Out of League, Star and Superstar categories are pretty self-explanatory. To qualify as a Starter, the player must be starter-caliber for the majority of his NFL career. A Reserve is a player that is a backup for the majority of his career, so he may have started at one point, but on the whole he's a backup. For the younger players, Anthony had to project a little bit. For example, a player is a starter in his third year – does he project to be star or superstar, or will he simply be a starter for the majority of his career?
Anthony rated each player (and after some spirited debate about a few of his ratings), I compiled all the data into Table 1 below. It shows each position, the percentage of first round picks that position was taken, and the number (and percentage) of times those picks turned out to be superstars, stars, starters, reserves and out of league players.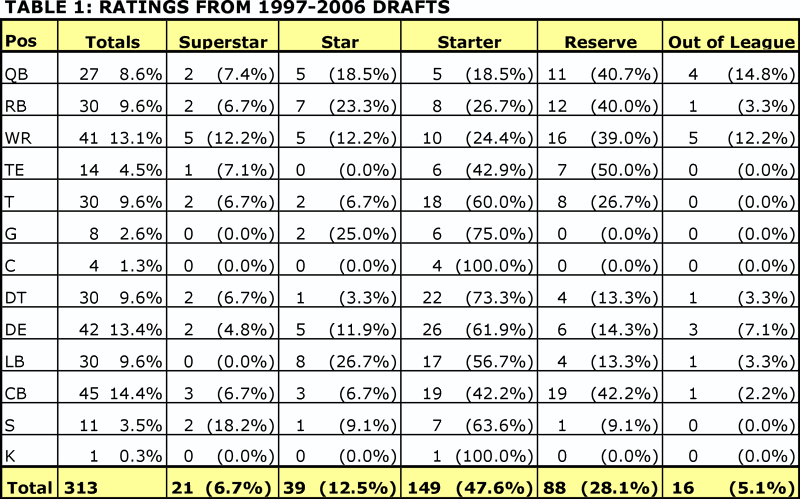 In Table 2, I summed the Star and Superstar categories (naming it "Star+") to find out which position provided the most. If the goal of a first round pick is to "not mess it up," and at least get a solid starter out of the pick, then teams would be interested in the sum of the Starter, Star and Superstar categories (a.k.a. "Starter+").
The results are interesting. There are a number of positions that hit Stars or Superstars at a 25-30% rate – QB, RB, WR, G, LB and S – but quarterback, running back and wide receiver only hit Starter+ at a 44-57% rate whereas the other three positions are all at 83% or more. The lesson? Guard, linebacker and safety are much safer picks.
But back to the Detroit Lions. They have holes at QB, T and LB and the top player in each category – quarterback Matthew Stafford, tackle Jason Smith and linebacker Aaron Curry – are all reasonable #1 overall picks.
So who should the Lions take?
Assuming Detroit has done its due diligence and the three players grade out about the same (i.e. the Lions' scouting hasn't revealed a clear choice), the safest pick appears to be Curry. According to the numbers, he has an 83% chance of developing into at least a starter and a 27% chance of turning into a star or a superstar. Compare that to the numbers for QB (44% Starter+, 26% Star+) and T (73% Starter+, 13% Star+) and it's clear why Curry is the "safe" way to go here. As the #1 overall pick, the Lions are going to have to invest a ton of money in the player, so it's better to go with a position that they're pretty sure will turn into at least a starter (and has just as good of a chance of turning into a star or superstar). In short, tackle has less upside and quarterback has more downside – linebacker is juuuuuust right.
Aaron Curry: The Lions' best bet.
Let's bring in Anthony Stalter for some back-and-forth about the numbers and what they say about how NFL teams should approach their first round picks.
Anthony: For those who have followed the NFL over the years and more specifically, paid attention as prospects made the jump from college to the pros, it's easy to understand why quarterbacks, wideouts and cornerbacks are considered risky picks in the first round.
It's the age of free agency in the NFL and with that, teams need rookies to play right away even though quarterbacks, wideouts and cornerbacks would benefit from learning on the sidelines for a year or two before they saw extensive game action. Granted, wideouts don't have to download as much as quarterbacks in terms of recognizing defenses and learning the playbook, but most colleges don't run pro style offenses and therefore it takes longer for them to learn how to run routes and understand the nuances of trying to get open.
When you factor in how big the expectations are because these prospects are first rounders, it's easy to understand why the failure rate is so high. If these players aren't struggling to learn the game, they're surely crumbling under the lofty expectations bestowed upon them for being high draft picks.
What's interesting about this particular debate as it relates to the Lions is that word is they're trying to trade out of the No. 1 slot so they don't have to carry the financial burden that comes along with having the top overall pick. But if Detroit is so concerned with the amount of money they'll have to pay the No. 1 pick, then taking a quarterback or an offensive tackle is unwise.
The top quarterback in last year's draft was Matt Ryan, who went No. 3 overall to the Falcons. Ryan signed a six-year, $72 million contract that included $34.75 million in guarantees. Jake Long, who was selected No. 1 overall by the Dolphins and who was also the top offensive tackle in last year's draft, signed a five-year, $57.75 million deal that included $30 million in guarantees. So, whether the Lions drafted Smith or Stafford, they'd still have to commit roughly $12 to $15 million a year towards one of those players.
Some analysts (including me) consider Curry as the best player in the draft and he fits a major need for the Lions. When you factor in that the Lions are worried about the potential cap hit that they would endure in going with either Stafford or Smith, as well as the fact that linebackers have generally been one of the safest positions to draft in the first round, Curry would appear to be a slam dunk for Detroit at No. 1.
By the way, the Jets made Vernon Gholston the top linebacker in the 2008 NFL Draft when they selected him with the No. 6 overall pick. They signed Gholston to a five-year, $32.5 million contract that included $21 million in guarantees. Even though Curry would make more as the No. 1 overall pick, if the Lions selected him they would be looking at a yearly cap hit of roughly $5 to $8 mil less than if they chose Stafford or Smith.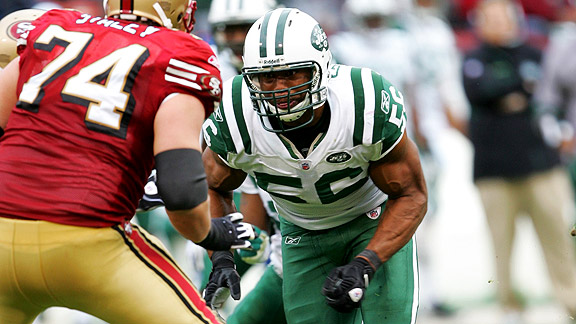 Gholston's salary means the Lions can sign LB Curry for less than QB Stafford or T Smith.
JP: The fact that the Lions would want to trade out of the #1 pick for financial reasons (not necessarily to load up on picks in order to fill more holes) just goes to show how out of whack the rookie salary structure is in the NFL. These guys are paid like they're stars no matter what, even when the numbers show that less than one in five first round picks actually turns out to be a star or superstar. It seems like, all things being equal, Curry should be the pick because not only is linebacker a "safer" position than quarterback or tackle, Detroit won't have to pay him nearly as much on a per season basis. Is there a pro-QB or pro-tackle argument to be made based on overall league depth at the position? Is a great tackle or QB harder to come by than a great linebacker?
Anthony: I would say so. Star QBs are few and far between, but there's no guarantee that you'll find one in the first round. Tom Brady was a seventh round pick, Drew Brees and Brett Favre were second rounders, and Tony Romo and Kurt Warner were undrafted. Obviously Peyton Manning, Donovan McNabb and Eli Manning were all first rounders, but there are a ton of first round busts too.
I think star offensive tackles are hard to come by as well because it's hard to scout them. You can't just look at their size and say, "Yep – he's going to be great." Scouts have to take into account their size, strength, footwork and even their arm reach.
Linebackers, on the other hand, are usually easier to spot. Did they show the ability to shed blocks in college? Are they fast enough to play sideline to sideline? Are they athletic enough to play on third downs and in obvious passing situations? And don't forget that there are more linebackers to choose from in college, too. Four USC linebackers will be drafted this year and all of them will most likely go in the first three rounds. There's only one USC quarterback that will be selected.
It's also easier for teams to recognize what kind of linebacker fits their scheme. USC's Rey Maualuga can't play outside linebacker in a 4-3, but he definitely fits as a middle linebacker in that scheme or an inside linebacker in a 3-4. Virginia's Clint Sintim isn't a great fit at middle linebacker in a 4-3, but he would make a great strongside 'backer in that scheme.
So to answer your question – yes, in my opinion, a great tackle and/or quarterback is harder to come by than a great linebacker.
JP: Maybe it's the overall impact on the game by each position. Is it true to say that a star QB will have more of an impact than a star linebacker? It would seem so. A good QB will throw 20-30 passes every game and maybe run the ball a few times as well. How many impact plays will a great LB make? Conversely, it wouldn't seem like a star tackle would have a bigger impact than a star LB, would it?
Anthony: It's all relative. That star tackle has to keep defenders off that good quarterback in order for him to throw 20-30 passes a game. And that great linebacker can turn a game on its head by forcing a turnover, stopping a run in the backfield or making a game-saving tackle.
It's hard to grade impact on a football field. Every position holds its own value and that's why football is the ultimate team game. But at the risk of contradicting myself, I guess one could say that a quarterback has the ability to make the biggest impact. After all, the ball is in his hands every play and we've all seen what guys like Manning, Brady and Favre can do when they take over a game seemingly on their own. But again, they're just one cog in the machine.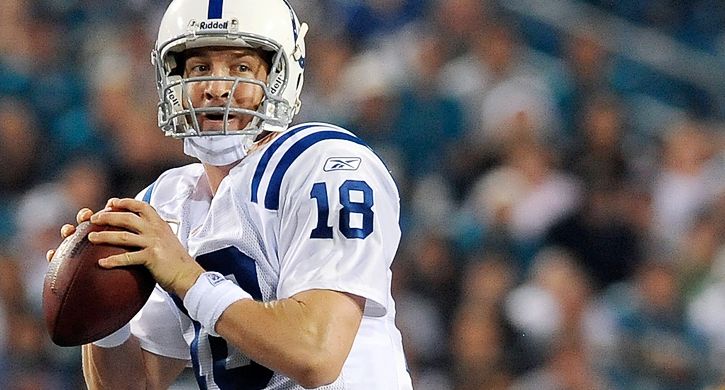 What everyone hopes to get with a first round QB.
JP: Maybe that's the risk/reward of drafting a QB in the first round. The upside is you get a great player (i.e. Peyton Manning) who can help you win for years to come. The downside is your pick is a bust (i.e. Ryan Leaf). Manning could turn the Lions around but Leaf would be some of the same ol' same ol'.
You mentioned how rookie QBs, WRs and CBs need time to learn the position – is that why those positions have such a high bust rate? I'd probably throw tight ends into that category as well. I keep hearing over and over how difficult of a position it is to learn. The chances of getting a starter at those four positions are all in the 45-55% range. But running back is a position that has a reputation for being fairly easy to pick up, yet its Starter+ rate is only 57%. What is it about running back that depresses this success rate as it relates to the offensive line, defensive line, linebacker and safety? My theory is since RB is one of the so-called "skill positions" and the best college players at these positions generally get a lot of attention while in school, that the NFL general managers end up pulling the trigger on these players too early on draft day.
Anthony: The running back position perplexes me when I look at the numbers you mentioned because, generally speaking, that is one of the easiest positions to learn coming out of college. So why haven't running backs taken in the first round found much success?
One notion I have revolves around teams focusing too much on the size and speed of a running back prospect and not taking into account how good his vision is. (I'm obviously not talking about his actual vision in terms of being 20/20 or what have you, but him being able to read holes and get up the field.)
Players like T.J. Duckett, Curtis Enis, William Green and Ron Dayne all had the size teams looked for, but clearly lacked the ability to recognize where the holes were so that they could make their cuts and get up field. Teams fell in love with Trung Canidate, John Avery and Michael Bennett's speed, but all that speed will be neutralized if a back doesn't have the awareness to get through that initial hole as quickly as he can and get to the next level.
Now look at guys like Warrick Dunn, Shaun Alexander and LaDainian Tomlinson. Do those players have the best combination of size and speed? Nope. Dunn has always been too small, Alexander has never had enough top end speed and LT isn't the biggest back in the league at 5'10", 221-pounds. But they all have tremendous vision and that's what separates them from other backs taken in the first round.
You asked if quarterbacks, wideouts and cornerbacks have higher bust rates than other positions because of the learning curve and I would have to say yes, that's a huge part of it. Skill position players coming out of college have a hard time adjusting to the speed of the game. Throw in the amount of knowledge they must attain from playbooks and game film – as well as the lofty expectations for being a first round pick – and you create a tough environment for these players to succeed in.
The game of football has always been the same, but the amount of preparation that goes into just one NFL game is unrivaled by any other sport. It's why fewer than 1,700 players make it on NFL rosters every year.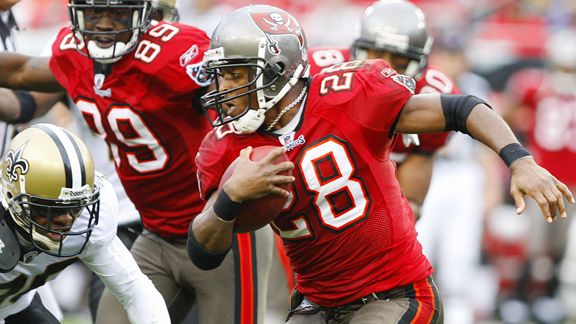 Dunn is proof that good vision is more important than size or speed.
JP: So when scouting a running back, people should be looking at the percentage of times the player made the correct cut more than they should be looking at his 40 time or overall size? That makes sense.
One last question – given these numbers, if you were running a draft room, would they impact how you proceeded in the first round? We both agree that Curry is the safest (and therefore probably the best) pick for the Lions, but what if you were faced with a different decision.
Let's say that you are the owner of the #10 pick in the draft and you have holes at DE, WR and FS. Picking 10th, your team is mediocre and is probably at least two years away from seriously contending. You've done a crapload of scouting, and the next three players on your draft board are a WR (#10), a DE (#11) and a FS (#12). You have the WR ranked slightly ahead of the other two players, but all three are in the same tier (i.e. there isn't a big drop off between any of them). Knowing that the WR has a Star+ of 24% and a Starter+ of 49%, the DE has a Star+ of 17% and a Starter+ of 79% and the safety has a Star+ of 27% and a Starter+ of 91%, who do you draft? Are these numbers strong enough to draft the safety over the other two positions, or do you go with your scouting grades and take the slight favorite (the WR)? Or do these numbers justify taking the DE?
Anthony: I think these ratings would be very beneficial to a team, assuming of course that they agree with my player rankings. But the thing to keep in mind is that not all of the 32 teams run the same offensive and defensive schemes. So certain prospects don't appeal to some teams like they do others. That might be an obvious statement, but I don't want any reader to interpret our discussion and findings as the end all/be all for how to draft a player.
But your mock scenario is a good one, so I'll play along. If I have the #10 pick in the draft and I have needs at WR, DE and FS, and there are WR, DE and FS prospects that are available and I have them similarly rated, then I'm going with the FS. If I know there's a 91% chance that I'm going to get a starter at the No. 10 pick and that he filled a need and was high on my board, I would jump at the opportunity. I'll also throw in the fact that having an impact safety in the NFL is almost becoming a necessity. Look at the safeties in the final four playoff teams last year: Adrian Wilson (Cardinals), Ed Reed (Ravens), Troy Polomalu (Steelers) and Brian Dawkins (Eagles).
Another interesting point of view is the one of a fan. As a fan, I look at these rankings and I hope that my favorite team takes a player in the first round that plays a position that has a high success rate of turning into a starter (i.e. LB, S, G). Granted, most guards aren't selected in the top 20 and this year's safety class is weak, but in general, I would want my team to stay away from positions that have a lower success rate.
JP: If I were running a draft room, I'd definitely use these numbers to guide my picks. I'd have to be really sure about a skill position player before burning a first round pick and I'd only go that route if I didn't have any other holes to fill. Thanks for your time, Anthony, and once the draft is done, we'll definitely look back at the first round to see what kind of decision process each team used.
Anthony: Thanks, this was fun.
Posted in: Fantasy Football, MLB, NFL, NFL Draft
Tags: 2009 NFL Draft, Aaron Curry, Adrian Wilson, Anthony Stalter, Brett Favre, Brian Dawkins, Clint Sintim, Donovan McNabb, Drew Brees, Ed Reed, Jake Long, Jason Smith, John Paulsen, John Paulsen and Anthony Stalter, Matt Ryan, Matthew Stafford, NFL Draft, Peyton Manning, Rey Maualuga, Tom Brady, Troy Polomalu, Vernon Gholston