Breaking down the 2009 NFL Offensive Rookie Year candidates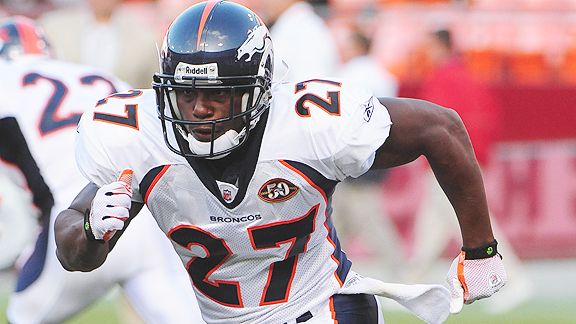 Around this time last year, I compiled a top 10 list of Offensive Rookie of the Year candidates and ranked Falcons quarterback Matt Ryan No. 1. He went on to throw for 3,440 yards, 16 touchdowns and led Atlanta to a remarkable playoff appearance, all while making me look like some kind of OROY-predicting genius.
Of course, I also listed Titans running back Chris Johnson at No. 7 behind less-productive names like Darren McFadden (No. 4), Kevin Smith (No. 5) and Rashard Mendenhall (No. 6), hence making me look like some kind of OROY-predicting moron.
To see my top 10 ranking from last year, click here. And for my top 10 ranking of the offensive rookie of the year candidates for this season, see below.
1. Knowshon Moreno, RB, Broncos
While the knee injury he suffered in Denver's preseason opener is a concern, Moreno is expected to be ready for Week 1 and will be given every opportunity to shine in '09. Granted, he's stuck in a crowded backfield and could be eased into the season after hurting his knee, but he has the potential to be an every-down back at some point this year. He was the most complete back in April's draft, has outstanding vision and should get plenty of opportunities to make plays in Josh McDaniels' shotgun-heavy offense. He'll also benefit from running behind the Broncos' stellar O-line. Expecting him to put up rushing numbers similar to those of Chris Johnson (1,228 rushing yards) last year might be a little ambitious. But if Moreno stays healthy, a 400-plus yard receiving season in McDaniels' system is certainly doable.
Posted in: NFL
Tags: Arizona Cardinals, Chris Wells, Denver Broncos, Detroit Lions, Donald Brown, Glen Coffee, Indianapolis Colts, Knowshon Moreno, LeSean McCoy, Mark Sanchez, Matthew Stafford, Miami Dolphins, Minnesota Vikings, New York Jets, NFL Offensive Rookie fo the Year 2009 predictions, Pat White, Percy Harvin, Philadelphia Eagles, San Francisco 49ers, Shonn Grenne, Top 10 lists, Top 10 sports lists