Ten second-year NFL breakout candidates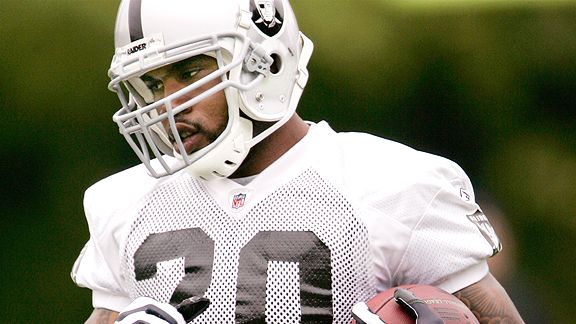 Players like Matt Ryan, Chris Johnson and Joe Flacco have already pulled a seat up to the proverbially NFL dinner table after turning in solid rookie seasons. But which second-year players (who didn't have great success in their rookie campaigns) are set for breakout seasons in 2009?
Here are 10 that jump out to me:
(Note: I consider players like Ryan, Johnson, Flacco, Jonathan Stewart, Matt Forte and Steve Slaton as already having breakout seasons, so you won't find them on this list.)
In no particular order:
1. Darren McFadden, RB, Raiders
Justin Fargas is a favorite of head coach Tom Cable's in Oakland, but the Raiders didn't select McFadden with the fourth overall pick in last year's draft not to take full advantage of his talents. Thus far this summer, the Raiders have lined McFadden up not only at running back, but also at receiver and even quarterback. With Cable calling the offensive plays this season, McFadden is set to see plenty of opportunities to excel in Oakland's offense and as long as he can stay healthy (a turf toe injury slowed him down last season) the former top 5 pick could emerge as the Raiders' most potent offensive weapon. The one part of his game that he'll need to improve on, however, is his ability to run between the tackles. If he can't, the hard-running Fargas will steal plenty of McFadden's touches this season.
2. Leodis McKelvin, CB, Bills
McKelvin already broke onto the scene as a kick returner in 2009, racking up the most return yardage in the AFC with 1,468. But this is the year McKelvin could turn heads as a cornerback. After emerging as a playmaker down the stretch last season, the Bills decided to make McKelvin a starter opposite Terrence McGee for 2009. McKelvin received plenty of criticism for having poor ball skills while coming out of college, but anyone who watched Buffalo's 54-31 romp of the Chiefs in Week 12 last season knows that he's up for the challenge of playing DB in the NFL. In that game, McKelvin intercepted Tyler Thigpen twice, including on a 64-yard touchdown after reading what Thigpen wanted to do with the ball, jumping the slant route and getting underneath the receiver to make the pick. Now that he's a starter and playing opposite McGee, McKelvin will have plenty of opportunities to show we can do in '09.
3. Sedrick Ellis, DT, Saints
Ellis finished with four sacks, 30 tackles and four pass breakups in 13 games as a rookie last season, but he did so while having to learn both the three-technique, and the nose position. This summer, the Saints want Ellis to focus solely on the three-technique position, which would make him the primary interior pass-rusher on their defense. With him concentrating more on providing a push up the middle and less on occupying multiple offensive linemen in run defense, Ellis could double his sack output from a year ago and start to emerge as one of the better interior pass-rushers in the NFL.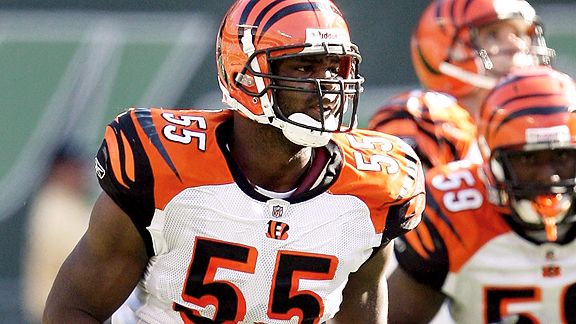 4. Keith Rivers, LB, Bengals
If it weren't for Hines Ward' jaw-breaking crackback block in Week 7 of last season, Rivers wouldn't be on this list because he was already having what appeared to be a breakout year as a rookie. Rivers has fully recovered from the jaw injury, as well as offseason arthroscopic ankle surgery, and could lead the Bengals in tackles this season if he stays healthy. He was one of the few bright spots on Cincinnati's defense last season and with the addition of Roy Williams, Abram Elam, Tank Johnson, Rey Maualuga and Michael Johnson this offseason, Rivers might be freed up to make plenty of plays in '09.
5. Branden Albert, OT, Chiefs
After reporting to OTAs in March weighing a hefty 341 pounds, Albert quickly got into shape after new head coach Todd Haley cracked the whip on his left tackle. Albert is reportedly down to 305 pounds, which is the lightest he's been since high school. Assuming his strength won't be zapped due to the weight loss, Albert should excel by being in better shape and having more experienced than a year ago. While it's tough to measure whether or not offensive linemen can have breakout seasons, maybe one sign that Albert is on his way to becoming a quality tackle is how well Larry Johnson and Matt Cassel fare this season. Personally, I think both players are in store for solid '09 seasons and Albert will likely be a big reason why.
6. Dominique Rodgers-Cromartie, CB, Cardinals
This is an easy one; Rodgers-Cromartie was named a started in November last season and quickly made an impact by intercepting four passes in the final seven games of 2008 and two more in the playoffs. Given the opportunity to start for an entire 16-game season, DRC could easily amass 10 inceptions in his second season. He's incredibly talented and is a gifted athlete. He also has enough ability to shadow the opposition's number one receiver, as he did with the Falcons' Roddy White and the Panthers' Steve Smith in the postseason last year.
7. Kenny Phillips, S, Giants
After coming out of Miami early following a somewhat down junior season, a lot of teams passed on Phillips in the first round last year. The Giants snatched him with the No. 31 overall pick and while he didn't set the stat sheet ablaze last season, he did show signs of why he was once considered a top 15 pick. Since last season, Phillips put on 16 pounds of muscle and is expected to start this year at one of the two safety positions. He's physically gifted and certainly has enough tools to succeed in the NFL, so if he can prove that he can become a vocal leader in New York's secondary, then Phillips could make a huge impact for the G-Men this season.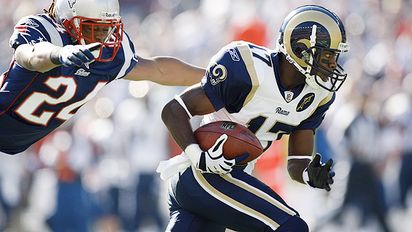 8. Donnie Avery, WR, Rams
Avery just suffered a stress facture in his foot and will be sidelined for the next 4-6 weeks. The injury certainly puts a damper on the start of his '09 campaign, but that doesn't mean he can't recover to turn in a breakout season. He caught 53 receptions for 674 yards and three touchdowns last season and could explode in the Rams' newly installed West Coast Offense. The injury, Marc Bulger's lousy play and/or an inexperienced offensive line could hinder Avery's breakout status. But he certainly has the speed and playmaking ability to build off the success he had last season.
9. Curtis Lofton, LB, Falcons
Some may label what Lofton did in 2008 as a breakout season considering he totaled 94 tackles and forced a fumble while starting 15 games for the Falcons as a rookie. But there's reason to believe that he'll make an even bigger impact in his second season, gain more national attention and thus, turn in a true "breakout" season. Lofton started in the middle of the Falcons' defense last year, but was replaced in nickel situations because Atlanta was concerned about his pass coverage abilities. But Lofton shed eight pounds this offseason and is expected to be a three-down 'backer this year. Considering the amount of opportunities he'll have being on the field at all times, Lofton could become Atlanta's team-leader in tackles and maybe even make his first Pro Bowl appearance.
10. Martellus Bennett, TE, Cowboys
Bennett has had a tumultuous offseason after receiving criticism for filming a profanity-laced YouTube video (which he was fined for), but his desire to become an Internet sensation shouldn't sidetrack what he could do on the field this season. At 6'6", 265 pounds, Bennett is so talented that the Cowboys are implementing more two tight end packages this season to take advantage of his playmaking ability. His development in the passing game could also be another reason why Dallas decided to cut T.O. in the offseason. While some don't like his cockiness and feel that he lacks focus, there's no denying Bennett's talent.
Posted in: NFL
Tags: Anthony Stalter, Arizona Cardinals, Atlanta Falcons, branden albert, Buffalo Bills, Cincinnati Bengals, Curtis Lofton, Dallas Cowboys, Darren McFadden, Dominique Rodgers-Cromartie, Donnie Avery, Kansas City Chiefs., Keith Rivers, Kenny Phillips, Leodis McKelvin, Martellus Bennett, New Orleans Saints, New York Giants, NFL breakout candidates, Oakland Raiders, Sedrick Ellis, St. Louis Rams, Top 10 lists, Top 10 sports lists