Breaking down the 2009 NFL Offensive Rookie Year candidates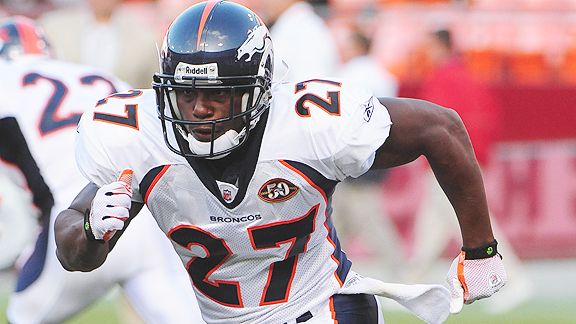 Around this time last year, I compiled a top 10 list of Offensive Rookie of the Year candidates and ranked Falcons quarterback Matt Ryan No. 1. He went on to throw for 3,440 yards, 16 touchdowns and led Atlanta to a remarkable playoff appearance, all while making me look like some kind of OROY-predicting genius.
Of course, I also listed Titans running back Chris Johnson at No. 7 behind less-productive names like Darren McFadden (No. 4), Kevin Smith (No. 5) and Rashard Mendenhall (No. 6), hence making me look like some kind of OROY-predicting moron.
To see my top 10 ranking from last year, click here. And for my top 10 ranking of the offensive rookie of the year candidates for this season, see below.
1. Knowshon Moreno, RB, Broncos
While the knee injury he suffered in Denver's preseason opener is a concern, Moreno is expected to be ready for Week 1 and will be given every opportunity to shine in '09. Granted, he's stuck in a crowded backfield and could be eased into the season after hurting his knee, but he has the potential to be an every-down back at some point this year. He was the most complete back in April's draft, has outstanding vision and should get plenty of opportunities to make plays in Josh McDaniels' shotgun-heavy offense. He'll also benefit from running behind the Broncos' stellar O-line. Expecting him to put up rushing numbers similar to those of Chris Johnson (1,228 rushing yards) last year might be a little ambitious. But if Moreno stays healthy, a 400-plus yard receiving season in McDaniels' system is certainly doable.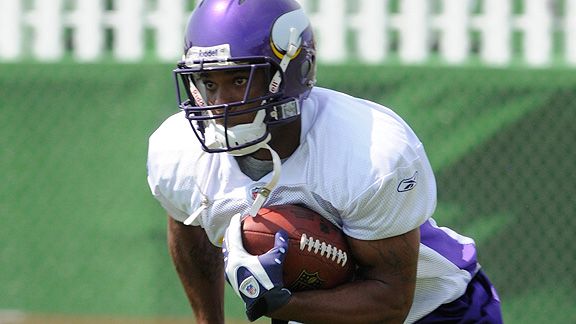 2. Percy Harvin, WR, Vikings
The Vikings' coaching staff has raved about Harvin's potential so much so that it's hard not to buy into the hype. Receivers usually don't make much of an impact until their second or third years, but it's hard to ignore all of the glowing reports coming out of Vikings' camp these days. Harvin is quick off the ball, can stretch a defense will his speed and is dangerous in the open field. Head coach Brad Childress has reportedly been working on finding ways to get Harvin the ball in his offense and Minnesota seemingly wants to give the rookie wideout as many opportunities as possible. That said, he's on the smaller side and was held out of the Vikings' preseason opener due to a shoulder injury (which is not considered to be serious). Will durability be a concern? If not, he appears to be the popular choice to emerge as this year's OROY.
3. Mark Sanchez, QB, Jets
We should know more about whether or not Sanchez will have the opportunity to start this season after the Jets take on the Ravens tonight in their second preseason game. But all indications are that he's the favorite to beat out Kellen Clemens after his impressive preseason debut in which he completed 3-of-4 passes for 88 yards against the Rams. Granted, he's reportedly struggled in scrimmages since that series against St. Louis, but has no less turned heads since the Jets drafted him with the fifth overall pick in April. There were concerns about whether or not he had enough collegiate experience to start as a rookie in the NFL, but he's made strides as a passer all summer and has showed more arm strength and accuracy than Clemens. Considering the Jets have one of the better O-lines in the league and have surrounded him with quality backs, Sanchez could have a Matt Ryan-type rookie season. Then again, Ryan had Roddy White to throw to and while he has always been an underrated and highly productive receiver, nobody is going to confuse Jerricho Cotchery (the Jets' No. 1 wideout) for White.
4. LeSean McCoy, RB, Eagles
I struggled on whether or not to list "Beanie" ahead of "Shady," but I ultimately went with McCoy given that the Eagles have a better O-line and Wells can't seem to stay healthy. McCoy will get plenty of opportunities to be a playmaker in Philadelphia's offense and there's always a chance that Brian Westbrook will miss time throughout the season. McCoy has tremendous playmaking ability, is shifty, and is gaining valuable experience with Westbrook sidelined with knee and ankle injuries. But what has impressed his coaches and teammates the most so far has been his toughness and blitz-pick up ability. One of the knocks on him coming out of PITT was that he might not be able to survive running in between the tackles in the NFL. But so far, he is dispelling that notion and has been awfully impressive.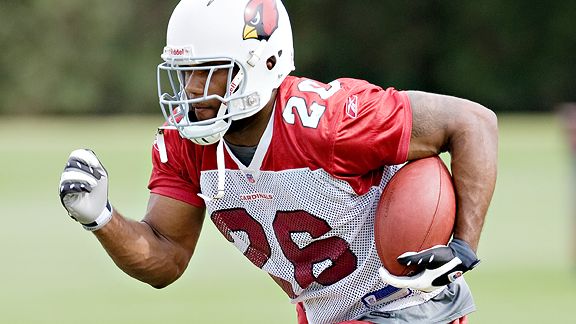 5. Chris Wells, RB, Cardinals
"Beanie" is certainly behind the 8-ball compared to his fellow OROY candidates. He has been in and out of practice virtually all camp and continues to battle an ankle injury. That said, he first reported to camp in early August weighing 22 pounds lighter than his draft-day weight and when he's healthy, he can be the complete package as a runner. Granted, he doesn't have much experience playing on third down and therefore isn't much of a pass-catching threat. But he's a bulldozer with 4.5-speed and is a terrific athlete. If he can get healthy and unseat starter Tim Hightower, Wells has a chance to surprise and win this year's OROY.
6. Shonn Greene, RB, Jets
Greene's situation in New York is kind of hard to figure out at this point, given the contract situations of Thomas Jones and Leon Washington. If the Jets wind up re-signing Washington, then Jones could be traded and thus, Greene's roll will expand. But if the team hangs on to all three backs, then obviously Greene's carries will be limited and he may only receive looks in short-yardage situations. Still, he has reportedly been impressive in camp and could emerge as the Jets' goal line back at some point this season.
7. Donald Brown, RB, Colts
The 2008 Division-I rushing leader has a chance to become a weapon in the Colts' passing attack this season. So far in preseason, he's showed off his quickness as both a runner and receiver, and Indy will certainly find ways to get him on the field as a rookie. That said, he's at a disadvantage playing in the same backfield as Joseph Addai, who will likely remain the Colts' top short-yardage back. So unless Brown racks up a ton of yards and scores through the air, he probably won't post OROY-worthy numbers. Although, if Addai suffers an injury, Brown will become the primary back and then the sky is the limit.
8. Matthew Stafford, QB, Lions
After going 5-of-13 for 34 yards and an interception against the Browns, there's a good chance that Stafford will lose his starting job to Daunte Culpepper. But that doesn't mean he can't bounce back with a solid effort in Detroit's next two preseason games and redeem himself. Stafford looked comfortable and poised in the pocket in the Lions' preseason opener against the Falcons, completing 7-of-14 passes for 114 yards and one touchdown. Chances are that the Lions will probably take it slow with Stafford and even if he does get the opportunity to start, the Lions won't be good enough for him to win OROY. Still, crazier things have happened, which is why I ultimately decided to rank this year's top overall pick.
9. Pat White, RB/QB, Dolphins
White has a tremendous learning curve coming from a "college offense" at West Virginia. He doesn't figure to get on the field much as a passer, although that's not to say he won't have the opportunity to put the ball in the air. The Dolphins are installing a "Pat Package" in which they will try and take advantage of White's running and passing abilities. He'll get some opportunities to make plays in the Wildcat formation, although it's unclear at this point how many opportunities he'll inevitably get. If Ronnie Brown is more productive in that role, than White's chances to play will be limited. That said, Miami didn't take him in the second round so that he could hold a clipboard.
10. Glen Coffee, RB, 49ers
It's kind of hard not to rank Coffee on this list after he rushed for 67 yards on 14 carries in the Niners' preseason opener and then followed up that performance with a 16-carry, 129-yard effort in San Fran's second preseason game. Thus far, the hard-running Coffee has shown great speed, good vision and excellent pass-blocking abilities. The only problem is that he has Frank Gore ahead of him on the depth chart, which will likely derail his bid to win OROY. Still, Coffee has been impressive so far and is playing his way into getting opportunities come the regular season.
Posted in: NFL
Tags: Arizona Cardinals, Chris Wells, Denver Broncos, Detroit Lions, Donald Brown, Glen Coffee, Indianapolis Colts, Knowshon Moreno, LeSean McCoy, Mark Sanchez, Matthew Stafford, Miami Dolphins, Minnesota Vikings, New York Jets, NFL Offensive Rookie fo the Year 2009 predictions, Pat White, Percy Harvin, Philadelphia Eagles, San Francisco 49ers, Shonn Grenne, Top 10 lists, Top 10 sports lists