Ten NFL players facing make or break seasons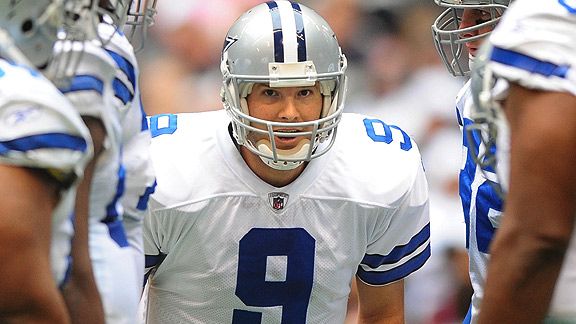 Training camp is still a month away but you don't need daily reports from the grueling two-a-day sessions to see what players are going to have the heat turned up on them this season. I've complied a list of 10 players (in no particular order) who, not necessarily the same reasons, face make or break seasons in '09.
1. Tony Romo, QB, Dallas Cowboys
If Romo doesn't get the Cowboys to the playoffs in 2009 will Jerry Jones look for other options at quarterback in 2010? No. But if you read between the lines, the Cowboys jettisoned Terrell Owens this offseason so that Romo will have every opportunity to be the team's most influential leader and hopefully go from being a great quarterback to one of the elite. While it might not technically be a make or break season for Romo, his career is certainly at a crossroads. Romo's numbers last year were solid – 3,448 yards, 26 TDs, 91.4 QB Rating – but his play faded over the last month of the season and the Cowboys imploded. Since then, Romo's work ethic, offseason dedication and leadership skills have been questioned and it appears as though the QB's career has come to a fork in the road. If he continues on the path his currently on, he might put up decent numbers and lead the Cowboys to the playoffs a couple more times before his days are done. That's certainly not bad, but Jones and the rest of the Cowboy faithful want Romo to be extraordinary and if he completely dedicates himself to the game, maybe he can take this talented team to the next level. One thing's for sure – with T.O. out of the way, this is now Romo's team and it's up to him where he and the Cowboys go from here.
2. Laurence Maroney, RB, New England Patriots
Maroney has a ton of factors working against him as he enters his fourth year and tries to bounce back from an injury-riddled '08 season in which he rushed for just 93 yards on 28 carries. First, the Patriots have roughly 67 running backs already on the roster and Bill Belichick will be damned if he's not going to use all 67 at some point this year. Maroney is also expected to have more return duties this year, which is a clear indication that New England isn't counting on him to be its primary back. When he was selected in the first round of the 2006 draft, many pundits thought the Pats had found their running back of the future. But in three seasons, Maroney has rushed for just 1,673 yards on 388 carries (4.3 AVG) and 12 touchdowns. He obviously has a ton of talent, but he needs to get more opportunities. He doesn't become a free agent until 2011, so it'll be interesting to see if he emerges as a focal point in New England's offense or if he continues his path to NFL obscurity over these two next years.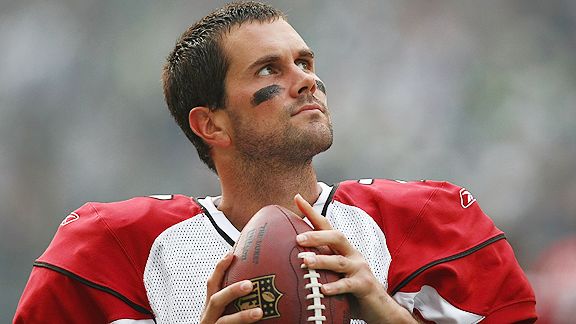 3. Matt Leinart, QB, Arizona Cardinals
It's kind of hard to label this a make or break year for Leinart when he's not even going to get the opportunity to start. But for Leinart, this season is all about proving to the franchise that he can still be their long-term answer at quarterback. So far, the offseason reviews on him have been positive. He's been training harder than any other offseason, has been working out with Tom Brady, and has showed maturity since the Cards re-signed Kurt Warner and delegated Leinart the backup once again. Warner can't play forever and chances are this will be his final season. Leinart needs to soak up all the knowledge he can, work hard and prove to Arizona that he can be the franchise quarterback when his number is called again in 2010. If not, the Cards will eventually have to cut their losses and move on. And most NFL teams usually don't jump at the chance to sign a quarterback with bad workout habits and motivational issues.
4. Willis McGahee, RB, Baltimore Ravens
If it weren't for an $11 million cap hit, the Ravens would have probably already cut ties with McGahee, who showed an obvious lack of effort under Baltimore's new coaching staff last season. He had his knee scoped and also had surgery on his ankle this past offseason and so far in OTA sessions, he's been working with the second team behind Ray Rice. McGahee is signed through 2012, but there's a good chance Baltimore could release him after the season. If he still wants to get paid like a No. 1 back, McGahee is going to have to stay healthy and give a better effort than he did in '08. Whether it's for the Ravens or another team, 2009 will be an audition year for McGahee.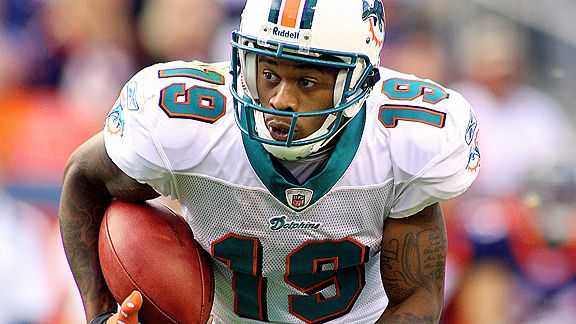 5. Ted Ginn Jr., WR, Miami Dolphins
In two seasons since being selected with the ninth overall pick in the 2007 draft, Ginn has just 90 receptions for 1,210 yards and six touchdowns. Some may call Ginn's limited production a lack of opportunities, but if that's the case, his lack of chances reflects his inability to create separation off the line and in coverage. Ginn needs to get stronger so that he can get out of jams quicker and get into his routes. Once he gets his hands on the ball (barring he doesn't drop it), he has outstanding speed in the open field and he's a threat to take it to the house every time. But he needs to become a more complete receiver – not just a speedster. The Miami coaching staff has marveled at his development this summer, so '09 could be a break out year for Ginn. Most receivers don't reach their potential until year three (see Roddy White and countless others), so it's not a stretch to think that Ginn just needed a couple years to get accustomed to how the pro game is played. But he needs to improve on all facets of his game before he starts living up to his draft status.
6. JaMarcuss Russell, QB, Oakland Raiders
Much like Tony Romo in Dallas, the Raiders probably aren't going to kick Russell to the curb if he doesn't perform well in 2009. But the team would like to see something out of the third year quarterback to justify their decision to take him with the first overall pick in the 2007 draft. Russell's numbers from '08 weren't horrible (2,423 yards, 13 TDs, 8 INTs), but he had massive trouble moving the offense at times and he has to do better than the 53.8 completion percentage he posted last year. The report on Russell was that he looked awful in May OTA sessions, but has looked better since then. With the signing of free agent Jeff Garcia in the offseason, Russell better put together a good training camp and preseason if he wants to be the team's Week 1 starter. Granted, the offensive line is still a work in progress, but with Darren McFadden and first round pick Darrius Heyward-Bey at his disposal, Russell needs to make strikes this season or else he'll be on the fast track to bustville.
7. Trent Edwards, QB, Buffalo Bills
Edwards made a pitch to Buffalo's front office to sign Terrell Owens after the talented, yet combustible receiver was released in Dallas. Well Trent, you got him – now what? Edwards still has two more years left on his contract, but the Bills would love to see more out of their third year QB than they did last season when he threw for just 2,699 yards, 11 TDs and 10 INTs. After leading Buffalo to a 5-1 start, Edwards and the Bills fell apart and wound up finishing 7-9. The lowlight for Edwards was a 29-27 loss to the Browns on Monday Night Football in which he was visibly petrified to throw downfield after throwing three early interceptions. With T.O. now on board, Edwards can't look to the check down when things start going wrong, because Owens won't stand for not getting enough looks in the passing game.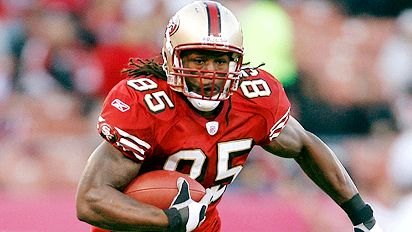 8. Vernon Davis, TE, San Francisco 49ers
Anyone who plays fantasy football on a yearly basis understands the massive potential that Davis hasn't cashed in yet. Davis has racked up just 103 receptions and nine touchdowns in three seasons, but he did have some factors working against him. He missed six games his rookie year because of a leg injury and last season he played in Mike Martz's offense, which needless to say absolutely loathes the tight end position. Davis has reportedly slimmed down this offseason in preparation of becoming more of a pass-catching TE in new offensive coordinator Jimmy Raye's offense, so he could be set up for big things in '09. Of course, we've heard this all before. Martz praised Davis' playmaking potential last year and then largely used him as a blocker, which in turn irritated Davis, who then irritated head coach Mike Singletary by his lack of effort. If Davis can keep the whining to a minimum and work hard this season, he still has a chance to be a great tight end in this league. But excuse fantasy owners if they remain doubtful that this is finally Davis's year.
9. Jamaal Anderson, DE, Atlanta Falcons
The former eighth overall pick from the 2007 draft needs to have a great training camp and carry that effort into the regular season. The Atlanta coaching staff likes the way Anderson plays against the run and his ability to play multiple positions on the defensive line, but he only has two sacks in 31 career starts and was drafted to be a pass-rushing force opposite John Abraham. Despite a lot of fans eagerness to label Anderson a bust, the team hasn't given up on him and still believes he can blossom in his third season. He has the size to be a dominant end, but he lacks explosiveness out of his stance and lacks aggressiveness. The Falcons made it a point to re-sign fellow DE Chauncey Davis this offseason and that could be a sign that they're prepared to dump Anderson if he doesn't pan out soon.
10. Michael Huff, S, Oakland Raiders
There was a time (like, 2006) when Huff was considered as the next great young safety. But since being taken with the seventh overall pick in the '06 draft, Huff has been a massive disappointment. Part of the problem is that Oakland viewed him as a strong safety when he first entered the league and he struggled mightily. By the time they moved him to free safety (a more natural position for him since he excelled in pass coverage while at Texas) last year, his confidence was already gone and he was brutal both against the run and in coverage. He was eventually benched for Hiram Eugene last season and the Raiders unsuccessfully tried to trade Huff this offseason. What he needs most is a change of scenery, but the Raiders will have a hard time eating his salary if they decide to release him outright. He doesn't have much hope of succeeding in Oakland, but at only 26-years old, it seems premature to write Huff off entirely. Maybe he'll get a few opportunities to shine this year and finally turn some heads. If not, he better hope that some Cover 2 team views him as a corner and scoops him up if/when the Raiders eventually decide to cut ties.
Posted in: NFL
Tags: Anthony Stalter, Arizona Cardinals, Atlanta Falcons, Baltimore Ravens, Buffalo Bills, Dallas Cowboys, Jamaal Anderson, JaMarcus Russell, Laurence Maroney, Make or Break NFL players, Matt Leinart, Miami Dolphins, Michael Huff, New England Patriots, NFL news, NFL rumors, Oakland Raiders, San Francisco 49ers, Ted Ginn Jr., Terrell Owens, Tony Romo, Top 10 lists, Top 10 sports lists, Trent Edwards, Vernon Davis, Willis McGahee