What is the class of 2006 worth?
Around this time last year, I tried to estimate the kind of contracts the big name players from the class of 2004 and 2005 would sign, and here's how I fared: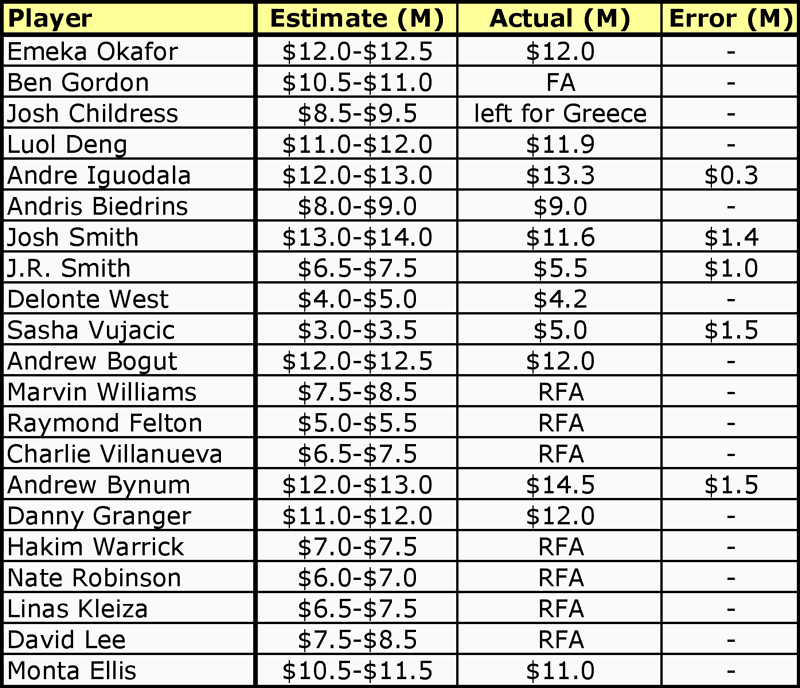 All in all, I think I did a pretty good job. Of the 12 players that signed a contract last summer, I correctly predicted the range for seven and was within $1.5 million for the other five. Granted, I underestimated what the Lakers would give Vujacic, but I find him so annoying that I have a tough time objectively determining his worth. (Though it should be noted that he didn't do anything this season to justify $5.0 million per season.)
This year, I'm going to list the top names from the class of '06 to try to determine what kind of extension they'll get if their current teams choose to lock them up this summer instead of letting them hit restricted free agency in 2010. (I'll tackle the restricted free agents of the class of '05 in my free agency preview, which will run on 6/29.)
Due to the economy and the unwillingness of most owners to spend, the summer of 2009 promises to be tougher for free agents than years past, so we may see a few players stubbornness get the best of them. One executive predicted a "nuclear winter" of sorts, so at the very least, it will be interesting.
So here are the top players from the class of '06 and my best estimate of the kind of money they'll command. I'll list their age, Player Efficiency Rating (PER), along with a few comparables.
Posted in: NBA, NBA Draft, Rumors & Gossip
Tags: 2009 NBA free agency, Andrea Bargnani, Andrea Bargnani extension, Brandon Roy, Brandon Roy contract, Brandon Roy extension, John Paulsen, LaMarcus Aldridge, LaMarcus Aldridge contract, LaMarcus Aldridge extension, NBA free agency, Rajon Rondo, Rajon Rondo contract, Rajon Rondo extension, Ronnie Brewer, Ronnie Brewer extension, Rudy Gay, Rudy Gay contract, Rudy Gay extension, summer of 2009, Tyrus Thomas, Tyrus Thomas extension