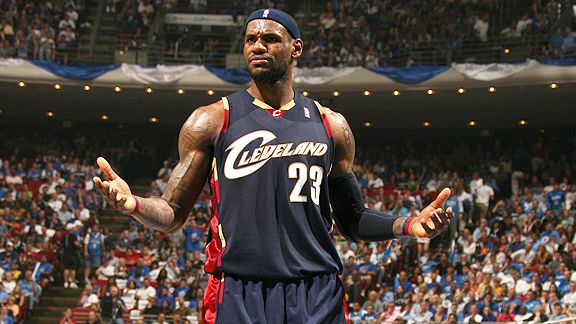 This is not how it was supposed to go.
The Cavs were destined to make the Finals and face the Lakers, with LeBron turning in a fantastic Game 7 performance in front of his loyal fans at the Q to bring the city of Cleveland its first championship since 1964. With a title already under his belt, and a few more on the horizon, he would happily re-up for another four or five seasons. Or at the very worst, the Cavs would lose to the more talented Lakers, leaving fans with the feeling that "one more piece" would be all that is needed to finally bring a title to Cleveland. Under that scenario, there would be no way that LeBron could leave, right? Not when the Cavs were thisclose to a title…
Just over a year ago, I wrote that "The Cavs have failed LeBron James," which was posted about three months before GM Danny Ferry pulled the trigger on the trade that brought Mo Williams to Cleveland. That trade, along with LeBron's renewed focus and an improved work ethic (which was inspired by his seeing first hand how Kobe prepared during the 2008 Olympics), pushed the Cavs to a league-best 66 wins this season. Williams was named as an alternate to the All-Star Game (after grousing about not being voted in by the coaches) and all was well with the world.
The Cavs received some more good news when Kevin Garnett struggled with injuries down the stretch of the regular season and was eventually shut down for the playoffs. At the time, the Celtics were considered the Cavs' biggest threat in the East, but KG's injury might have allowed the Magic, one of four teams that beat the Cavs twice during the year — the Celtics, the Lakers and…um…the Wizards were the other three — to advance to the Conference Finals when they otherwise wouldn't have survived to face the Cavs. The Magic were a very bad matchup because the Cavs simply didn't have anyone that could cover Dwight Howard. When they didn't double-team him, he would make a living on the post, and when they did send another guy, it would free up the Orlando sharpshooters for open jumpers.
Since the Cavs won 66 games, those same flaws that went overlooked for much of the season and postseason once again reared their ugly heads against the Magic: 1) the lack of an inside scorer, 2) no defensive stopper in the middle, 3) very little ingenuity on offense and 4) a weak bench. Williams, who shot 47% from the field and 44% from long range during the regular season, suddenly couldn't eclipse the 38% mark in either category. Delonte West was the only Cleveland player to step up his game in the Orlando series, but he's better suited to be the third or fourth option on offense, not LeBron's main sidekick.


Let's not forget that the Cavs had an opportunity to address one or more of these flaws at the trade deadline in February and failed to strike a deal. Armed with Wally Szczerbiak's expiring contract (worth $13.8 million) as trade bait, and pursued Shaq, Amare Stoudemire, Richard Jefferson and Antawn Jamison. We'll never know just how close Cleveland was to making a deal, though David Aldridge said that the Cavs "really did try" to acquire a big man. There are reports that the Suns would have been willing to part with Shaq had the Cavs agreed to give up Szczerbiak (along with Sasha Pavlovic), but Danny Ferry insisted that the Suns take Ben Wallace instead. The Suns balked, and for good reason.
Regardless, any of these players probably would have been enough to put the Cavs in the Finals, assuming the transition went relatively smoothly. Shaq would have provided both a low post presence and a big body to limit Howard in the post. Stoudemire would have given LeBron a legitimate All-NBA sidekick to relieve some of the scoring burden. (Just imagine LeBron and Amare running the high pick and roll. Geesh.) Jefferson and Jamison would have given the Cavs another established forward to deal with Hedo Turkoglu and/or Rashard Lewis defensively while giving LeBron another option on the offensive end.
LeBron's silence after Game 6 speaks volumes. He was obviously frustrated with losing the series, was probably upset about his own play and may have already been contemplating his future with the franchise. This summer, he is going to hear all about how great he played and how his supporting cast let him down. This kind of talk will wear on him and might impact his decision next summer, when he can opt out of the final year of his contract and become an unrestricted free agent.
Most star and superstar free agents re-sign. For every player who changes teams, there are six or seven that stay put. But LeBron is a special case. He knows that he'll be able to contend just about anywhere he goes, and any team would be more than happy to have him.
So how do the Cavs keep him?
For LeBron to re-sign next summer, he needs to see a bright future in Cleveland. So the Cavs either need to win a title next year (or come damn close) or get the pieces in place to ensure that the Cavs are amongst the elite teams in the East for years to come.
First, the Cavs have to deal with a few losses. Wally Szczerbiak will almost certainly not be back, Anderson Varejao can (and likely will) become a free agent, Joe Smith will be a free agent, and Ben Wallace is thinking about retiring. The Cavs are over the cap, so they can improve their roster in three ways: 1) sign a player to the mid-level exception, 2) make a trade, and 3) strike gold in the draft. Since the Cavs pick last in the first round, finding an immediate contributor in the draft is a long shot, so let's focus on the first two options.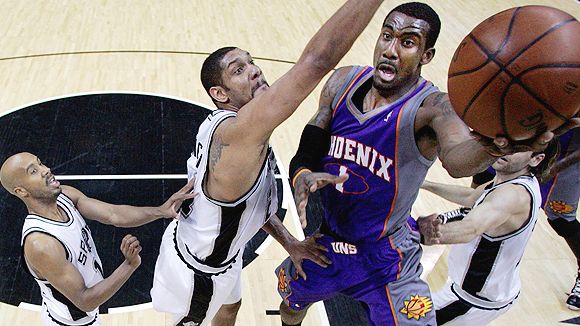 Assuming James opts out (and he most certainly will, either to re-sign with the Cavs or sign elsewhere), Cleveland will only be on the hook for about $21 million heading into the summer of 2010, and that's enough cap space to not only re-sign LeBron but to also sign another superstar like Stoudemire, Chris Bosh, Dwyane Wade or Joe Johnson. But if the Cavs head into that summer without James locked up, anything can happen. They could sign another superstar only to lose James, or vice versa. Or the worst could happen — they fail to sign anyone.
The good news it that given the current state of the economy, there should be a number of bargains available at the mid-level (~$5.8 million per season). It's not out of the realm of possibility that players like Ron Artest, Lamar Odom, Andre Miller, Shawn Marion, Jason Kidd, Mehmet Okur, Charlie Villanueva, Ray Felton or Mike Bibby could ultimately sign a mid-level deal (not that any of these players are a particularly good fit in Cleveland). The prospect of playing with LeBron will be especially attractive to vets who are more interested in a ring than they are in signing a monster deal.
If the Cavs sign one of these players to a two-year (or longer) mid-level deal, that will still leave about $31 million of projected cap space in the summer of 2010, which would be enough to re-sign LeBron and sign a superstar sidekick. The problem is that if the Cavs don't re-sign Varejao and don't replace him, they're going to have trouble getting to the Finals next year, which will put LeBron's future very much up in the air. If Varejao departs and Wallace retires, then the Cavs will be left with Zydrunas Ilgauskas and J.J. Hickson up front, and while Hickson is a nice prospect, that's simply not enough beef to compete for the Eastern Conference crown. The Cavs' best bet may be to sign Varejao to a one-year deal to keep him in town for another season. Otherwise, they'll be really hurting on the front line. He's looking for $10 million a season, but I don't think he's going to find that kind of money in this environment. Varejao could play out the last year of his contract for $6.2 million and try his luck next summer.
Ironically, the only post player in this year's free agent class that fits the Cavs' needs is Carlos Boozer. If the Cavs would be willing to let bygones be bygones, the only way to acquire him is via a sign-and-trade, and they'd have to give up a young prospect and/or a first round pick (or two) to convince the Jazz to take on the salary for a year. Wallace or Varejao would have to be included to make the numbers work.
Another option is to try to acquire Bosh or Stoudemire now instead of waiting for next summer. A move like this would almost certainly keep LeBron in town, and it would be worth Varejao, Hickson, two first round draft picks and whatever else the Raptors or Suns would want (including Williams, who is now somewhat expendable). Stoudemire is probably more available to the Cavs than Bosh, since the Raptors would be hesitant to trade him to an Eastern Conference team.
One thing is certain — with the loss to the Magic, the Cavs' future is far less stable than it appeared even two weeks ago. Cleveland fans that still don't believe that LeBron could sign elsewhere next summer because the team had a great regular season are just fooling themselves. The good news is that if owner Dan Gilbert is willing to spend, there is plenty of opportunity for Danny Ferry to improve this roster over the next three months.
LeBron's future depends on it.
Posted in: College Basketball, NBA, NBA Draft, NBA Finals, Rumors & Gossip
Tags: 2009 NBA free agency, 2009 NBA free agents, 2010 NBA free agency, 2010 NBA free agents, Boston Celtics, Cleveland Cavaliers, Dwight Howard, John Paulsen, Kevin Garnett, LeBron James, Orlando Magic, summer of 2009, Summer of 2010