Five players who could be on the move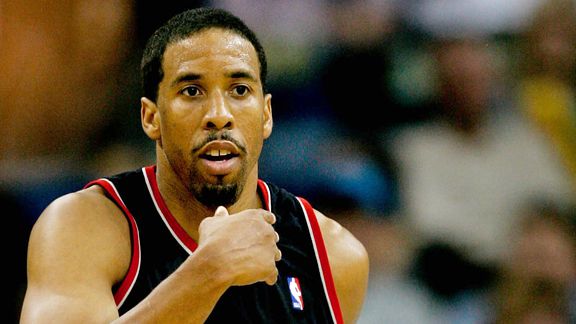 Marc Stein lists five "big" names who could be on the move as the NBA trade season begins in earnest. Those names are: Andre Miller, Nate Robinson, Brandon Bass, Marcin Gortat and Ramon Sessions. Here's part of Stein's writeup on Miller:
Miller might actually find it easier to operate in Portland's offense with Oden off the floor and less of an emphasis on throwing the ball inside. Harsh as that sounds, given Oden's unquestioned likability and hideous luck, Miller and Roy appeared to be the main sufferers from the lack of offensive flow that has plagued Portland this season as Oden's role expanded. If the Blazers open things up a bit more with Oden sidelined, as Roy envisions, that could really help Miller.

Yet the reality remains that Miller and Roy are an iffy tag team because both need to see so much of the ball to be effective, which explains why Miller has started only nine games. There's this, too: While NBA front-office sources say there is considerable outside interest in young (and mostly forgotten) Portland guard Jerryd Bayless, Miller's more substantial salary — $6.7 million to Bayless' $2.1 million — would probably bring a bigger talent payoff in a trade.

"They need a Mo Williams-type to play with Brandon Roy," said one rival team executive in the West. "They need a shooter to play off him."
Stein suggests that both Miller and Sessions were signed so that the Blazers and T-Wolves would have tradeable assets that they can "flip" at some point during the season. Sessions supposedly had an opportunity to play for the Knicks on a one-year deal and probably should have done just that. Chris Duhon is struggling, so it's likely that Sessions would be the starter by now, and with his ability, he could post some nice numbers in Mike D'Antoni's system. The Knicks aren't going to trade for Sessions now because his contract would eat into their projected cap space next summer.