Raptors give fat extension to Bargnani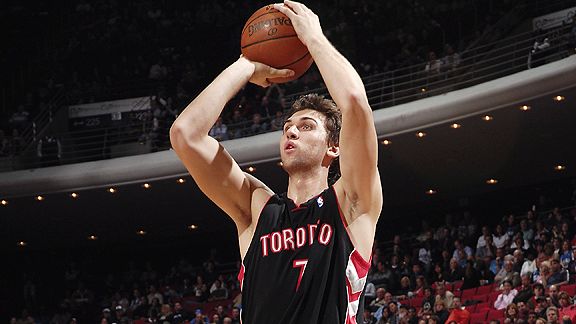 When I estimated the extensions that the big names from the class of 2006 could potentially sign this summer, I pegged Andrea Bargnani at $7-$8 million per season. It turns out I underestimated his value to the Raptors.
The deal, according to NBA front-office sources, would span five seasons starting in 2010-11 and earn Bargnani an estimated $50 million.
Bargnani did go through something of a transformation in his third season, averaging 15.4 points on 45% shooting from the field and 41% from long range. The previous year, he shot 39% from the field and less than 35% from deep, so he made a big jump, efficiency-wise. His PER (14.66) is still below average, mainly due to his suspect rebounding for a seven-footer (5.3 rpg) and lack of assists (1.2 apg).
The bottom line is that Bargnani will have to continue his career trajectory to earn the contract that the Raptors just awarded him.