A look ahead at the free agent class of 2009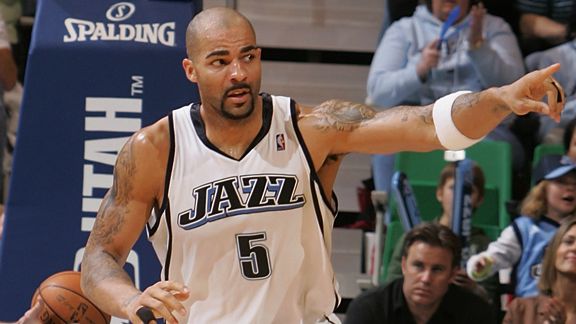 With the trade deadline in the rear view mirror and players tied to their current teams at least until the summer, it's a good time to take a look ahead at the free agent class of 2009. Given the state of the economy and how so many teams are saving up for the class of 2010, some are suggesting that this summer's free agency could be a "nuclear winter" of sorts, no pun intended. The salary cap and luxury tax thresholds are likely to decline for the first time in years and that has GMs and owners around the league scrambling to cut salary where they can.
There are three types of free agents: players with early termination options (ETO) or player options (PO), restricted free agents and unrestricted free agents.
Players with ETOs or POs
This group includes Kobe Bryant, Jermaine O'Neal, Al Harrington, Jamal Crawford and Mehmet Okur, but it's highly unlikely that any of these guys will hit the open market given the kind of money they'll be making by extending their respective contracts. Of this group, Hedo Turkoglu, Anderson Varejao and maybe Carlos Boozer are the only big names that are likely to hit free agency. Boozer has already stated that he's going to opt out, but he may decide against it if he doesn't come back strong from his injuries. Turkoglu — the reigning Most Improved Player — is having another nice season, but he's not playing quite as well as last year. Still, he can command more than the $7.3 million he's due to make next season. Varejao could stay with the Cavs and make $6.2 million next season, but he and his agent (Dan Fegan) have been looking for more. Varejao wants a long term deal but it seems he and the Cavs disagree on how much he's actually worth.
For the most part, guys in this group are going to be conservative and play out their contracts.
Read the rest after the jump...
Posted in: Fantasy Basketball, NBA, Rumors & Gossip
Tags: Al Harrington, Allen Iverson, Anderson Varejao, Andre Miller, Ben Gordon, Brandon Bass, Carlos Boozer, Charlie Villanueva, David Lee, Hedo Turkoglu, Jamal Crawford, Jason Kidd, Jermaine O'Neal, John Paulsen, Josh Childress, Kobe Bryant, Lamar Odom, Leon Powe, Linas Kleiza, Marvin Williams, Mehmet Okur, Mike Bibby, Nate Robinson, NBA free agency, Paul Millsap, Ramon Sessions, Rasheed Wallace, Raymond Felton, Ron Artest, Shawn Marion, summer of 2009, Summer of 2010, Trevor Ariza