Picking the 2009 NBA All-Stars
The NBA All-Star Game is part meritocracy and part popularity contest. First, the fans vote, and the top five vote getters – two guards, two forwards and a center – from each conference are the starters. Then the coaches vote on the remaining seven reserves for each team.
The current vote count can be seen here, but I thought I'd put together my own list – five starters and seven reserves – for each team. To me, when it comes to naming All-Stars a winning record is just as important as great stats, so given two players with similar numbers, I'm probably going to give the nod to the guy on the better team. I'll list the player's Player Efficiency Rating, which gives a nice overview of the guy's per-minute statistical production this season.
And off we go…
EASTERN CONFERENCE STARTERS
Dwyane Wade, Heat
PER: 29.14
D-Wade is back with a vengeance. He's averaging 29.0 points, 7.1 assists and 5.1 rebounds, and is (almost) single-handedly keeping the Heat in the playoff hunt. With 24% accuracy, I don't know why he's shooting so many threes (3.0 per game), but that's just nitpicking. He's third in the league in steals (2.25).
Joe Johnson, Hawks
PER: 19.84
JJ is averaging 22.3 points, 6.1 assists and 4.6 rebounds, and has the Hawks in a battle for the #4 spot in the East. His three-point shooting is down two points, but his overall FG% is up a point. Remember when everyone laughed at the Hawks for giving up future MIP Boris Diaw and two first round picks for him?
LeBron James, Cavs
PER: 32.04
LeBron is the front-runner for the MVP thus far. He's posting 27.7 points, 6.6 assists and 6.6 rebounds a game. His numbers are down, but that's because the Cavs can afford to rest him an additional four minutes per game. It's great to see his FG% over 50% (50.8%) and FT% approaching 80% (78.8%). LeBron has always been a statistical stud, but it's the Cavs' stellar record that has him leading the MVP race.
Kevin Garnett, Celtics
PER: 20.87
KG's scoring is down, but given the Raptors' struggles, he's still the most deserving PF (over Chris Bosh) in the East. His numbers are virtually identical to last season other than a mysterious drop in free throw attempts per game (-2.1). Is KG still taking the ball to the hole?
Dwight Howard, Magic
PER: 25.71
I'd like to see Howard's free throw accuracy (57.3%) improve, but it's hard to argue with Orlando's success this season. Howard is averaging 20.1 points and leads the league in rebounding with 13.8 per game. He also leads the league in blocks (3.28).
EASTERN CONFERENCE RESERVES
Devin Harris, Nets
PER: 24.88
From a statistical standpoint, Harris is outplaying all other Eastern Conference guards save for Dwyane Wade, so he is deserving of a spot in the starting lineup. However, Joe Johnson's Hawks are playing quite a bit better, so Harris will have to settle for a spot on the bench.
Chris Bosh, Raptors
PER: 23.37
The Raptors are struggling this season but it's not the fault of Bosh, whose numbers are virtually identical to last season. He has averaged at least 22.3 points and 8.7 rebounds in each of the last four years.
Paul Pierce, Celtics
PER: 18.32
Despite the Celtics recent struggles, The Truth is still a no-brainer All-Star pick. He's averaging 19.0 points, 5.6 rebounds and 3.7 assists and while his FG% is down a smidgen, he's over 40% from long range for the first time since the 2001-02 season.
Danny Granger, Pacers
PER: 21.93
Granger is clearly one of the league's best young small forwards. He's averaging 26.4 points, 5.2 rebounds and 3.4 assists, while shooting a solid 46% from the field. The Pacers aren't great, but they're competitive, and Granger is the main reason why. Moreover, he's averaging an eye-popping 33.3 points per game in January.
Tayshaun Prince, Pistons
PER: 16.37
The Pistons have the fifth-best record in the East right now and deserve to have a player on the All-Star team. Prince's numbers aren't eye-popping, but he averages 7.3 points per game and contributes in all areas despite having to cover the opponent's best perimeter player every night.
Jameer Nelson, Magic
PER: 19.91
Given that Orlando has virtually the same personnel as last season, it's a bit of a surprise at how much better Nelson is playing. His ppg jumped from 10.9 to 16.4 and his FG% jumped from 46.9% to 50.4%, which is tremendous for a guard. His three-point shooting (43.8%) is outstanding. Rashard Lewis (PER: 18.05) may get the nod, but I think Nelson is more deserving.
Vince Carter, Nets
PER: 21.89
I'm not a huge fan of Vinsanity, but he's averaging 22.7 points, 5.1 rebounds and 4.9 assists while shooting better than 40% from long range. Truthfully, this spot could go to a number of guys from better teams – Rajon Rondo, Mo Williams, Allen Iverson, Mike Bibby, Zydrunas Ilgauskas, Rashard Lewis – but Carter smokes them all numbers-wise.
Bubbling under: Rajon Rondo, Mo Williams, Allen Iverson, Caron Butler, Zydrunas Ilgauskas, Mike Bibby, Jose Calderon, Rashard Lewis
WESTERN CONFERENCE STARTERS
Chris Paul, Hornets
PER: 30.53
After a rough 5-5 start, Paul has the Hornets back in the thick of the hunt for the #2 playoff spot in the West. He has the second-highest PER in the league and is averaging 20.4 points and 11.3 assists per game. He also leads the league in steals (2.82) and is on the short list of serious MVP candidates.
Kobe Bryant, Lakers
PER: 25.48
Kobe's minutes are down 3.0 per game, which explains why his numbers have taken a bit of a dip. Still, he's averaging 27.0 points, 5.2 rebounds and 4.6 assists, and his FG% is up over 48% for the first time in his career. The Lakers have the best record in the West and Kobe would be favored to win his second consecutive MVP if not for the Cavs' winning ways.
Dirk Nowitzki, Mavericks
PER: 23.78
If Carmelo Anthony hadn't gotten injured, he might have earned this spot, but Dirk's Mavs are just three games back of the Nuggets in the standings and he's having another great season. He is averaging 25.3 points and 8.4 rebounds, and is shooting better than 40% from the field.
Tim Duncan, Spurs
PER: 24.33
Two words: sustained excellence. TD is averaging 20.4 points and 10.1 rebounds while shooting almost 52% from the field. Plus, he's one of the best (if not the best) defensive big men in the game.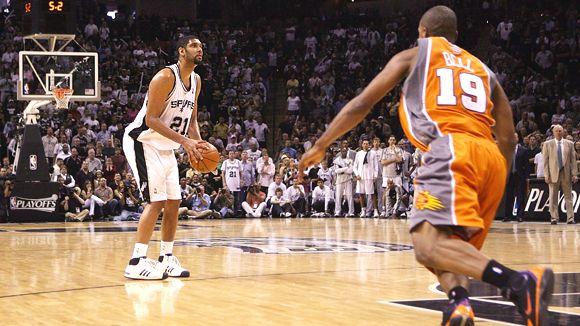 Yao Ming, Rockets
PER: 22.67
Yao has had to play without Tracy McGrady for a good portion of the season, but the Rockets are right in the thick of the playoff hunt in the West. He leads the Rockets in scoring, rebounding, blocks and is shooting almost 87% from the free throw line.
WESTERN CONFERENCE RESERVES
Brandon Roy, Blazers
PER: 25.06
Roy's scoring is up to 22.8 points per game this season (from 19.1 ppg last season) in no small part due to his increased accuracy (+2.1%) from the field. The Blazers look like a playoff team and Roy is a big reason why.
Carmelo Anthony, Nuggets
PER: 18.18
'Melo's Nuggets are playing well even though his FG% has taken a dive to 43.7% this season. His scoring is down, but he's rebounding well (7.3) and his three-point accuracy is up to 42%, which is a huge improvement.
Tony Parker, Spurs
PER: 23.23
Parker is setting career highs in points (21.3) and assists (6.7), he's never been more accurate from long range (40.0%) or from the charity stripe (81.5%). Manu Ginobili has been solid, but Parker is the second-most deserving Spur this season.
Pau Gasol, Lakers
PER: 22.49
Despite the return of Andrew Bynum, Gasol's rebounding (9.4) as well as he ever has, and he's continuing to thrive in his role as Kobe's sidekick. He's averaging 17.8 points and is shooting over 55% from the field.
Amare Stoudemire, Suns
PER: 22.44
Stoudemire is averaging 21.8 points and 8.5 rebounds, and is shooting almost 55% from the field. Even though the Suns have slowed the pace down, Stoudemire's numbers are still stellar.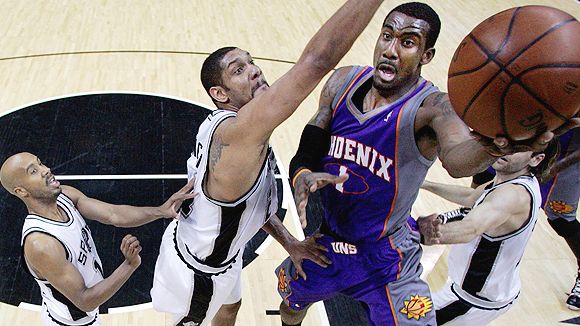 Chauncey Billups, Nuggets
PER: 20.98
Billups is averaging 18.7 points and 6.8 assists for the Nuggets, but more importantly he has brought a defensive culture to Denver (and that's not easy to do).
Shaquille O'Neal, Suns
PER: 23.75
A revitalized Shaq is producing 17.4 points and 9.0 rebounds in just 30.1 minutes. There are a number of players that could replace him on the All-Star team, but I think everyone around the league recognizes just how good Shaq is when he's motivated.
Bubbling under: Manu Ginobili, Al Jefferson, David West, Paul Millsap, LaMarcus Aldridge, Deron Williams, Andrei Kirilenko, Mehmet Okur
Voting continues at NBA.com through January 19th.

1/22/09 Update: The starters have been announced.
Posted in: College Football, NBA
Tags: 2009 All-Star Game, Al Jefferson, Allen Iverson, Amare Stoudemire, Andrei Kirilenko, Brandon Roy, Carmelo Anthony, Caron Butler, Chauncey Billups, Chris Bosh, Chris Paul, Danny Granger, David West, Deron Williams, Devin Harris, Dirk Nowitzki, Dwight Howard, Dwyane Wade, Jameer Nelson, Joe Johnson, Jose Calderon, Kevin Garnett, Kobe Bryant, LaMarcus Aldridge, LeBron James, Manu Ginobili, Mehmet Okur, Mike Bibby, Mo Williams, Pau Gasol, Paul Millsap, Paul Pierce, Rajon Rondo, Rashard Lewis, Shaquille O'Neal, Tayshaun Prince, Tim Duncan, Tony Parker, Vince Carter, Yao Ming, Zydrunas Ilgauskas