Ladies and gentlemen, your 2009 NBA All-Star starters…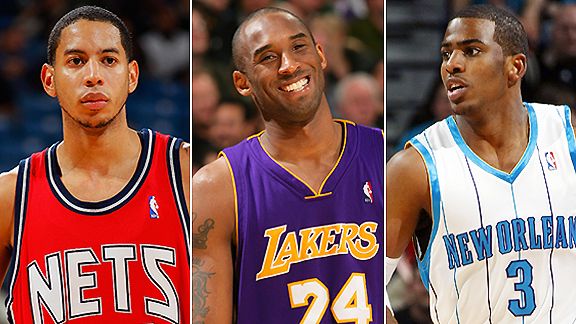 Nope, Devin Harris did NOT make the list.
The results have been announced and here are the starters (as voted in by the fans):
EAST
Guard: Dwyane Wade, Heat
Guard: Allen Iverson, Pistons
Forward: LeBron James, Cavs
Forward: Kevin Garnett, Celtics
Center: Dwight Howard, Magic
WEST
Guard: Chris Paul, Hornets
Guard: Kobe Bryant, Lakers
Forward: Tim Duncan, Spurs
Forward: Amare Stoudemire, Suns
Center: Yao Ming, Rockets
Well, the starters are a popularity contest and sometimes undeserving players are voted in. Such was the case with Allen Iverson, who isn't having a very good year but is immensely popular with fans. In my picks, I didn't even have AI on the roster, much less starting. Joe Johnson or Devin Harris should have gotten that spot. AI's presence makes it unlikely that Tayshaun Prince will make the cut, since the Pistons don't have a record that deserves two All-Star nods. The other four starters for the East are pretty much no-brainers, though China almost voted Yi Jianlian into the game. (Now that would have been a travesty.)
Things were less controversial in the West. I chose Nowitzki over Stoudemire at forward, but had Amare on the roster, so no harm, no foul. Kobe, CP3, Duncan and Yao are pretty much no-brainers.
Overall, the fans got 9/10 right…that's a B+ in my book.
Posted in: NBA
Tags: 2009 All-Star Game, Allen Iverson, Allen Iverson All-Star, Amare Stoudemire, Chris Paul, Devin Harris, Devin Harris All-Star, Dwight Howard, Dwyane Wade, Joe Johnson, Joe Johnson All-Star, Kevin Garnett, Kobe Bryant, LeBron James, Tayshaun Prince, Tayshaun Prince All-Star, Tim Duncan, Yao Ming