65 Observations about the 2009 NFL Draft
I'm going to channel my inner Peter King and dole out a crap load of quick-hit thoughts on last weekend's NFL draft, which by the way, was one of the more unpredictable drafts I have ever witnessed.
Below are 65 observations from the 2009 NFL Draft. Why 65? I don't know – don't worry about it. Originally I came up with 62, but I know that some people freak out when things aren't in round numbers, so I added three more. But the number 65 means nothing, so don't waste time searching for its meaning.
Obviously these are all my opinions and feel free to debate them. But before you do, I already know that it supposedly takes three seasons to fully grade a draft and that no prospect is a sure thing. Again, I'm projecting here – so lighten up and let's strike up some good debates.
1. Outside of the fact that he's now a millionaire and could buy a small country, I kind of feel bad for Matthew Stafford. You know some halfwit fan or media member can't wait to utter the comment, "For $72 million, he should have made that pass." I hate the fact that money plays such a huge role in sports because when you get down to it, completing a pass, making a catch or kicking a field goal has nothing to do with how many zeros are on your paycheck.
2. I know I'm not saying anything new here, but the rookie salary structure is a joke. When teams don't even want a top 5 pick anymore because of the financial burden that comes with it, there's a huge problem.
3. The kid could turn out to be the next Ryan Leaf on the field, but Lion fans have to at least take comfort in the fact that Matthew Stafford is saying all the right things at this point. He did an interview with the NFL Network on Sunday and he talked about how he wants to be a starter right away, but also wants to learn and be patient in his development. From all accounts, he looks like he has a great head on his shoulders.
4. If Tyson Jackson turns out to be the next Richard Seymour like Chiefs' GM Scott Pioli believes, then nobody is going to remember (or care) that he was taken with the third overall pick in a weak draft class.
5. Out of all the prospects to come out of this draft class, I'm going to find myself rooting the hardest for Aaron Curry. It was incredibly heartwarming to see him bring a 12-year old leukemia survivor to the draft and it was touching to see how emotionally happy he was on the stage after his name was announced. You can tell that the young man takes nothing for granted in life.
6. Jet fans are excited that they have a quarterback for the future, as well they should be. But I can't help but think about how if Mark Sanchez had waited to come out next year, there's a good chance he would be the third quarterback taken behind Sam Bradford and Colt McCoy. Yet he was a top 5 pick in this year's draft and the Jets had to trade two high picks and three players in order to select him. Yikes.
7. I absolutely loved what Cleveland did in the first round. They not only saved a truck load of money by trading out of the top 5, but they also didn't reach for a prospect just to fill a need and acquired a ton of picks by continuously trading down.
8. I loved all of Cleveland's wheeling and dealing in the first round, but not as much as I loved the acquisition of safety Abram Elam as part of the deal for the No. 5 pick. He is one of the most underrated players in the league and he obviously is a fit for Eric Mangini's defensive scheme. Besides having the desire to get out of the top 5, Elam was the key component to that entire trade for the Browns.
9. Some may hammer the Browns for taking a center in the first round, but many considered Alex Mack the type of prospect that could change the way teams draft the position in the future. Plus, you have to love how Cleveland continues to upgrade the most important unit on the football field: the offensive line.
10. The Bengals never learn do they? Andre Smith is incredibly talented but he carries more baggage with him than a 787.
11. Darrius Heyward-Bey could turn out to be a solid deep threat in the NFL, but Michael Crabtree has the potential to be one of the best receivers in the game for a very long time. Not that he cares, but Al Davis is nuts for passing on the talented Texas Tech product.
12. Speaking of Crabtree, one of the potential reasons of why he fell as far as he did could be because of his attitude. Cleveland was apparently turned off by his "diva" persona during a pre-draft visit, but if there is any person that can humble the young man, it's 49ers' head coach Mike Singletary.
13. The Jaguars did incredibly well in the first two rounds. It wasn't a flashy draft, but how often does a team land two starting-caliber offensive tackles in their first two picks? This was a team crippled by injuries along the O-line last season, so adding Eugene Monroe and Eben Britton was fantastic. (Somewhere, Maurice Jones-Drew is smiling.)
14. I've hammered the Packers for much of the offseason because of the lack of attention paid to filling needs in their new 3-4 defense. But GM Ted Thompson came through at No. 9 with the selection of B.J. Raji, who could play end this year and then nose next year if the team decides not to bring back Ryan Pickett, who becomes a free agent after this season.
15. I was surprised the Bills passed on offensive tackle Michael Oher at No. 11, but teams were worried about his ability to grasp an offense at the next level so at least Buffalo addressed its need for a pass rusher in Penn State defensive end Aaron Maybin.
16. Should anyone really be surprised that new Broncos' head coach Josh McDaniels went offense at No. 12?
17. Speaking of that pick, Knowshon Moreno has the best vision of any running back taken in this draft. He's a stud and should do well in Denver.
18. Washington got one of the steals of the first round when Texas defensive end Brian Orakpo fell to them at No. 13. He was an absolute force against Oklahoma and Texas Tech last year and should be motivated after falling out of the top 10.
19. I know he had a brutal showing at the NFL scouting combine, but trust me – Malcolm Jenkins can play. He was highly productive at Ohio State and was less of a risk than fellow cornerback prospect Vontae Davis, even though Davis has the superior athletic skills. (More on Davis later.)
20. You have to hand it to the Texans. This was the second year in a row that some believed Houston would address the running back position in the first round, but they continued to build their defense with the selection of linebacker Brian Cushing. Maybe 2009 will finally be the year this team makes a playoff run.
21. Larry English might not be an every down player at the next level, but what a pick by the Chargers. They really didn't have a ton of needs to address and English was a monster in the MAC last year. The Bolts will find ways to get him on the field and don't be surprised if he piles up 7-10 sacks next year.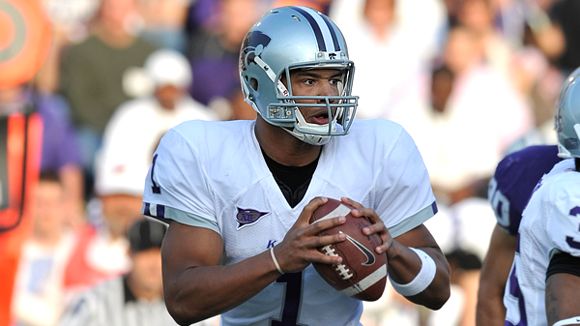 22. I have several issues with the Bucs' decision to draft Josh Freeman in the first round. First and foremost, in a better quarterback class, he might be a second or even third rounder given how raw he is as a prospect. Secondly, why the hell did Tampa trade up to get him? Did they really think Denver was going to take him at No. 18 with so many holes to fill on the defensive side of the ball?
23. Weren't Jon Gruden and GM Bruce Allen ridiculed and essentially (in part) ushered out of Tampa for concentrating too much on the quarterback position? Yet, the new regime of Raheem Morris and Mark Dominik have already re-signed Luke McCown, signed free agent Byron Leftwich and drafted Josh Freeman. And oh-by-the-way, they still have Brian Griese and Josh Johnson on the roster. I have no idea what Morris and Dominik are doing in terms of a game plan to rebuild the Bucs.
24. Isn't Jeremy Maclin essentially the same receiver as DeSean Jackson? I'm surprised the Eagles didn't add a bigger complement to Jackson if they were focused on drafting a receiver in the early rounds.
25. It's easy to slam Detroit's selection of Brandon Pettigrew at No. 20, but what is always considered a young quarterback's best friend? A tight end – and Pettigrew is one of the better tight end prospects to come out in some time.
26. That said, how did the Lions not address their middle linebacker need with the No. 20 pick? Rey Maualuga was there for the taking and he would have filled a bigger need than Pettigrew. Jordon Dizon is your middle linebacker, Lions? Seriously?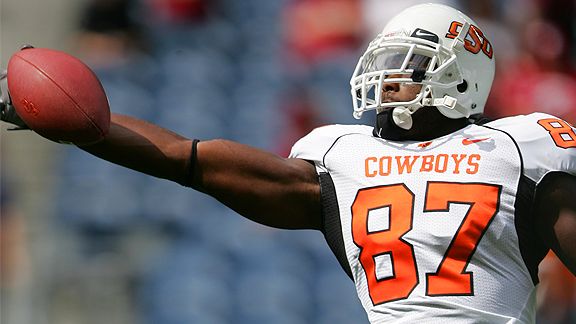 27. One more note on the Lions drafting Pettigrew; tight end is also viewed as an extension of the O-line, which was a major need for Detroit coming into the draft. For better or worse, Pettigrew was essentially Martin Mayhew's answer in addressing that need.
28. I was shocked that the Vikings selected Percy Harvin at No. 22 – not because they didn't need a receiver, but because it was reported that Brad Childress had removed all prospects with poor character from his draft board. This was just another example of how you can't believe everything reported before the draft.
29. Baltimore got a first round steal in offensive tackle Michael Oher. As previously noted, some teams were worried about whether or not Oher could grasp a pro offense, but at No. 23, he was worth the risk.
30. Peria Jerry fits a major need for the Falcons – or does he? Scouts believe he's an under tackle at the next level and Atlanta already has a productive player at that position in Jonathan Babineaux. Obviously Thomas Dimitroff and Mike Smith feel as though Jerry can play the nose and after the draft those two compiled last year, I trust their judgment.
31. Vontae Davis doesn't really seem like a Bill Parcells-type does he? Regardless, he's loaded with talent and if he can keep his emotions and attitude in check, he could turn out be a solid corner.
32. My coworker John Paulsen and I are going to do more on this topic soon (so check back), but I thought the Packers' deal with the Patriots at No. 26 was the worst trade of the first round. Green Bay filled a huge need with the selection of outside linebacker Clay Matthews, but they gave up a second round pick and two third rounders in doing so. Considering Matthews might be one of the more overrated prospects in the draft, I was shocked that GM Ted Thompson would give up so much for that pick.
33. It'll be interesting to see which receiver taken in the bottom of the first round (Hakeem Nicks or Kenny Britt) goes on to have the more productive career. They both have great hands, above-average speed and will play for decent offenses in New York (Giants) and Tennessee, respectively.
34. How did Chris "Beanie" Wells fall all the way to No. 31? I know there are injury concerns, but he had the best blend of size, speed and strength of any running back prospect in the draft and Arizona might have gotten a steal.
35. Some have compared Western Michigan safety Louis Delmas to Bob Sanders. Too bad Delmas might rot in Detroit.
36. Far be it for me to question Bill Belichick on draft day, but Patrick Chung at No. 34 in the second round? That's freaking high.
37. Ohio State prospect prediction #1: Linebacker James Laurinaitis will struggle finding a position in the pros.
38. Ohio State prospect prediction #2: Brian Robiskie is going to flourish as a quality possession receiver in the NFL.
39. I love Alphonso Smith and think he could turn out to be a solid corner, but why would the Broncos give up a first round pick in 2010 to trade up in the second round of a weak draft?
40. As long as I'm crapping on the Broncos, did anyone tell Josh McDaniels and Brian Xanders that teams are usually more successful when they trade down, not up? Every time they announced a trade, it was usually Denver moving up. I don't necessarily dislike the prospects they wound up with, but their approach in this draft was bizarre.
41. Whose mother did Rey Maualuga punch for him to fall all the way to No. 38? Nice pick, Bengals.
42. Whose baby did Duke Robinson punch for him to slip all the way into the fifth round? How the hell does a first-round talent drop to the No. 163 overall pick? Nice value, Carolina.
43. Before the draft, word was that the Patriots were absolutely in love with Connecticut cornerback Darius Butler at No. 23. After completely trading out of the first round, New England snagged Butler with the No. 41 overall pick in the second round. That's the genius of Bill Belichick on draft day.
44. See No. 38, but replace the name Alphonso Smith with Everrette Brown, and the word Broncos with Panthers.
45. What better team for Pat White to go to than the one that founded the "Wildcat" formation last season?
46. I have no idea how he fits into an already stacked Giants' linebacker corps, but I love their pick of Virginia's Clint Sintim at No. 45. The guy was a monster in college.
47. I think it was hilarious that Mel Kiper and Todd McShay bashed the Raiders' selection of Michael Mitchell with the No. 47 pick in the second round (they said they could have gotten him much later), yet the Bears were reportedly ready to take him at No. 49. If Mitchell was good enough for Jerry Angelo in the second round (I said second, not first – Lord knows Angelo can't judge talent in the first), then chances are he's a better prospect than Kiper and McShay thought he was.
48. The Eagles took two boom or bust picks in Jeremy Maclin and "Shaddy" McCoy in the first two rounds, but there's no question they added some athletic talent with each of the selections.
49. I don't care what anyone says – William Moore (Falcons) was the steal of the second round. I know he had a bad senior year, but he was nicked up and had he come out after his junior season, he would have been a top 15 pick.
50. I still prefer NFL Network's coverage to ESPN's, but Marshall Faulk and Jamie Dukes continue to bring nothing to the table. And what was with the on-going camera trick where they kept making everyone's heads look bigger? It was funny once, but by the fourth time enough was enough.
51. Penn State wideout Derrick Williams (Lions' third round pick) could turn out to be the next great kick returner in the NFL.
52. Arizona might have found a gem in the third round in Alabama safety Rashad Johnson. He's not a thumper, but some have compared him to a poor man's Ed Reed.
53. If Wisconsin's Travis Beckum (Giants' third round pick) could ever stay healthy, he could have a nice career as a pass-catching tight end.
54. The Bears got the steal of the fourth round in Vandy cornerback D.J. Moore. The only reason why he dropped so far was because of his lack of size (he's only 5'8"). If he were two inches taller, he would have probably been a second rounder. Yet another mid-round gem by GM Jerry Angelo.
55. Speaking of mid-round Jerry Angelo gems, throw Ohio State outside linebacker Marcus Freeman and Abilene Christian wideout Johnny Knox into that group, too.
56. Atlanta had a really solid second day. Quarterbacks mostly stayed away of cornerback Chris Owens (third round) at San Jose State last year and Lawrence Sidbury (forth round) of Richmond could turn out to be a solid pass rusher. All in all, the Falcons filled needs and got a ton of defensive help throughout the draft.
57. I hate to crap on any prospect, because clearly they have more talent than I do, but I think Seattle wasted their sixth round pick on Rutgers' quarterback Mike Teel. He has good arm strength, but he really struggles in his decision making I doubt he's long for the NFL. But still – good luck, Mike!
58. I know I hammered Packers' GM Ted Thompson for his first round trade at No. 31 on this list, but he really did put together a solid draft. Georgia defensive end Jarius Wynn was a nice find in the sixth round.
59. Someone explain to me how Fresno State tight end Bear Pascoe is not on his way to Chicago right now.
60. Your 2009 Marques Colston Seventh Round Sleeper Award goes to: Rutgers' wide receiver Tiguan Underwood (Jaguars).
61. I know teams are always enamored with size and arm strength when it comes to drafting quarterbacks, but how do guys like Mike Teel and Tom Brandstater get selected before Graham Harrell? I know Harrell had grossly inflated numbers because he played in Texas Tech's offensive system, but I still can't believe that no team took a flier on him in the seventh round, yet Bradstater and Teel go in the sixth.
62. After not selecting a running back the entire draft, keep an eye on the Texans' interest in Edgerrin James if/when he is released by the Cardinals.
63. After not selecting a pass-rusher in the entire draft, keep an eye on the Patriots' interest in free agent defensive end Jason Taylor.
64. One has to wonder what Anquan Boldin's fate is after the Giants and Titans each drafted first round receivers. Are the Ravens still a possibility? And would Arizona be willing to scale back their trade demands?
65. Quote of the NFL draft weekend: "How fitting is it that this year's Mr. Irreverent is a kicker!" – Rich Eisen, NFL Network.
Other 2009 NFL Draft Coverage:
NFL Draft: 5 Second Day Steals
NFL Draft: 5 First Round Values
NFL Draft: 5 Questionable Day 1 Decisions
NFL Draft: 5 Day 1 Winners
Official 2009 NFL Draft Post & Rumor Mill
Tags: 2009 NFL Draft, Aaron Curry, Al Davis, Alex Mack, Alphonso Smith, Andre Smith, Arizona Cardinals, Atlanta Falcons, B.J. Raji, Baltimore Ravens, Bill Belichick, Brandon Pettigrew, Braylon Edwards, Brian Cushing, Brian Orakpo, Buffalo Bills, Chris Beanie Wells, Cincinnati Bengals, Cleveland Browns, Clint Sintim, Darius Butler, Darren Sproles, Darrius Heyward-Bey, Denver Broncos, Detroit Lions, Duke Robinson, Everette Brown, Green Bay Packers, Hakeem Nicks, Houston Texans, Indianapolis Colts, Jacksonville Jaguars, Jason Smith, Jay Cutler, Jeremy Maclin, Kansas City Chiefs., Kenny Britt, Knowshon Moreno, L.J. Smith, LaDainian Tomlinson, Louis Delmas, Malcolm Jenkins, Marc Bulger, Mark Sanchez, Matthew Stafford, Miami Dolphins, Michael Crabtree, Michael Oher, Minnesota Vikings, New England Patriots, New Orleans Saints, New York Giants, New York Jets, NFL Draft, NFL Mock Draft, NFL Mock Drafts, NFL Mock Drafts 2009, Oakland Raiders, Orlando Pace, Percy Harvin, Peria Jerry, Philadelphia Eagles, Pittsburgh Steelers, Plaxico Burress, Rey Maualuga, Ron Brace, San Diego Chargers, San Francisco 49ers, St. Louis Rams, Steven Jackson, Tampa Bay Buccaneers, Tennessee Titans, Vontae Davis, Washington Redskins