NFL Draft: 5 Second Day Steals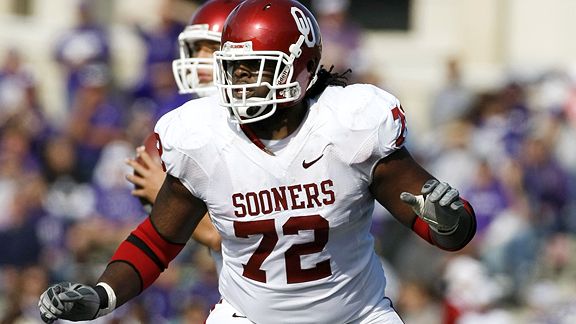 What constitutes a second day steal in the NFL draft? Well, opinion of the evaluator above all else, I guess. But if a player was projected to be taken higher than he was, then that plays into the notion that a team got somewhat of a steal for that selection. Below are five players that were selected on Day 2 of this weekend's draft that I thought were decent steals.
1. Carolina Panthers No. 163, Round 5: Duke Robinson, G, Oklahoma
I was flat out flabbergasted that Robinson fell to the fifth round. Not that this holds much water because I'm not a scout, but I projected Robinson to go to the Steelers with the last pick in the first round in each of my three mock drafts. He was arguably the best guard prospect in the draft and instead of being a first day lock, he fell all the way to No. 163 for reasons unbeknownst to me. He has the talent to be a future starter and maybe sliding this far will motivate him to succeed.
2. Chicago Bears No. 119, Round 4: D.J. Moore, CB, Vanderbilt
The only reason Moore slipped to the fourth round is because of his size (5'8", 192 pounds) – or lack thereof. If he were two inches taller and 10 pounds heavier, he would have been a second round pick and maybe the fourth corner taken overall in this draft. Moore has tremendous athleticism, good speed and is an aggressive player. Nathan Vasher has struggled the past two seasons for the Bears and I wouldn't be surprised if Moore challenges for the starting cornerback job opposite Peanut Tillman in training camp. If he doesn't start, he'll certainly see some time in nickel packages as a rookie.
3. Philadelphia Eagles No. 157, Round 5: Victor Harris, CB, Virginia Tech
Harris scared teams off because of his lack of speed, but he had a very productive career at VA Tech and always played with a mean streak. He's also got excellent hands, flashed good instincts and was also a return man in college. He'll probably never be a No. 1 corner, but he'll be solid in the slot and has a ton of experience. The selection of Harris, coupled with the trade of Ellis Hobbs from the Patriots, gives the Eagles some added depth in their secondary.
4. Chicago Bears No. 154, Round 5: Marcus Freeman, OLB, Ohio State
The Bears had a nice second day, which was key after trading away all of their first day selections. Freeman is a bit undersized, but he goes to a great defensive scheme in Chicago and could challenge Hunter Hillenmeyer for playing time on the weakside. If the Bears can add some bulk to his frame and get him to be more aggressive, he could be a nice contributor. He had a very productive career at Ohio State, including posting 109 tackles in his junior year.
5. Atlanta Falcons No. 125, Round 4: Lawrence Sidbury Jr., DE, Richmond
Several media outlets including ESPN.com had Sidbury as one of the best available prospects entering Day 2 of the draft. He slipped to the fourth round even though some projected him to go in the second or third and could garner some playing time if the Falcons part ways with former top 10 pick Jamaal Anderson this offseason (which, believe it or not, is a possibility). Sidbury played at a small school, but he was highly productive, amassing 20 sacks in 51 games in college including four in Richmond's win over Montana in the FCS National Championship Game. Defensive end wasn't a huge need for Atlanta, but if Sidbury turns out to be an effective pass-rusher, then they made out with this fourth round pick.
Other 2009 NFL Draft Coverage:
NFL Draft: 5 Second Day Steals
NFL Draft: 5 First Round Values
NFL Draft: 5 Questionable Day 1 Decisions
NFL Draft: 5 Day 1 Winners
Official 2009 NFL Draft Post & Rumor Mill