What kind of rookie season is Michael Beasley having?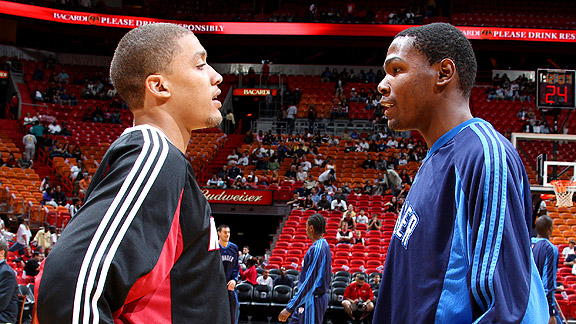 One thing that struck me about Bill Simmons' trade value column was his unabashed hatred for Michael Beasley's game. He made three separate references to the rookie:
Jason Thompson: I mocked him on draft day and he shoved it in my face like a cream pie. Top-notch energy guy, good defender, lots to like. You know, if Michael Beasley wasn't such a colossal disappointment and semi-fraud, the 2008 draft could have ranked among the best ever (and certainly superior to the more ballyhooed '07 class).
Colossal disappointment? Semi-fraud? Ouch.
Jeff Green: Great teammate, tough as nails, gives a crap, does whatever you need. He's the anti-Beasley.
So Simmons is saying that Beasley is not a good teammate, isn't tough, doesn't give a crap and won't do whatever you need? Ouch.
You have to love a country where Love's best rookie card (Upper Deck's '09 SPX set, the signed autographed jersey card) goes for one-eighth the money of Beasley's card … and yet, Miami could offer Beasley for Love right now and Minnesota would make a face and hang up. Whatever.
Ouch.
All right, so how is Beasley faring this season? Here are his numbers:
Read the rest after the jump...