Marc Stein's trade talk: Amare, Tyson, Richard Jefferson and more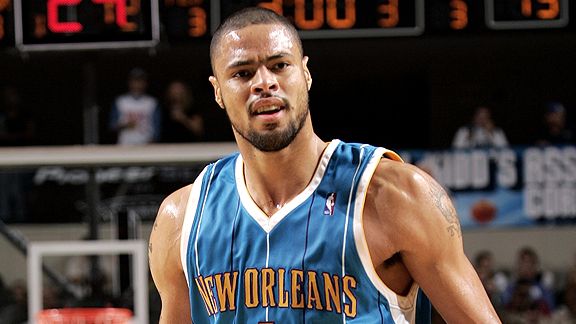 The trade deadline is Thursday, and trade talk is really heating up. Marc Stein gives us the latest.
Two rival executives we spoke with Sunday night immediately wondered whether the Suns' decision to replace Terry Porter with Alvin Gentry would convince Phoenix to "tap the brakes," as one put it, on its Stoudemire talks. If the Suns are going to try to recapture a semblance of what they had under Mike D'Antoni, with the only holdover from D'Antoni's staff taking over, you can understand why Gentry would prefer to have Stoudemire for the rest of the season to help the cause.
Stoudemire is still under contract for another season, so it wouldn't hurt the Suns if they wanted to see what Gentry could do with this group before moving their star player over the summer. I'd say that the Porter firing makes it more likely that Stoudemire stays put, though I'd still put the chances at better than 50/50 that Amare is moved before the trade deadline.
One source close to the situation maintains that the Suns have a standing offer from the Bulls for Stoudemire that would definitely deliver blossoming forward Tyrus Thomas and Drew Gooden's $7.2 million expiring contract. The Suns like those two pieces. A lot.

Unclear is how much more Chicago would be willing to put into the deal.

Joakim Noah? Thabo Sefalosha? A first-round pick?
I mentioned to a buddy of mine that the Suns covet Thomas and his first reaction was, "Why?" Thomas has a rep for being a bit of a disappointment, especially with the way that LaMarcus Aldridge has blossomed in Portland. (The two were involved in a draft night trade back in 2006.)
But Thomas is playing well of late, averaging 15.6 points and 9.6 rebounds over the last nine games. Production-wise, he's always done pretty well. His PER was 14.80 his first season, 14.91 in his second season and 15.47 this season. He's just 22 and still has a lot of upside.
The conspiracy theorists among Joe Dumars' front-office peers around the league will inevitably surmise that the Pistons might need the extra roster spot because they're closing in on some sort of Stoudemire deal. The combination of Rasheed Wallace's expiring contract and young forward Amir Johnson would appear to be Detroit's best offer — and thus not quite in Chicago's class — but there are a couple well-connected league insiders who believe that Dumars still has hope of winning the Amare Sweepstakes.
So the Suns would let Wallace's contract expire and they'd ultimately keep Amir Johnson from this deal. The same Amir Johnson that is averaging 4.2 points and 4.4 rebounds in 17 minutes per game this season? Can't the Suns do better than that?
The Kings could move to the top of the list if they were willing to part with rookie forward Jason Thompson, their two biggest expiring contracts (Bobby Jackson and Shelden Williams) and what will almost certainly be a top-five pick in June.

But the Kings aren't willing. Not to part with all that. Not yet, anyway.
The 22 year-old Thompson is averaging 10.4 points and 6.8 rebounds per game and is having a fine rookie season for a bad team. The key to this deal is the draft pick, as it projects to be in the top five come June. However, I don't think that the Suns would want to trade Stoudemire within the division.
Sources say Oklahoma City is going after New Orleans center Tyson Chandler, with the Hornets known to be seriously interested in slicing payroll and with the Thunder capable of offering the Hornets two replacement big men with expiring contracts (Joe Smith and Chris Wilcox) as well as one of its five first-round picks in the next two drafts.

You'd like to think that the Hornets would first try to get through this season, see how far they go in the postseason and then shop Chandler closer to the draft if moving him remains their best money-saving option, since trading their interior defensive anchor — in spite of Chandler's struggles this season — would force us to reevaluate New Orleans' status as a contender.
The Hornets are 30-20 and currently sitting in the sixth playoff spot in the West. But keep in mind that they are only 1 1/2 games out of fourth and five games out of second. It would be a shame if they broke up the core to slash payroll, especially when the Hornets have $10.6 million coming off the books this summer in the form of Antonio Daniels and Rasual Butler's expiring contracts. Looking at their payroll, the Hornets shouldn't have any problem keeping this group together and still stay under the luxury tax threshold.
The problem in New Orleans is not Chandler, it's Peja Stojakovic, as I've been saying all along. The Hornets made a mistake trading for him, and now that they owe him another $29.5 million over the next two seasons, they're paying the price. His contract is untradeable and his game is degrading. That's not a good combination.
…but the latest in circulation could furnish Portland with a new small forward and a new point guard: [Richard] Jefferson and University of Oregon-ex Luke Ridnour in exchange for Travis Outlaw, Sergio Rodriguez and Raef LaFrentz's expiring contract.
As a Bucks fan, I'd like to see Ridnour moved to clear the way for Ramon Sessions to take over at the point, though it might be better to make that switch this summer after Sessions has been signed to an affordable contract. If they move Ridnour and Sessions blows up, it's only going to increase his asking price. I'm lukewarm on Jefferson, but if they can get out from under his contract (via LaFrentz's expiring deal) and get a couple of nice young players in Outlaw and Rodriguez, I'd be all for it.
Why did Miami consent to completing the long-discussed deal swapping Shawn Marion for Jermaine O'Neal nearly a week before the deadline instead of waiting a few more days to see what happens with Stoudemire?

One source close to the process says that the Heat were informed from the start that they had no shot at completing a direct Amare deal with the Suns because Phoenix did not want to bring back Marion — even for less than half a season — after last February's emotional parting … and because Phoenix isn't especially high on [Michael] Beasley, either.
Intuitively, this makes sense. Miami realized that it could not acquire Stoudemire, so they did the next best thing and acquired O'Neal. On the other hand, I don't know why the Suns aren't interested in Beasley. You'd think that he'd be a nice piece to build around, and he'll be cheap for the next few years, but the Suns are more interested in Tyrus Thomas. Go figure.
Posted in: NBA, Rumors & Gossip
Tags: Alvin Gentry, Amare Stoudemire, Amir Johnson, Chris Wilcox, Drew Gooden, Jason Thompson, Joakim Noah, LaMarcus Aldridge, Luke Ridnour, Miami Heat, Michael Beasley, Mike D'Antoni, New Orleans Hornets, Oklahoma City Thunder, Peja Stojakovic, Phoenix Suns, Ramon Sessions, Rasheed Wallace, Richard Jefferson, Sergio Rodriguez, Terry Porter, Thabo Sefalosha, Toronto Raptors, Travis Outlaw, Tyrus Thomas, Tyson Chandler