What kind of rookie season is Michael Beasley having?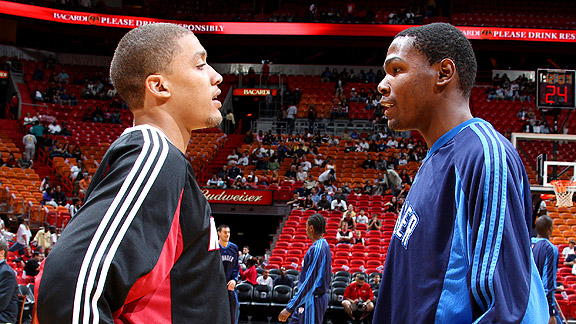 One thing that struck me about Bill Simmons' trade value column was his unabashed hatred for Michael Beasley's game. He made three separate references to the rookie:
Jason Thompson: I mocked him on draft day and he shoved it in my face like a cream pie. Top-notch energy guy, good defender, lots to like. You know, if Michael Beasley wasn't such a colossal disappointment and semi-fraud, the 2008 draft could have ranked among the best ever (and certainly superior to the more ballyhooed '07 class).
Colossal disappointment? Semi-fraud? Ouch.
Jeff Green: Great teammate, tough as nails, gives a crap, does whatever you need. He's the anti-Beasley.
So Simmons is saying that Beasley is not a good teammate, isn't tough, doesn't give a crap and won't do whatever you need? Ouch.
You have to love a country where Love's best rookie card (Upper Deck's '09 SPX set, the signed autographed jersey card) goes for one-eighth the money of Beasley's card … and yet, Miami could offer Beasley for Love right now and Minnesota would make a face and hang up. Whatever.
Ouch.
All right, so how is Beasley faring this season? Here are his numbers:
24.2 mpg, 13.1 ppg, 5.1 rpg, 0.9 apg, 45% FG%, 39% 3PT
All of that combines for a PER of 15.34, which is #36 amongst power fowards. Not great, but since 15.00 is average, at least he's above average.
Simmons looooooooooves Durant, and for good reason. The guy is playing great in his second season. But how did he fare in his rookie season?
34.6 mpg, 20.3 ppg, 4.4 rpg, 2.4 apg, 43% FG%, 29% 3PT
Hmm. That adds up to a PER of 15.87.
All right, so I think it's fairly clear that statistically speaking, Beasley's rookie year, on a per-minute basis, is comparable with Durant's. It's unfair to write him off as a "colossal disappointment" — he still projects to be a very good player. Had he been thrown to the wolves (like Durant was) and allowed to take 17.1 shots per game (instead of his current average of 11.6), I really think Beasley would be able to score 20+ a game too.
Since he can't be speaking in quantitative terms, Simmons hatred must be qualitative. I'll admit that I haven't seen enough of Beasley in the NBA to say that he isn't tough, is a poor teammate and doesn't care. Are there any Heat fans out there who want to chime in about how they feel about their rookie right now?