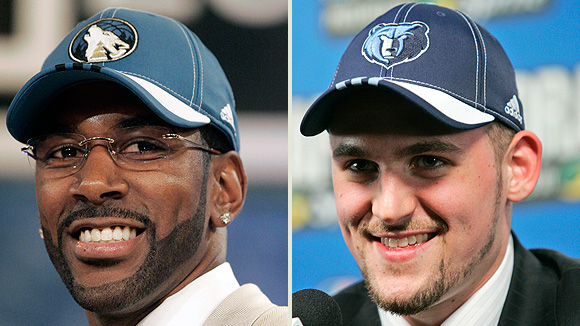 John Hollinger's Player Efficiency Rating is a nice way to compare players without having to account for the number of minutes each guy gets. It's an efficiency statistic, so just about everything is included. A PER of 15.00 is average for the position.
Let's take a look at the top rookies. I'm only going to list guys that are getting more than 20 minutes per game…
1. Kevin Love, T-Wolves
PER: 16.39
Surprised? I am…a little. I really liked Love coming out of college, but he got off to a slow start and the trade Minnesota made (sending O.J. Mayo) to Memphis wasn't looking too good early on. He's not shooting the ball well (41%), but he's rebounding like a champ (8.4 rpg in 22.7 mpg).
2. Greg Oden, Blazers
PER: 16.35
Technically, Oden is still a rookie since he missed all of last season due to injury. After Love, he has the second best rebound rate of all first-year players.
3. Brook Lopez, Nets
PER: 16.26
Rebounding is the stat that most easily translates from college to the pros, so it's no surprise that three good rebounders top this list. In 29.5 minutes, Lopez is averaging 11.4 points and 8.2 rebounds, and he has more blocks per minute than Oden.
4. Rudy Fernandez, Blazers
PER: 16.25
Rudy has had no problem adjusting to the NBA game. His three-point shooting 39% is outstanding and he's averaging 11.0 points, 3.0 rebounds and 2.1 assists in 26.5 minutes per game. Plus, he was even voted into the Slam Dunk Contest as well.
5. Marc Gasol, Grizzlies
PER: 15.40
The other Gasol is getting starters minutes (30.6) in Memphis and is averaging 11.3 points and 7.3 rebounds per game.
6. Russell Westbrook, Thunder
PER: 15.74
In January, Westbrook is averaging 15.7 points, 6.2 assists and 4.8 rebounds in 34.9 minutes of action. He got off to a slow start, but seems to be figuring things out now.
7. O.J. Mayo, Grizzlies
PER: 15.66
Of all the guys on this list, Mayo might be the guy that asked to do the most. He got off to a blistering start, but defenses are adjusting and his numbers are falling.
8. Derrick Rose, Bulls
PER: 15.45
He and Mayo play more than 37 minutes per game, which is by far tops on this list. It's hard to argue with the 16.9 points and 6.4 assists that Rose produces every night. Point guard is arguably the toughest position in the NBA to learn as a rookie, and this guy sure looks like a keeper.
9. Michael Beasley, Heat
PER: 15.23
Beasley is getting better as the season wears on. He's averaging 14.9 points (on 50% shooting) and 6.0 rebounds in January. He's also as good as expected from long range (39%).
10. D.J. Augustin, Bobcats
PER: 13.75
It's not easy being a point guard under Larry Brown, but Augustin is getting big minutes (28.4) and is producing 12.1 points and 4.1 assists per contest. His shooting (40%) is pretty suspect, though he's very solid from long range (39%).
Notes:
– Marreese Speights leads all rookies in PER (20.44) but only plays 15.9 minutes per game.
– Anthony Morrow and George Hill just missed the minutes per game cutoff. Otherwise, they would have been on the list.
– Given how tough it is to play point guard in the NBA, Derrick Rose still gets my vote for Rookie of the Year. The Bulls are asking him to play huge minutes, which is going to take its toll over the course of the season.
Posted in: Fantasy Basketball, NBA, NBA Draft
Tags: Brook Lopez, D.J. Augustin, Derrick Rose, George Hill, Greg Oden, John Hollinger, John Hollinger PER, Kevin Love, Marc Gasol, Marreese Speights, Michael Beasley, NBA Rookie of the Year, O.J. Mayo, PER, Player Efficiency Rating, Rudy Fernandez, Russell Westbrook