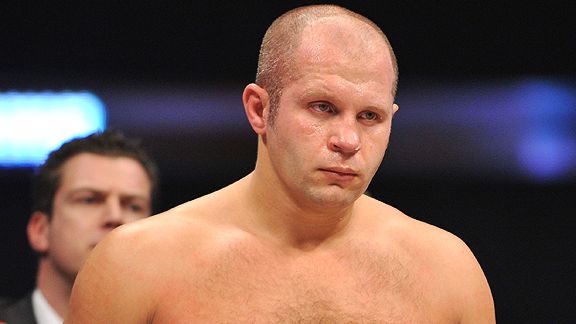 Here's a weekly rundown of MMA content from Ben Goldstein of CagePotato.com:
– Strikeforce announced that Fedor Emelianenko's first opponent in their organization would be undefeated brawler Brett Rogers. Fedor responded to the news with a piss-poor jump-rope display.
– Gina Carano came out of hiding to thank her fans and give props to the woman who wrecked her two weeks ago. Speaking of Cris Cyborg, the Strikeforce women's champ will be helping to revive the once-fearsome Chute Boxe name with her own gym in California.
– Shane Carwin doesn't like Brock Lesnar's attitude, *or* his taste in light beer.
– Could the UFC have a network television deal in the works?
– We watched the fastest knockout in MMA history, a kickass DREAM highlight reel, and Tito Ortiz's latest lunkheaded video blog.
– New UFC Octagon Girl Natasha Wicks hasn't given up her day job as a golf-caddy.
– Chuck Liddell began his training for "Dancing With the Stars." God help us.
– UFC 102 goes down Saturday night in Portland. Check out our analysis of the card here and here, and come back to CagePotato.com at 10 p.m. ET / 7 p.m. PT for our liveblog of the pay-per-view broadcast.
Comments Off on Saturday MMA Review: 8/29

Posted in: Mixed Martial Arts
Tags: Brett Rogers, Brock Lesnar, Chuck Liddell, Chuck Lidell Dancing with the Stars, Cyborg, Fedor Emelianenko, Gina Carano, MMA, MMA News, MMA rumors, Natasha Wicks, Shane Carwin, Tito Ortiz, UFC, UFC rumors