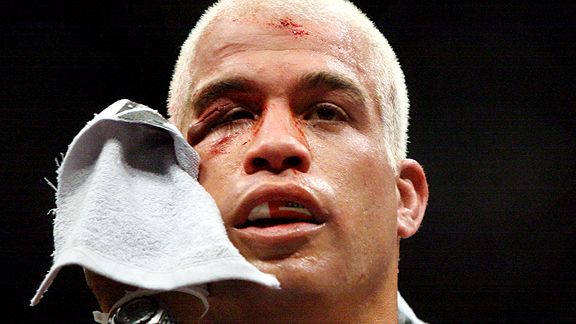 Here's a weekly rundown of MMA content from Ben Goldstein of CagePotato.com:
– In a press conference held Friday, UFC boss Dana White announced the returns of Tito Ortiz and Vitor Belfort, and promised to be close on another deal that will "change the UFC forever."
– Unfortunately, getting Russian legend Fedor Emelianenko into the UFC remains a pipe-dream — and it will remain that way as long as Fedor has morons like Jerry Millen in his camp.
– Josh Barnett insists that he's innocent of his latest steroid charge. His urine, however, is telling a different story.
– Speaking of 'roids, we ran down every single steroid bust in MMA history, from Tim Sylvia's ill-fated attempt to lose his gut to Kevin Randleman's infamous "dead human or live animal" incident.
– Strikeforce's August 15th show continues to undergo major changes, with Renato Sobral vs. Gegard Mousasi brought over from Affliction's canceled "Trilogy" card, Jay Hieron coming in to replace Joe Riggs, and Mitsuhiro Ishida replacing injured lightweight champ Josh Thomson. Luckily, Gina Carano is still looking quite healthy.
– Also in the wake of Affliction's collapse, the UFC swooped in to rescue Ben Rothwell, Paul Daley, and Joe Lauzon's little brother.
– Kenny Florian talked to us about his gameplan for BJ Penn, and set the record straight on that text message he may or may not have sent Penn that may or may not have accused Georges St. Pierre of greasing.
Posted in: Mixed Martial Arts
Tags: Affliction, B.J. Penn, Dana White, Fedor Emelianenko, Georges St. Pierre, Gina Carano, Gina Carano photos, Jerry Millen, Joe Lauzon, Josh Barnett, Kenny Florian, Kevin Randleman, MMA News, MMA rumors, Renato Sobral vs. Gegard Mousasi, Strikeforce, Tim Sylvia, Tito Oritz, UFC rumors, Vitor Belfort