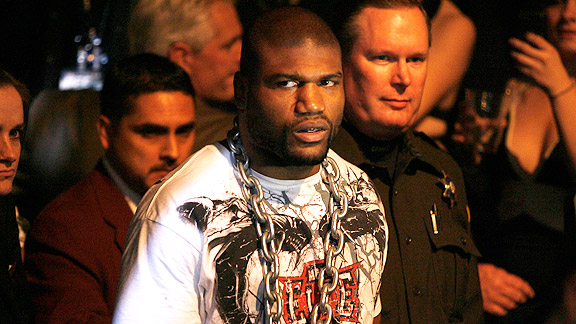 The long-awaited fight between Quinton "Rampage" Jackson and Rashad Evans finally takes place tonight, as the main event of UFC 114 from the MGM Grand in Las Vegas. Here are my picks for that bout and the other four fights on tonight's PPV card.
UFC Light Heavyweight Bout – Quinton Jackson (30-7) vs. Rashad Evans (19-1-1) – This fight should be exciting as both clearly dislike each other. I think the key to victory will be for Jackson to use his size on Evans and for Evans to use his quickness and wrestling on Jackson. In the end, I like Evans to utilize his hand speed and mix in more wrestling to keep Jackson off guard. Look for Evans to also utilize leg kicks, which Jackson has shown he can't defend. I am going with Evans to win by decision in a tough fight.
UFC Middleweight Bout – Michael Bisping (19-3) vs. Dan Miller (11-3) – Bisping is hungry for a strong showing after his tough decision loss to Wanderlei Silva. Miller is a game fighter that will keep Bisping on his toes, but Bisping has too much talent and big-fight experience for Miller. Look for the Brit to win by TKO in the second or third round.
UFC Heavyweight Bout – Todd Duffee (6-0) vs. Mike Russow (12-1) – Duffee has been an explosive monster in his MMA career, as he is 6-0 with six KO's. Russow has the experience edge and will be the better grappler, but the fight always starts on the feet, where Duffee has a clear edge. Look for Russow to push Duffee a little bit before Duffee lands the big punch and scores a TKO late in round one.