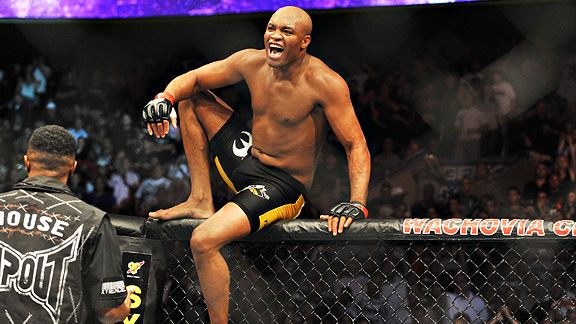 Here's a weekly rundown of MMA content from Ben Goldstein of CagePotato.com:
– At last weekend's UFC 101 show, Anderson Silva got his balls back with a stunning knockout of Forrest Griffin and BJ Penn taught Kenny Florian a very painful lesson.
– Brian Bowles scored the upset of the year with his shocking first-round KO of WEC bantamweight ruler Miguel Torres. Unfortunately, Bowles got paid peanuts for the win, and broke his hand in the process.
– Inspired by Nick Diaz's marijuana-related screwjob of Strikeforce, we counted down the 10 most cursed MMA events of all time.
– The UFC has recently been stockpiling crusty old-timers, including Vladimir Matyushenko and Phil Baroni. Can a "Veterans" season of The Ultimate Fighter be far behind?
– We took a look at some classic MMA moments, crudely recreated in MS Paint.
– Notorious MMA steroid abuser Josh Barnett sold his last shred of dignity in a freaky pro-wrestling bout in Japan.
– Hit up CagePotato.com starting tonight at 10:30 p.m. ET for our liveblog of "Strikeforce: Carano vs. Cyborg." Get familiar with the card by reading our interview with Cris Cyborg, some last-minute betting advice, as well as our always provocative "Ben vs. Ben" debate.
Comments Off on Saturday MMA Review: 8/15

Posted in: Mixed Martial Arts
Tags: Anderson Silva, B.J. Penn, Brian Bowles, Carano vs. Cyborg, Forrest Griffin, Josh Barnett, Kenny Florian, Miguel Torres, MMA, MMA rumors, Nick Diaz, Phil Baroni, Strikeforce, UFC, UFC rumors, Vladimir Matyushenko