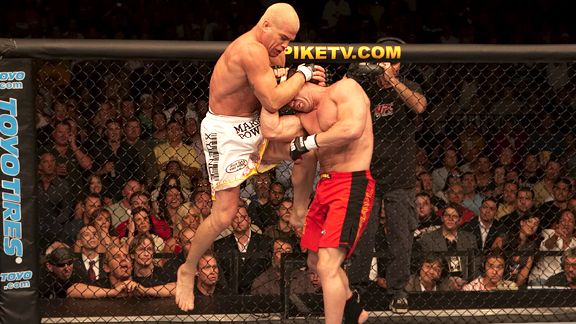 With the much-anticipated fight between Rampage Jackson and Rashad Evans taking place next Saturday, I decided to look back and think of other fights that had this much animosity between the two competitors. Here is my list of top five rivalries in the UFC since the Zuffa inception:
1. Tito Ortiz and Ken Shamrock – While the fights were pretty lopsided, you could always feel the heat and rage between these two. Tito was a showboat and Ken was mister intensity. They never really had a chance to be friends. The first fight really did a lot to help the UFC land a network television deal and bring more attention to the sport. Then, the two added to their rivalry with their coaching appearance on The Ultimate Fighter Season 3. Too bad for Ken he lost all three fights to Ortiz, but the rivalry was still classic.
2. Matt Hughes and Matt Serra – This rivalry is about two guys that want to be the Alpha Male. Serra is always playing the disrespect card and Hughes is an honest jerk. Hughes dominated the UFC Welterweight division for years and had no problems talking about how inferior his opponents were while Serra shocked the world a few years ago and Hughes called his title reign a "fluke". These two also coached opposite one another in The Ultimate Fighter Season Six, which led to a fight at UFC 98 that Hughes narrowly pulled out. Still to this day, Serra has preached for a rematch and still proclaims his dislike for the future Hall of Famer.