"Birdman" scores a five-year deal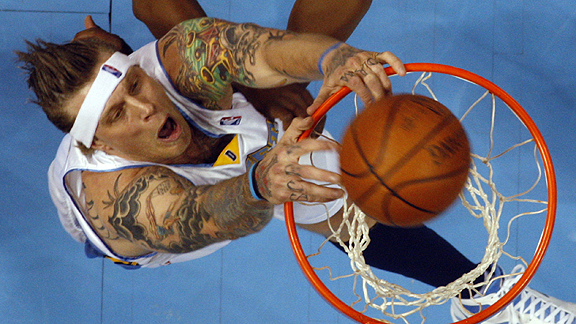 It looks like Chris Andersen is staying in Denver.
Andersen, who provided shot-blocking, rebounding and energy off the bench for the Nuggets in their run to the Western Conference finals, could make as much as $26 million from the deal, his agent, Mark Bryant, told the newspaper. Andersen could sign the contract as early as Wednesday, when the NBA's free agent signing period begins.

Andersen will earn $3.7 million next season from the contract, which is back-loaded and sweetened with performance incentives, Bryant said, according to the report.
The deal runs five years, which seems pretty long for a 31-year-old that was previously suspended for substance abuse. But Andersen seems to have turned a corner in his life and in his career, and he was a valuable "energy guy" off the Nuggets bench last season.