2009 NBA Free Agency Preview: The top unrestricted free agents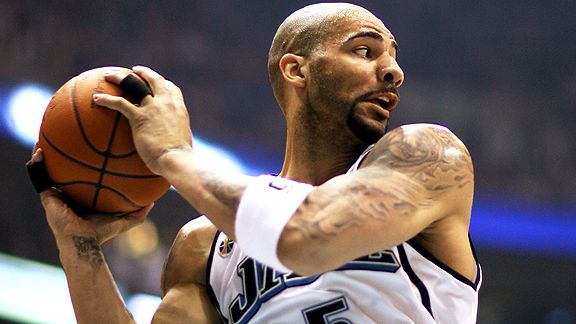 Once the draft is over, the next step of the NBA offseason is the free agency period. Negotiations start July 1, but players have to wait until July 8 to actually sign on the dotted line. Due to the economy, this promises to be an interesting summer, as more franchises seem to be trying to cut payroll than add talent. There are eight teams with significant cap space this summer, and there's no guarantee that they'll be willing to use it. Teams that are over the cap can add good players in two ways: 1) they can sign a player to the Mid-Level Exception (MLE), which will be around $5.8 million per season (and can be split up between two or more players), or 2) they can work out a sign-and-trade with the player's old team.
Below is a list of the top unrestricted free agents this summer. These are players who can sign with whomever they like. They're ranked in order of total value, which is based on overall talent, age, injury history and cost.
For each player, I'll provide his position, age, Player Efficiency Rating (PER) and an estimate of what kind of contract he's likely to sign.
1. Carlos Boozer, PF (27 years-old)
PER: 17.28
At press time, Boozer hasn't officially opted out, but he is expected to. He can play another year for $12.3 million, but he thinks he's due for a raise, and I don't think he's going to get the kind of raise he's expecting. Boozer is one of the top 20 players in the league when healthy, but it's that whole "when healthy" part that's the problem. Over the past five seasons, he has missed a third of his team's games. At 27, he's in his prime, and assuming he has the right supporting cast, I think he can be one of a twosome or threesome on a championship-caliber team. Boozer may not get a raise this summer, but he could get long-term security. The Pistons, Raptors, Kings and Thunder all have the space to make a run at him, but Sacramento and OKC might consider themselves too far away from contending to add a big piece like Boozer. The Pistons seem like the best fit, but they are rumored to have more interest in Ben Gordon. There's always the possibility that another team works out a sign-and-trade with Utah, but I don't think anyone is going to give him a max deal, not in this economy.
Value: $12.0 – $13.0 million per year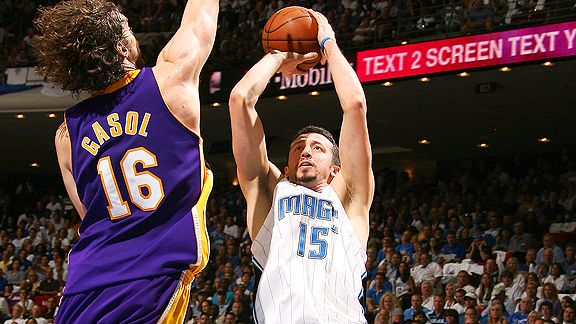 2. Hedo Turkoglu, SF (30)
PER: 14.82
With the Magic's trade for Vince Carter, and Turkoglu's rumored demands for a five-year deal worth $50 million, the general consensus is that Hedo won't be back in Orlando. I think the Magic would consider a three-year deal at around $8 million per season, but that would put the franchise in luxury tax territory for the foreseeable future. (It would also make them a contender, so it may be worth it.) The Blazers, Raptors and Kings are reportedly interested, but Toronto seems intent on re-signing Shawn Marion, so they may elect to go another direction. Still, at 30, he's not going to be as effective in the last two years of the contract as he is in the first three, so a five-year deal may be asking too much.
Value: $8.0 – $9.0 million per year
3. Ben Gordon, SG (26)
PER: 17.02
The Bulls reportedly want to re-sign Gordon, but the Pistons seem interested and have a rumored promise of $11 million per season. That seems steep for Gordon, who is undersized for an off guard, doesn't always have the best shot selection and has a reputation for being a less than stellar defender. He is an outstanding shooter and scorer, and can carry a team at times with his offensive ability. Gordon may sign for over $10 million per season, but I have a gut feeling that he's going to regret the decision to turn down two different extensions from the Bulls over the last two years.
Value: $8.0 – $9.0 million per year
4. Ron Artest, F (29)
PER: 15.64
Artest played for $7.4 million last season, and I think his best bet for a contract that's more than the MLE is with the Rockets. Don't expect them to break the bank, as Daryl Morey knows that the Rockets probably won't have much competition for Artest's services. He brings a lot to the table, both good and bad. He's not a great fit with any of the teams with significant cap space, so the Rockets might be able to lock him up to a three-year deal for a bit more than the MLE.
Value: $7.0 – $8.0 million per year
5. Trevor Ariza, SF (24)
PER: 15.51
Ariza really came on this season and was a big factor in the Lakers' championship run. He averaged 11.3 points, 4.3 rebounds, 1.6 steals, and shot an astounding 48% in the postseason. That, plus his stellar defense, is exactly what the Lakers need out of the small forward position, and all indications are that they'll be able to re-sign him. I'd expect a MLE-type deal, because he's unlikely to leave L.A. even if another team offers him a little more money. The Blazers and Kings could both make a run at him, but they would probably need to offer him $7 million or more per season to pry him away from L.A.
Value: $5.5 – $6.5 million per year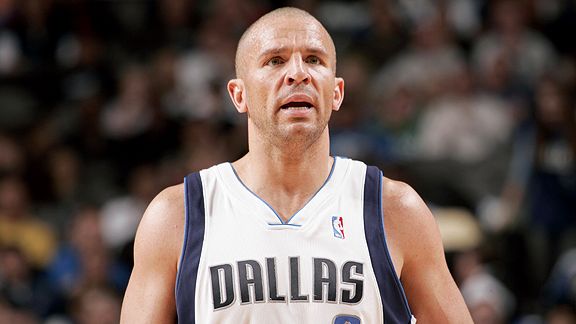 6. Jason Kidd, PG (36)
PER: 16.95
Barring a sign-and-trade, Portland and Atlanta are the only teams in the market for Kidd's services that could offer him more than a mid-level deal. The general consensus is that he'll re-sign with the Mavs, though at 36, I doubt Dallas gives him more than a two-year deal. I think Mark Cuban will do what it takes to keep Kidd in town, or else he'd have to deal with the ramifications that the Kidd-for-Devin Harris deal was a disaster. (He's still in denial.)
Value: $7.5 – $8.5 million per year
7. Lamar Odom, F (29)
PER: 16.60
Odom has said in the past that he can't imagine not living near the beach, so I don't think that the Lakers have to come very strong to retain his services for another two or three years. Most of the teams with cap space could use him, but I think he'll stay put. When he plays to his potential, his value is well over $10 million per season, but given his age and tendency to disappear for long stretches, I think the Lakers will get a hometown discount. I don't see another team offering him enough to leave L.A.
Value: $7.0 – $8.0 million per year
8. Shawn Marion, F (31)
PER: 16.02
The Raptors have said that they intend to re-sign the Matrix, and he played well for them when they went 9-4 down the stretch. His reputation of being a bit of a malcontent will work against him in this market, though he's bound to sign for more than the mid-level. He still has two or three good seasons before his skills start to decline.
Value: $7.0 – $8.0 million per year
9. Mehmet Okur, FC (30)
PER: 17.59
Okur has the option to play another year (for $9 million), but at press time, the feeling was that he was almost certain to opt out. He had a great year, averaging 17.0 points, 7.7 rebounds and shooting almost 45% from long range, and there are a number of teams — the Thunder, Pistons, Raptors and Kings — that could use him. He isn't a good help defender, but he's physical on the block and is a pretty good defensive rebounder. I think he'll stick with the Jazz, but he'll test the waters first.
Value: $8.0 – $9.0 million per year
10. Andre Miller, PG (33)
PER: 18.71
Statistically speaking, Miller's last two seasons were two of his best, and he proved that he's not over the hill. He'd be a good fit with the Blazers, but so far there has been no confirmation of interest. The Hawks are another team that could use his leadership, and it looks like Mike Bibby may be on his way out of town. Besides those two teams, Miller's best bet is to re-sign with the Sixers (who just drafted the raw Jrue Holiday) or take a mid-level deal with a contender in need of point guard help.
Value: $6.0 – $7.0 million per year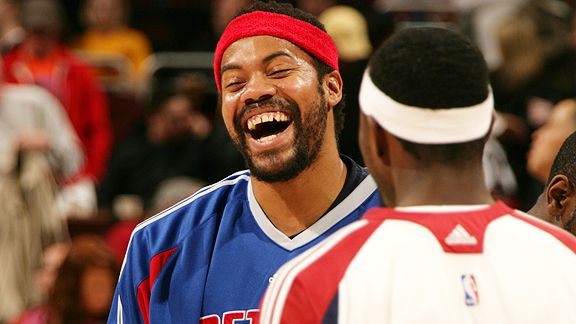 11. Rasheed Wallace, FC (34)
PER: 14.91
Wallace says he wants more than the mid-level, but I'm not sure that's what the market is going to bear. He'll likely sign with a contender, and other than the Blazers (and maybe the Hawks) all of the contenders are over the cap. That leaves two options: 1) a mid-level deal or 2) a sign-and-trade. At 34, it's going to be interesting to see how long of a deal he gets, as his game looked to be on the decline last season.
Value: $5.5 – $6.5 million per year
12. Allen Iverson, G (34)
PER: 15.89
AI is in a tough spot. He's a former MVP that is at his best when his team is built around him — only his skills aren't quite good enough to justify that. His move to Detroit was a disaster, so he hasn't been able to prove that he's willing to accept a lesser role to benefit his team. This makes him a very risky addition for a contender. I don't see any of the teams with cap space rolling the dice, but will Iverson sign a mid-level deal? That might be his only option at this point.
Value: $5.5 – $6.5 million per year
13. Mike Bibby, PG (31)
PER: 16.38
Bibby was better in his first full season with the Hawks, but Atlanta just traded for Jamal Crawford and drafted Jeff Teague, so Bibby's stint in Atlanta is likely over. Portland could use his services, but there hasn't been any indication out of the Pacific Northwest that that's the case. He's not much of a creator, so he'd be the best fit for a team that would ask him to knock down open shots (i.e. the Rockets, Heat, Lakers, Mavs). I think he'll eventually sign for a playoff team at the MLE.
Value: $5.5 – $6.5 million per year
14. Brandon Bass, PF (24)
PER: 16.49
Bass has performed well in limited minutes behind Dirk Nowitzki, but it might be time for a change of scenery. While his PER has been 16+ the last two seasons, he's still pretty much flying under the radar. At just 24, he still has room to grow, and he's already a solid offensive player. He's probably a 14/7 guy as a starter, but he's more likely going to join a contender at or near the mid-level and come off the bench.
Value: $4.5 – $5.5 million per year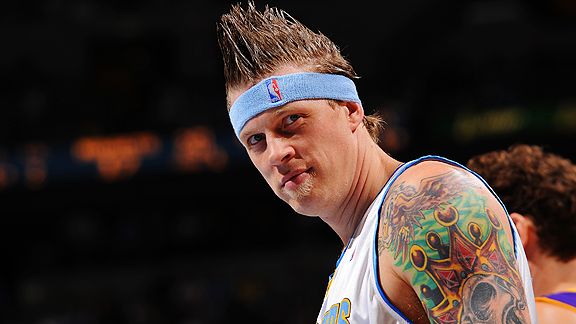 15. Chris Andersen, FC (31)
PER: 18.16
"The Birdman" brought great energy off the Denver bench and even outplayed Nene at times. I criticized the Nuggets for giving Marcus Camby away, but clearly it was Andersen that made it possible. At 31, he's no spring chicken, but he's certainly in line for a raise. He's a great shotblocker and rebounder, and is decent when he's asked to catch the ball and finish. But he isn't particularly good as a post defender and has limited outside touch. He strikes me as another near mid-level guy.
Value: $4.5 – $5.5 million per year
16. Anderson Varejao, FC (26)
PER: 14.62
Varejao is tough on the class and has the potential to be a hard-nosed defender, yet he spends a lot of time flopping to the floor looking for the call. His offensive game is non-existent (and isn't improving), and as a liability on that end of the court, he's not going to get the kind of contract he's expecting. As Jeff Van Gundy has pointed out, it's going to be tough for the Cavs to play Shaq and Varejao at the same time, which makes him sort of expendable in Cleveland. They may re-sign him so that Shaq can get a game off from time to time, but I don't think they're going to meet his asking price. I don't know that any of the teams with cap space would be willing to pay more than the mid-level for 6'11" defender/rebounder with no discernible offensive game. Someone will offer him a mid-level deal.
Value: $5.5 – $6.5 million per year
Other notables: Grant Hill, Kyle Korver, Zaza Pachulia, Dahntay Jones, Antonio McDyess, Drew Gooden, Anthony Parker, Flip Murray, Stephon Marbury, Wally Szczerbiak, Joe Smith, Anthony Carter, Von Wafer, Marquis Daniels, Rodney Carney, Shelden Williams, Chris Wilcox, Desmond Mason, Matt Barnes
That wraps up the significant unrestricted free agent. Check back on Monday, when I'll break down this summer's group of restricted free agents.
Related content:
The Top Restricted Free Agents of 2009
Which NBA teams will have cap space this summer?
The Top 10 NBA Free Agents of 2010
Posted in: NBA, NBA Draft, News, Rumors & Gossip
Tags: 2009 NBA free agency, 2009 NBA free agents, Allen Iverson, Anderson Varejao, Andre Miller, Ben Gordon, Brandon Bass, Carlos Boozer, Chris Andersen, Hedo Turkoglu, Jason Kidd, John Paulsen, Lamar Odom, Mehmet Okur, Mike Bibby, NBA free agency, NBA free agents, NBA rumors, Rasheed Wallace, Ron Artest, Shawn Marion, Trevor Ariza