Which NBA teams will have cap space this summer?
The NBA free agency period starts July 1st, and as that date approaches I'll preview this year's free agent class in more detail. But for now, I'd like to take a look at which teams have the cap flexibility to be major players in free agency this summer. (Mind you, just because a team has cap space, it doesn't necessarily mean that they'll use it. Just sayin'.)
Not familiar with the NBA salary cap? Here's a quick primer…
1. The cap for the 2008-09 season was $58.7 million. The general consensus is that the cap will stay flat or decrease slightly. We'll assume it sticks at $58.7 million.
2. If a team is over the cap, the only free agents they can sign are their own, unless they elect to sign a player to the mid-level exception (~$5.8 million per season), the bi-annual exception (~$2.0) or to a minimum contract. (The bi-annual exception may not be used in two consecutive years.)
3. If a team is under the cap, they can sign any free agent they want as long as they do not exceed the cap. They can also take on salary via trade up to the cap, so a team like the Grizzlies (with almost $20 million in cap space) could conceivably trade their first round pick to the Suns for Amare Stoudemire or to the Raptors for Chris Bosh.
Here's a list of the bigger names in the free agent pool this summer:
Unrestricted: Carlos Boozer, Ben Gordon, Ron Artest, Lamar Odom, Andre Miller, Shawn Marion, Jason Kidd, Hedo Turkoglu, Allen Iverson, Mehmet Okur, Rasheed Wallace, Mike Bibby, Anderson Varejao, Grant Hill, Kyle Korver, Trevor Ariza, Brandon Bass, Chris Andersen, Zaza Pachulia, Chris Wilcox and Drew Gooden
Restricted: David Lee, Paul Millsap, Ray Felton, Josh Childress*, Marvin Williams, Glen Davis, Ramon Sessions, Charlie Villanueva, Nate Robinson, Leon Powe, Hakim Warrick, Linas Kleiza, Jarrett Jack and Shannon Brown
* It appears that if Childress does return to the NBA, the Hawks still hold his rights, so he would be a restricted free agent.
There are eight teams that project to have more than $5.8 million (the value of the mid-level exception) in cap space this summer:
Memphis Grizzlies
Projected Cap Space: $19.7 million
Memphis has been reluctant to spend for several years now and is probably one of the franchises that's struggling the most in the current economy. I lived in Memphis for three years, and given its small size and overall lack of wealth, I always thought that it would struggle to support a professional sports team. With a core of Rudy Gay, O.J. Mayo and Marc Gasol, the Grizzlies have to feel pretty good about what they have at off guard, small forward and center. The big decision this summer is what to do with restricted free agent Hakim Warrick. When dealing with bad teams, numbers can be deceptive, because no matter what, somebody has to score and rebound, right? Warrick's PER (16.91) is #24 amongst power forwards, so ideally he'd be coming off the bench for a playoff team. The Grizzlies projected cap space assumes they make the qualifying offer to Warrick ($3.0 million). Memphis is one of those teams that could really use the services of a Carlos Boozer, David Lee or Paul Millsap, but in this economy, are the Grizzlies willing to make that kind of a commitment? They could try to make a run at Chris Bosh or Amare Stoudemire next summer, but the odds are long that either guy would want to play for the Grizzlies.
Detroit Pistons
Projected Cap Space: $19.6 million
Unless they're thinking about keeping Rasheed Wallace around, the Pistons don't really have any big decisions this summer when it comes to personnel already on the roster. The Chauncey Billups-for-Allen Iverson swap was designed to free up cap space and in those terms, it worked beautifully. Sure, the Pistons gave up any chance of a deep run in the playoffs by trading Billups away, but the writing was on the wall – i.e. the Pistons weren't going to the Finals – so Dumars chose to start the rebuilding process earlier rather than later. Neither Iverson nor 'Sheed are likely to be back, but Wallace has a better chance of returning, however slight. The Pistons appear to be building around Tayshaun Prince and Rodney Stuckey (and Rip Hamilton?), but those are complementary players, not franchise-types. Joe Dumars built a winner without a true franchise player before, and he can do it again. The Pistons need size. Keep an eye on the Jazz. If Boozer opts out, he could land in Detroit, but if he doesn't, the Pistons could go after Paul Millsap since the Jazz would have a tough time matching a substantial offer.
Atlanta Hawks
Projected Cap Space: $17.8 million
Mike Bibby, Zaza Pachulia and Flip Murray are unrestricted free agents and Marvin Williams is a restricted free agent, so the Hawks could have a very different roster heading into next season. Both the Hawks and Bibby are saying the right things, but can the two come to terms on a fair deal? There's no way that Bibby is worth what he made last season ($15.0 million), but how much is he willing to come down to return to Atlanta? Looking at this list, would there be another team wiling to offer him more than the mid-level? Memphis? Detroit? Toronto? Minnesota? Nope. Oklahoma City? Sacramento? Probably not. Portland? Maybe. The point is that in this economy, by playing hardball the Hawks should be able to re-sign him for a two-year deal averaging around $7 million per season. I'm not sure that he's even worth that at this point in his career (remember – he's 31), but if the Hawks want him back, they need to be careful not to overpay. Likewise, is Marvin Williams worth the $7.4 million it's going to cost to keep him around for another season? He's just 22 and already has the 13th-best PER amongst small forwards. Then there's Josh Childress, who can return from Greece as a restricted free agent. With all these decisions and all this potential cap space, the Hawks promise to be one of the most interesting franchises to watch this summer.
Oklahoma City Thunder
Projected Cap Space: $17.1 million
With a young, improving core of Kevin Durant and Russell Westbrook, as well as a likely top 5 draft pick, the Thunder seem primed for a good season. Westbrook is more of an off guard than a pure point, so they could use a lead guard, as well as some help on the front line. They could go after Boozer, Millsap or David Lee, and are one of the teams that could easily snatch Ramon Sessions away from my beloved Bucks. The question is whether they'll go after inexpensive young guys that can grow with Durant and Westbrook (Lee, Millsap, Sessions) or go after an established star (Boozer, Kidd, Bibby, etc.) with the thinking that they'll become instant contenders. With their cap space, the Thunder could afford to add two or three starter- or star-level players, or they could elect to bide their time and try to add a superstar next summer.
Sacramento Kings
Projected Cap Space: $13.7 million
The Kings have good cap flexibility, but have serious lack of talent. They have one star – Kevin Martin – who is locked up for the next four years at a pretty reasonable price. Jason Thompson and Spencer Hawes have some upside, while Andres Nocioni and Francisco Garcia are decent role players. The Kings made the mistake in giving Beno Udrih a long-term deal, so now they have to pay him an average of almost $7 millon over the next four years. Ugh. All right, so how do they turn this thing around? First, they have to hit in the draft. Ideally, that means Blake Griffin, whom they can pencil in at power forward for the next five years. Then they would need to find a good young point guard (Sessions?) that can grow with the Kings' young lineup. Throw in a value at small forward (Josh Childress, Marvin Williams, Trevor Ariza, etc.) and the Kings would be much better next season. Not "playoff" better, but they'd probably win 10-15 more games. Baby steps.
Toronto Raptors
Projected Cap Space: $11.6 million
What are the chances of Chris Bosh re-signing if the Raptors have another miserable year? By trading Jermaine O'Neal to Miami for Shawn Marion (and his expiring contract), the Raptors have some financial flexibility this summer. If Toronto were to sign a premier big man like Carlos Boozer, David Lee or Paul Millsap, they would improve their chances of winning this season (and keeping Bosh around) while also giving themselves some insurance if Bosh bolts. Toronto already has two of the most important pieces to winning in the NBA: (1) a good point guard in Jose Calderon and (2) a good big man in Bosh. But over the last couple of years they have struggled to find the right complementary pieces. O'Neal didn't work out, but the Raptors were 10-6 over their last 16 games with Marion, so one option would be to bring the Matrix back at a discounted price. Another free agent to keep an eye on is Ben Gordon. With his ability to put the ball in the hoop, he would thrive in an up-tempo attack and could really take the pressure off of Bosh and Calderon. Besides, the Raptors need a shooting guard now that the 33-year-old Anthony Parker looks to be over the hill.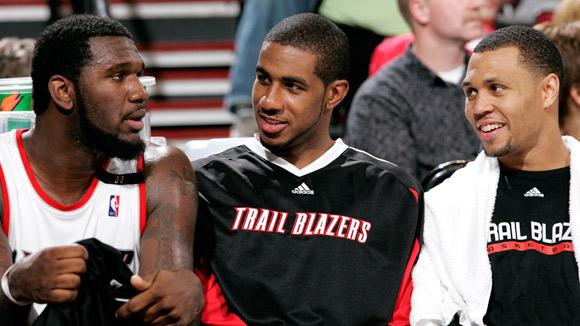 Portland Trail Blazers
Projected Cap Space: $9.8 million
The Blazers are unique on this list in that they are a playoff team that has some cap space, but they won't have to use it to keep their core players in town. Portland could add a legitimate star-level player to a roster already loaded with talent. They are set on the wing with Brandon Roy, Rudy Fernandez and Travis Outlaw, and are pretty strong up front with LaMarcus Aldridge, Greg Oden and Joel Przybilla, so the major need seems to be at the point where Steve Blake is more of a placeholder than the point guard of the future. Jerryd Bayless is also a possibility, but his playing time dried up as the Blazers got closer to the playoffs. There are a number of good point guards available – Jason Kidd, Andre Miller, Mike Bibby – or the Blazers could go younger and try to pry Ramon Sessions or Ray Felton away from the Bucks and Bobcats, respectively. Portland has some good mojo working, and the guys least likely to upset the apple cart are experienced, pass-first points like Kidd or Miller. The Blazers could offer them more than the mid-level, which gives Portland the inside track on either player (if they want it).
Minnesota Timberwolves
Projected Cap Space: $7.8 million
The T-Wolves actually look like they're turning things around. They have an up-and-coming big man (Al Jefferson) and they hit in the draft, finding an efficient, heady power forward (Kevin Love). If I'm running this team – and I'm more qualified than Bill Simmons, who is campaigning for the position – I'd move Randy Foye to off guard and tell him to shoot 200-250 three-pointers per day this summer. Then I'd use my cap space to steal Ramon Sessions away from the Bucks. Mike Miller could play small forward for another season, so I'd use my draft pick on the best player available, preferably a shooting guard who could join Sessions and Foye in a three-guard rotation. Josh Childress and/or Marvin Williams would be a great fit, and might be had for the mid-level (or use the cap space on Childress/Williams and sign Sessions to the mid-level). I'd end up with a core of Sessions, Foye, Childress/Williams, Love and Jefferson – all under the age of 26. Like a fine wine, I'd wait a couple of years for this group to age, and add a piece here or there to complement this core. We'd be in the playoffs by 2011, I'm telling you…
Posted in: NBA, Rumors & Gossip
Tags: 2009 NBA free agency, 2009 NBA free agents, Allen Iverson, Anderson Varejao, Andre Miller, Atlanta Hawks, Ben Gordon, Brandon Bass, Carlos Boozer, Charlie Villanueva, Chris Andersen, Chris Wilcox, Detroit Pistons, Drew Gooden David Lee, Glen Davis, Grant Hill, Hakim Warrick, Hedo Turkoglu, Jarrett Jack, Jason Kidd, John Paulsen, Josh Childress, Kyle Korver, Lamar Odom, Leon Powe, Linas Kleiza, Marvin Williams, Mehmet Okur, Memphis Grizzlies, Mike Bibby, Minnesota Timberwolves, Nate Robinson, NBA free agency, Oklahoma City Thunder, Paul Millsap, Portland Trail Blazers, Ramon Sessions, Rasheed Wallace, Ray Felton, Ron Artest, Sacramento Kings, Shannon Brown, Shawn Marion, Toronto Raptors, Trevor Ariza, Zaza Pachulia