Carlos Delgado believes he can still play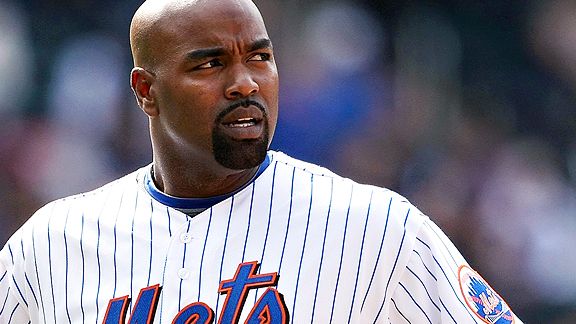 Anthony DiComo of MLB.com tweets that Carlos Delgado hopes to play this season. The 37-year-old is currently rehabbing from labrum surgery and will likely look for a team once he can prove he's at least powerful with the bat.
While I admire the veterans who try to stay in the game, it's much tougher when they're returning from an injury. Delgado had the surgery in May of 2009 and still isn't ready. That's almost a full year with barely any results. That tells me that one more injury — not matter how little — could could mark the end of his career. With that in mind, why would a team roll the dice on him?
But his numbers are hard to resist. With 16 seasons under his belt, Delgado has hit 473 dingers and is a career .280 hitter. Plus, he hadn't suffered a major injury until last season. While playing a relatively low-risk position at first base, he's been fairly durable, racking up games played with mediocre defense yet unbelievable offense.
Odds are, Delgado will be picked up down the stretch by a team in need of a bat, just like when the Rockies' acquired Jason Giambi last year in August. The deal worked out well for both parties, and the Rockies decided to re-sign Giambi during the offseason.
While Delgado's days as an everyday first baseman are probably over, he could be used in pinch-hit situations or as a DH. As it stands right now, any team not named the Yankees or Red Sox could use this guy when things start to heat up. He may prove hapless at his position, but once scouts see that first ball scream over an outfield wall, he'll be hard to ignore.