Ultimate Fighter Live Finale Preview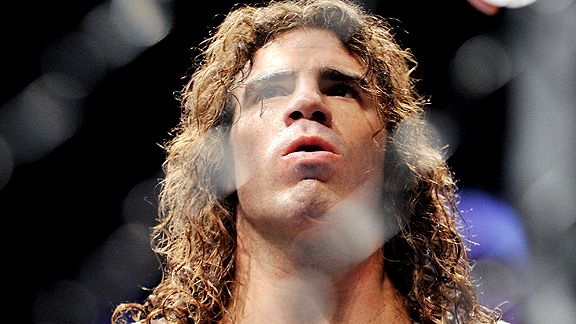 The Ultimate Fighter Nine Finals take place tonight with the live Ultimate Fighter Finale on Spike TV at 9 p.m. ET. The main card will feature five fights including the two championship bouts for the Ultimate Fighter reality show. Overall, it is a nice card featuring the lighter weights in the UFC, which tend to provide stronger fights and better pacing. Here is a breakdown of the card and my predictions (I was 5-for-6 last weekend!!) for tonight's show.
Lightweight bout (155 lbs) – Diego Sanchez (23-2) vs. Clay Guida (25-9): This fight should be a war as both fighters have great motors and even better stamina. Sanchez has lost just two times in his career, both by decision, but is in just his second fight at lightweight in the UFC. His previous fight was a lackluster decision win over Joe Stevenson where Sanchez picked Stevenson apart on their feet. Guida won't be quite that easy. The rocker has a fighting style and energy that makes it hard for you to not cheer for him and I think he will be the first fighter to really push Sanchez around in terms of pacing and octagon control. The key in this fight will be if Guida has the size to control the bigger Sanchez on the ground and if he can fight off his back. I would like to say I see Guida winning this fight, but I think Sanchez' size and speed will ultimately earn him another decision win.
TUF 9 Lightweight Finals (155 lbs) – Ross Pearson (8-3) vs. Andrew Winner (9-2-1): Pearson and Winner both come from the United Kingdom team of the Ultimate Fighter, but that means nothing in this fight. Winner looked impressive in the show, winning all his fights in the first round while Pearson has had to grind out his wins, but is tough as nails. Pearson will need that toughness to take out Winner, who seems to be the better athlete with better all-around skills. I don't think Winner wins as convincingly as he has on the show, but I will take him by stoppage from strikes in the second round.
TUF 9 Welterweight Finals (170 lbs) – Damarques Johnson (9-6) vs. James Wilks (5-2): Wilks doesn't have the experience that Johnson has and his fights on the way to the finale were not nearly as difficult, yet Wilks didn't look impressive in them either in my opinion. Wilks will need to get the fight to the ground to win, but Johnson will look to demolish the UK fighter. In 15 pro fights, Johnson has only gone to decision twice, so he likes to see a finish win or lose. I will take Johnson by TKO in round two.
Lightweight bout (155 lbs) – Joe Stevenson (31-10) vs. Nate Diaz (13-3): Just 17 months ago, Stevenson was fighting for the lightweight title, and now he stands as a man fighting for his future after losing three of his last four fights in convincing fashion. Stevenson has seemingly started to believe that his stand-up game is on par with the best in his weight class, and that has clearly not been the case in the last year. In desperation, Stevenson changed fighting camps, joining Greg Jackson in New Mexico . Jackson is arguably the best fight strategist in MMA, and he will need to come up with a good plan for Diaz, whose height at 6 feet, and long reach, allow him to pick apart fighters before finishing them off with a submission through his Gracie submission training. I think Stevenson can get Diaz to the ground and get the win if he avoids getting caught in a triangle choke. I think Stevenson is hungrier for a win, which is the same reason Diaz lost to Guida at UFC 94. I will take Stevenson to grind out a split decision.
Welterweight bout (170 lbs) – Kevin Burns (7-2) vs. Chris Lytle (28-17-5): Kevin Burns is relatively new to the UFC scene, with this being his fourth fight, while Lytle is a UFC-mainstay, taking part in his 14th fight with the organization. Lytle has lost three of his last five, and has become a bit of a gatekeeper in the division for up-and-coming fighters. Burns has won two of his three UFC fights and a win over Lytle would cement his place with the organization. This fight will be exciting and a good scrap, as any Lytle fight is, but I think Burns will score the decision win with a stronger ground game and submission attempts.
–Written by TSR MMA contributor Drew Ellis
Posted in: Mixed Martial Arts
Tags: Andrew Winner, Chris Lytle, Clay Guida, Damarques Johnson, Damarques Johnson vs. James Wilks, Diego Sanchez, Diego Sanchez vs. Clay Guida, James Wilks, Joe Stenvenson vs. Nate Diaz, Joe Stevenson, Kevin Burns, Kevin Burns vs. Chris Lytle, MMA, Nate Diaz, Ross Pearson, Ross Person vs. Andrew Winner, The Ultimate Fighter, The Ultimate Fighter Nine, TUF, TUF 9, TUF 9 Predictions, TUF 9 Preview