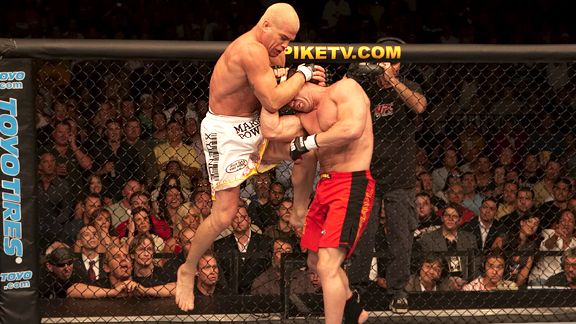 With the much-anticipated fight between Rampage Jackson and Rashad Evans taking place next Saturday, I decided to look back and think of other fights that had this much animosity between the two competitors. Here is my list of top five rivalries in the UFC since the Zuffa inception:
1. Tito Ortiz and Ken Shamrock – While the fights were pretty lopsided, you could always feel the heat and rage between these two. Tito was a showboat and Ken was mister intensity. They never really had a chance to be friends. The first fight really did a lot to help the UFC land a network television deal and bring more attention to the sport. Then, the two added to their rivalry with their coaching appearance on The Ultimate Fighter Season 3. Too bad for Ken he lost all three fights to Ortiz, but the rivalry was still classic.
2. Matt Hughes and Matt Serra – This rivalry is about two guys that want to be the Alpha Male. Serra is always playing the disrespect card and Hughes is an honest jerk. Hughes dominated the UFC Welterweight division for years and had no problems talking about how inferior his opponents were while Serra shocked the world a few years ago and Hughes called his title reign a "fluke". These two also coached opposite one another in The Ultimate Fighter Season Six, which led to a fight at UFC 98 that Hughes narrowly pulled out. Still to this day, Serra has preached for a rematch and still proclaims his dislike for the future Hall of Famer.
3. Chuck Liddell and Tito Ortiz – This rivalry was once about two of the top stars in the sport wanting to be considered the best but has now come down to simply one guy hating the other. Liddell accused Ortiz of ducking him as champion years ago until both were ultimately defeated by Randy Couture. The two finally met at UFC 47 and Liddell KO'd Ortiz in dominant fashion. Liddell would go on to win the title, while Ortiz continued to cry for a rematch, and ultimately earned it at UFC 66. The result wasn't much different, as Liddell again KO's Ortiz. The two are currently in the twilight of their career and Ortiz is still looking to settle the score. They opposed each other as coaches on The Ultimate Fighter Season 11, but the planned fight after the show was scrapped when Ortiz had to leave the show. I'm sure the talking is far from over and the two will likely meet again.
4. Georges St. Pierre and B.J. Penn – You won't find a guy that is more gracious in the octagon than UFC Welterweight Champion, Georges St. Pierre, but that is exactly why B.J. Penn hates him. The former champion of the welterweight and lightweight divisions has done all he could to soil GSP's name. It all started at UFC 58 when St. Pierre won a controversial split decision over Penn. Penn immediately cried foul and wanted a rematch but ultimately dropped down to a lighter weight class. Still with GSP in his sights, Penn dominated the lightweight division while throwing snide remarks toward GSP, accusing him of steroid use and being a quitter. It all came to a head when the UFC matched the two up again in a champion vs. champion fight at UFC 94. St. Pierre left no doubt in that fight, dominating Penn for four rounds before Penn couldn't continue. Instead of accepting defeat, Penn accused St. Pierre of "greasing" in order to make him slippery on the ground and nullifying Penn's jiu-jitsu ability. Penn even took his claims to the Nevada State Athletic Commission, but St. Pierre was never found guilty or punished. Still, Penn won't stop talking about it and he has clearly become an enemy in St. Pierre's mind, which is tough to do.
5. Brock Lesnar and Frank Mir – This rivalry started quietly as an intro fight for Lesnar into the UFC. Mir rejuvenated his career by beating Lesnar with a knee bar and the trash talk started from there. Lesnar vowed revenge while Mir was his usual, cocky self, talking about tearing off Lesnar's skin, you know, the usual trash talk. In the rematch at UFC 100, Lesnar destroyed Mir and after the fight, instead of offering a hand of respect, Lesnar chose to scream at Mir like he was his child. Mir has elected to not learn his lesson, promising to end Lesnar's life inside the octagon. I don't think Lesnar will be intimidated, but these two truly hate each other.
Honorable Mention: Nick Diaz vs. Joe Riggs (Any time you fight in a hospital after your cage fight, that is some hatred), Frank Trigg vs. Matt Hughes (Always good for trash talk), Rampage Jackson vs. Wanderlei Silva (brutal knockout wars), Tim Sylvia vs. Andrei Arlovski (Three fights and a girlfriend exchange).