2009 NBA Preview: 10 Breakout Candidates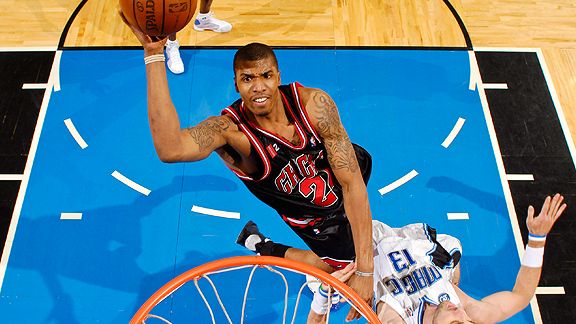 What constitutes a "breakout" season? To me, it's a talented player who has been in the league at least one year who is about to see a big increase in minutes. Here is a list of 10 players (in no particular order) who I think will have career seasons in 2009-10.
1. Tyrus Thomas, Bulls
The 23 year-old is entering his fourth season and will probably be the Bulls' starter at power forward. He averaged 10.8 points and 6.5 rebounds in 27.5 minutes last season, and an increase in minutes would enhance those numbers. Now that he has an effective mid-range jump shot, he can use that and his athleticism to get to the basket.
2. Anthony Randolph, Warriors
Randolph is a popular breakout pick this season after a great summer league and flashes of brilliance in his rookie year. He only played about 18 minutes per game last season, and is playing almost 28 minutes in the preseason, starting every game in which he's appeared. Don Nelson may not start him during the regular season since he's been battling some injuries, but expect him to get plenty of run this year.
3. Anthony Morrow, Warriors
Let's stay in Oakland, shall we? Not to read too much into preseason stats, but through eight games, the second-year Morrow is averaging 22.0 points on 58% shooting (52% from 3PT). He's going to come off the bench, but that might not last for long if Stephen Jackson eventually gets traded. Morrow is one of the league's best shooters, nailing almost 47% of his threes a year ago.
4. Aaron Brooks, Rockets
With Yao Ming out and Tracy McGrady hobbled, the Rockets don't have a whole lot of offensive options and Brooks is one of the best shooters the team has. He averaged 11.2 points in 25 minutes per game last season. If he gets 32-35 minutes per game, he should average somewhere in the 14-16 ppg range.
5. Louis Williams, 76ers
He's a very different player than Andre Miller, the guy he's being asked to replace. He isn't going to drop a lot of dimes, but the guy can score, and if he gets starter's minutes his averages are going to jump. In the preseason, he's averaging 14.9 ppg in 27 minutes of PT.
6. Courtney Lee / Chris Douglas-Roberts, Nets
I'm listing them both because it's not clear which will be the Nets' starting shooting guard on opening day. It may not matter because the other might be the starting small forward. In the preseason, CDM and Lee are averaging 18.5 ppg and 17.0 ppg, respectively. While Devin Harris and Brook Lopez are likely to lead the Nets in scoring, Lee and Douglas-Roberts could both average 12-14 ppg.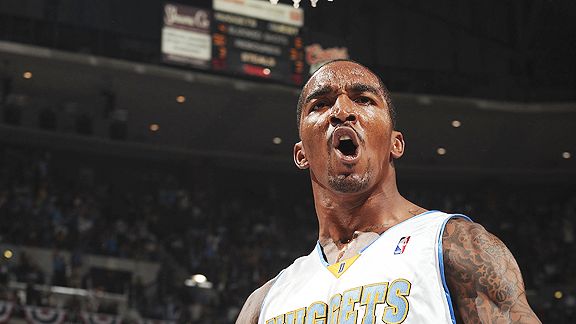 7. J.R. Smith, Nuggets
Smith has already had a breakout year (in his first season with the Nuggets), but the departure of Dahntay Jones gives Smith the chance to start. George Karl started Jones last season because of his commitment to defense, so it's just as likely that he finds another defensive-oriented off guard to fill that vacated role. Smith has the talent to start, but can he keep his head on straight and play enough defense to keep Karl happy? (By the way, he's suspended for the first seven games.)
8. Channing Frye, Suns
After a nice rookie season (12p/6r) in New York, Frye wasn't as good in his second season and landed in Portland where he didn't get much run. Now he's the starting center in Phoenix and is averaging 12.3 points and 4.0 rebounds in 26.8 minutes of playing time. The Suns are awfully thin on the front line, so I wouldn't be surprised if Frye ends up playing 30-35 minutes a game.
9. Julian Wright, Hornets
While he isn't shooting particularly well (41%) in the preseason, it appears that Byron Scott has finally given up on Peja Stojakovic and is ready to hand over the keys to Wright, who has started all six preseason games in which he has appeared. He's a great athlete and versatile player, but the big mystery with Wright is his three-point shooting. He hit 10-24 attempts in his rookie season, but just 2-21 in his second year. The Hornets need shooters for Chris Paul to pass to, so if Wright doesn't start knocking down shots, Scott might go back to Peja.
10. Hakim Warrick, Bucks
Warrick is leading the Bucks in preseason scoring with 14.4 ppg. He'll battle with Luc Mbah a Moute, Carlos Delfino, Ersan Ilyasova and Joe Alexander for minutes. Scott Skiles will likely start Mbah a Moute at one forward spot because he's a great defender, but the other is up for grabs. Regardless, Warrick should get plenty of minutes and is on a one-year contract, so he's very motivated.
Comments Off on 2009 NBA Preview: 10 Breakout Candidates

Posted in: Fantasy Basketball, NBA
Tags: 2009 NBA preview, 2009-10 NBA season, Aaron Brooks, Anthony Morrow, Anthony Randolph, Channing Frye, Chris Douglas-Roberts, Courtney Lee, Hakim Warrick, J.R. Smith, Julian Wright, Lou WIlliams, Tyrus Thomas