NBA News & Rumors: Delonte, LeBron, JJ and Julian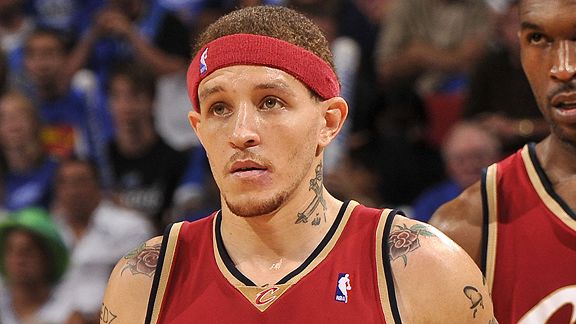 Delonte West misses practice (unexcused) again. All right, one unexcused absence I can understand, but after he was MIA yesterday, wouldn't the Cavs track him down to find out why he was absent? Of course they would, which is why he is either completely unreachable or the Cavs don't approve of his reasons for missing practice. This is worrisome, but expect the team to give him a lot of leeway to get his life straightened out.

The New York Daily News thinks there has been another sign that LeBron is headed to the Knicks. His name is William Wesley and apparently he has LeBron's ear. He was at Knicks camp this week and some conspiracy theorists believe his presence is a sign that LeBron will be playing in New York next season.

The Atlanta Journal-Constitution reports that Joe Johnson will not sign an extension this season. Instead, Johnson is going to become a free agent next summer when a number of teams are going to have the cap space to offer a max deal. After LeBron James, Dwyane Wade, Chris Bosh and (maybe) Amare Stoudemire, Johnson is the next biggest prize in the free agent class of 2010. He's one of those players that isn't quite worth a max deal but he's going to get one anyway. (Think Michael Redd circa 2005.)

Byron Scott told the Times-Picayune that the Hornets' starting small forward job is Julian Wright's to lose. This is about a year too late. Wright was quite productive (PER: 15.48) in his rookie season, but the Hornets went with James Posey instead, thinking that he'd be the missing piece to the championship puzzle. Wright is one of those young, talented players that is going to see a big increase in minutes, so fantasy basketball owners should take note.
Posted in: Fantasy Basketball, NBA, News, Rumors & Gossip
Tags: 2010 NBA free agency, 2010 NBA free agents, Atlanta Hawks, Cleveland Cavaliers, Delonte West arrested, Delonte West gun charges, Delonte West misses practice, Deltonte West, Joe Johnson, Joe Johnson contract, Joe Johnson extension, Julian Wright, LeBron James, LeBron James free agent, LeBron leaving Cleveland, New Orleans Hornets, New York Knicks, Summer of 2010